German Chancellor Angela Merkel has given strong backing for the EU free trade deal with New Zealand, saying Germany would apply pressure in Brussels to hasten the talks.
After meeting with PM Bill English at the Chancellery in Berlin on a chilly winter morning, Merkel also let English off the hook on the issue of Syrian refugees, saying she believed it was a European problem and New Zealand should not be "roped in" to deal with it.
English was welcomed with military honours on a chilly winter's morning and the pair met over a lunch.
Speaking to media afterwards, Merkel said they had discussed everything from security to Brexit, the United States and the free trade agreement with New Zealand.
"I have come out very strongly in favour of a free trade agreement between the EU and New Zealand. We hope that we can resume those negotiations very quickly and they can be pursued very quickly ... Germany is going to [apply] pressure to bring this along."
Asked whether in return New Zealand should do more to help Europe cope with Syrian refugee crisis, Merkel said she had not thought about linking the two.
"We have to have a fair distribution within the European Union, I don't think that we wanted to rope in, so to speak, New Zealand's support on this."
She said addressing the problems that was causing the refugee crisis was a global issue.
Merkel spoke in German through a translator.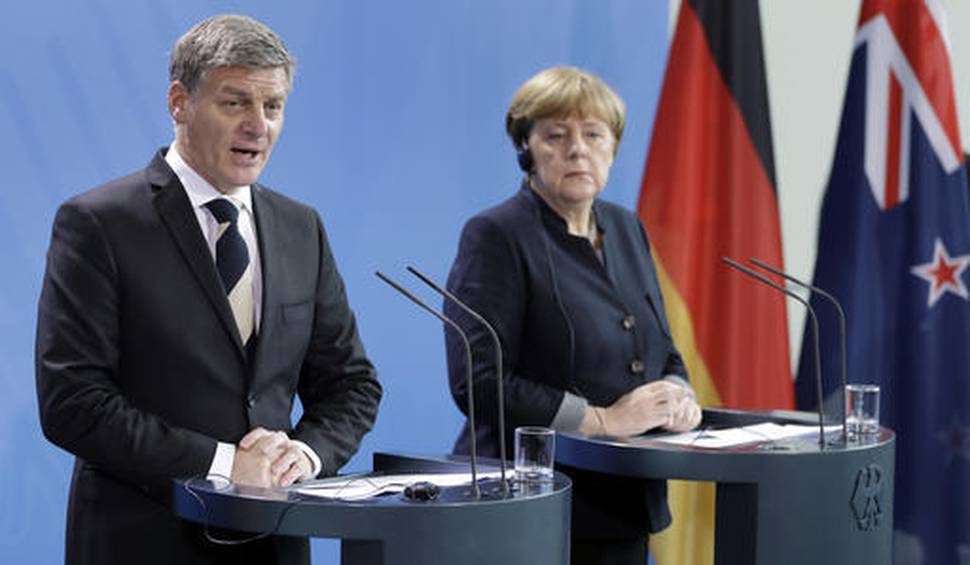 In response, English said the EU agreement was a "top priority" for New Zealand.
"In many ways it provides an opportunity both for the EU and for New Zealand to give substance to the assertion of our own values as believers in an open and globalised world."
Afterward he said he did not intend to increase New Zealand's refugee intake beyond the lift from 750 to 1000 which will take effect in 2017. New Zealand has agreed to an allocation of about 750 Syrian refugees over a three year period.
Merkel's was the big tick of approval English needed on his trip as the most influential leader in Europe. Her promise to apply pressure in Brussels to push the deal along is insurance that the positive soundings English got in Brussels were not just polite words.
Although she has been supportive in the past, English was keen to have that re-stated to ensure it had not been affected by Brexit or put on the back-burner as Merkel prepares to seek a fourth term in the German elections in May.
Merkel also thanked New Zealand for taking part in NATO-led missions, such as in Iraq and Afghanistan.
"I would like to say very clearly how grateful we are for this contribution, and that we would like to see this continued in the future."
English passed on his condolences to Merkel for the recent terrorist attacks in Berlin, saying it was a stark reminder of their joint goal to defeat terrorism. "No one should have to live their life in fear of such violence."
English and Merkel have one thing in common - concern about the election of US President-elect Donald Trump.
The talk in Germany was centred on Trump's criticism of Merkel's policy on Syrian refugees after she opened the border in August 2015, his praise of Brexit and comment that the EU had become a "vehicle for Germany."
In English's case, the Trump election is almost certain to spell the end of the Trans Pacific Partnership. English said the next few weeks would show what action Trump went ahead with, but New Zealand and other TPP countries were keen to ensure the US remained engaged in the Asia Pacific.
"So if there is a change in the American policy and they decide not to sign up to it, then we'd look for other ways of continuing that engagement."
Merkel said she had also asked English about New Zealand's relationship with China and the role it was taking in the Asia Pacific.
It was English's first meeting with Merkel, who visited New Zealand in 2014.
She said she had enjoyed that visit to New Zealand and hoped to visit again, noting many young Germans were also visiting as part of a working holiday scheme.