It may have been minus 10C in Antarctica, but Jeremy Moon was rugged up in his own company's clothing and ready for the occasion.
The founder of merino wool clothing company Icebreaker flew more than 3800km on a US Air Force Hercules C130, as one of 10 science, business and arts leaders - all outfitted with Icebreaker gear - to give TEDx talks on humanity's relationship with the climate.
An avid lover of the outdoors and all things nature-related, Moon says he was in his element.
"You land on an icefield - like on a desert - but made of ice, with nothing around you apart from some military aircraft," he says.
"It's super surreal and then you get in a bus with tyres that were taller than me, and drive for 20 minutes and suddenly you're at this cluster of green buildings, stuck on the side of the hill which is Scott Base."
Moon spent seven days at Scott Base Camp, mingling with the likes of singer Gin Wigmore and business veteran Claudia Batten, and even shared a room with former Nasa astronaut Dan Barry.
The TedxScottBase event, organised as part of the base's 60th anniversary celebrations, aimed to raise awareness of the predicted impacts of climate change.
In his talk, Moon discussed the symbiotic relationship between business and nature, and his views on how businesses can be less taxing on the environment. He says that means operating in a way that is aligned to the three laws of nature: symbiosis, adaptation, and sustainability.
The trip to Antarctica was Moon's first, but he says he's been many times - in his imagination.
"I had probably gone 100 times in my mind because [Icebreaker chief executive] Rob Fyfe had been before," he says. "He had told me a lot of stories about Antarctica so it was amazing to experience it for myself."
Moon hopes to contribute to the work being done in Antarctica and is looking for an opportunity to go back.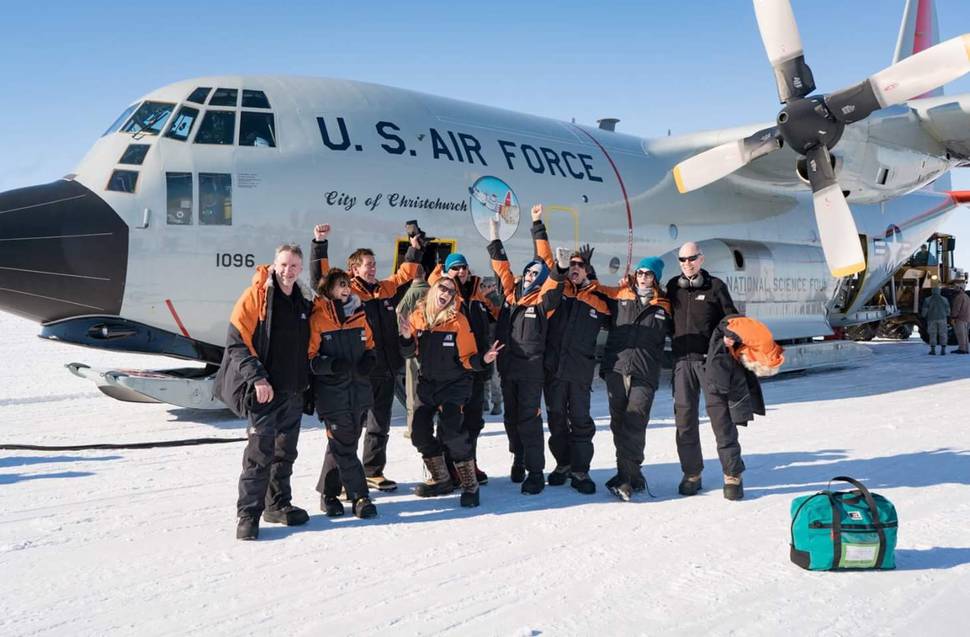 "I spoke with a lot of the scientists, who find it a challenge to connect with the business world, so I want to see if I can facilitate anything there and help be more of a conduit between some of the science that is happening down there, and business applications," he says.
Moon has an idea for some collaborative projects he could work on, like trying to uncover just why merino wool is antibacterial, or how bacteria growth adapts to different environments.
He also wants to help facilitate fundraising from the private sector for some Antarctic research projects.
"Just like with anything, sometimes science struggles to connect with the commercial world, so I love trying to help bridge that gap."
Last year Icebreaker sold $200 million of product and is expecting to sell $230 million worth this year. Over the past 10 years the clothing company has had an average growth of 10 per cent per year.
Sometimes science struggles to connect with the commercial world so I would love to help bridge that gap.

SHARE THIS QUOTE:
The brand supplies clothing to more than 5000 stores in 45 countries and has six offices worldwide. Eighty five per cent of income is from sales from the Northern Hemisphere.
When Moon isn't travelling between South America, North America, Asia and New Zealand, the 47-year-old can often be found outdoors, exploring new places with his children and the family's pet dog.
The father of four says he has always been entrepreneurially-minded, but didn't originally set out to start a business.
At age 24, Moon stumbled across a merino farm in a series of coincidental events and was so inspired by the experience that he had to create his own garments.
He didn't know how to make clothing, but always asked a lot of questions.
"I actually wasn't looking to start a clothing business at all," he says.
"My eyes were opened at a young age to being based in New Zealand and living an international life, so actually my goal was to live in New Zealand and find a way that I could move between North America, Europe and Asia.
"In the back of my mind I was ready to leave my research job - I've always been entrepreneurial as a kid - and I was looking for a ticket to live an international life. So I made Icebreaker that ticket."
The former University of Otago marketing graduate moved to Wellington for his first job and spent three months outlining a business plan and perfecting his financial projections. He later mustered up $200,000 from friends, his parents and parents of friends to start the company.
"It didn't feel like a risk starting Icebreaker at all. It wasn't a question that lived in my head. I could feel it in my stomach - it was impulse - I had to do this and my mantra was 'this will work if I don't screw it up'," Moon says now.
"I knew the idea was good enough, so I took full responsibility for it."
After 22 years in business, Moon says Icebreaker still runs on the same ethos.
"When I go back to the original business plan 22 years ago, the original ethos Icebreaker was founded with is still alive today, and it's because I spent a lot of time on merino stations," he says.
"Spending time on those merino stations, that's when it wasn't my mind being engaged, but it was my heart - that's where I fell inlove with the whole concept.
Spending time on merino stations, that's when it wasn't my mind being engaged, but it was my heart - that's where I fell inlove with the whole concept.

SHARE THIS QUOTE:
"I took inspiration from living within an ecosystem; this relationship between the farmers, the environment and the animals, and understanding how business, in this case; a merino station, can be run with a long-term perspective, looking after the animals, looking after the land and making a profit. That for me was probably the source of inspiration, the business model I have always held in my head."
More than two-thirds of global carbon emissions are generated by business activity. Moon says finding out about how businesses can learn from nature and work as a collaborative ecosystem is his passion.
"There's three parts to a business: what the product is, why the company makes the product, and how it makes it. Most companies spend a lot of their money on the what and the why - the marketing and the branding part - and that's crucially important, but it's just as important to push that all the way through, behind the scenes," Moon says.
"If a company only exists to make a profit, it will always trade off environmental and social ethics for profits.
"If the 'why' behind the company is to have an impact on humanity, and if that includes the consciousness around animal welfare, social ethics and environmental ethics, then naturally it will follow a process of conscious choices around how the products are made."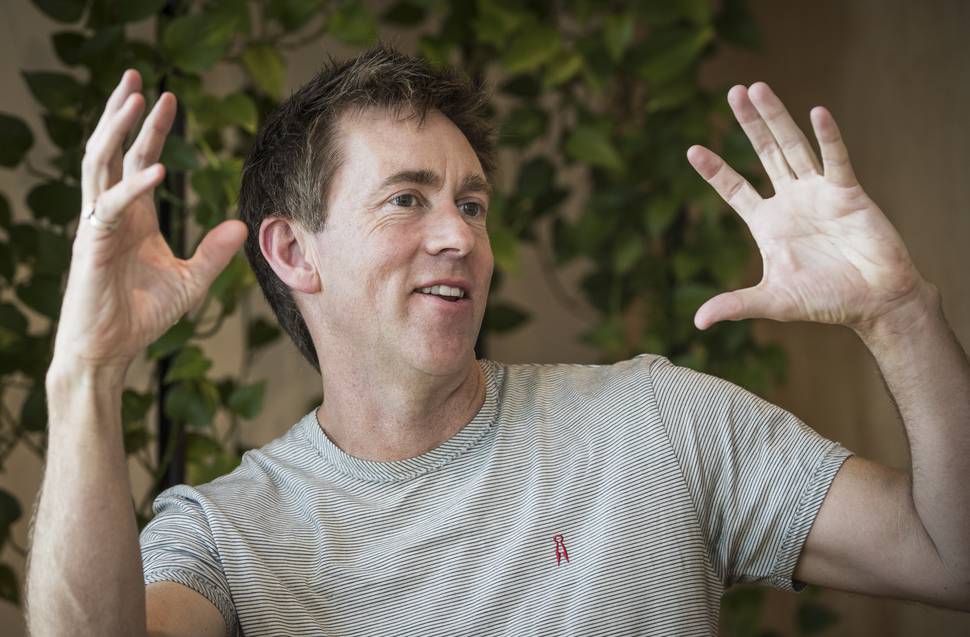 Moon grew up in Christchurch, spending weekends on Banks Peninsula.
The youngest child to three sisters, he spent a lot of time outdoors, travelling internationally - most memorably; travelling around Europe with his family in a Commer campervan.
He likes to live a simple life in Auckland. "For me, I try and live a fairly simple life when I'm in New Zealand. I spend as much time in nature as possible and I love exploring new places, rather than going back to the familiar."
But it hasn't been all smooth sailing for Icebreaker.
In 2010 the company invested $4 million in a new computer system which was a huge setback, he says.
"It was a big risk, and also we screwed it up. It slowed the company down for two years and it was really, really hard on the organisation," Moon says.
"What I learnt from that was when you have a big change programme within the organisation you have to bring in the experts and have everything as simple as possible and bring the whole organisation along with you. That was very disruptive and a big challenge for myself and the team to go through, but we've come through that and we're in great shape now - it's full steam ahead."
Fact & bio
• Age: 47 years old
• Job title: Founder of Icebreaker
• Education: Master of Commerce, postgraduate diploma in advanced statistics. Made a Member of the NZ Order of Merit in 2008 for services to business
• Currently reading: Sapiens: A Brief History of Humankind by Yuval Noah Harari
• Last overseas holiday: Beijing and Tokyo in December for work
• Last film watched: Particle Fever directed by Mark Levinson
• Favourite song: 'I walk the line' by Johnny Cash