Average house values grew more in Tauranga last year than they did in any other major city - and at twice the rate of Auckland.
The confirmation comes from Quotable Value figures for 2016, which were releasedtoday.
They show the average house value rose 24 per cent in Tauranga and 23 per cent in the Western Bay during the year to December 31. The average value was now $672,000 for the city and $571,500 for the Western Bay.
Auckland house prices grew by a more modest 12.2 per cent during the year, while the national figure was 12.5 per cent.
The Western Bay's strong growth is thought to have been caused by home buyers seeing the region as offering better value than Tauranga, according to Quotable Value.
QV registered valuer David Hume said that, despite this, Tauranga's so-called "prestige market" had been especially strong in the past six months with some properties selling for more than $1.5 million.
"That's on the back of a strong stable economy and cashed-up Auckland buyers looking for a lifestyle change."
Mr Hume and three real estate agents agreed the Bay's property market had picked up quickly this year after the traditional Christmas slowdown.
Real estate agents have spoken of Tauranga dividing into two markets, with more expensive homes selling quickly but cheaper ones being affected by new loan-to-value lending rules which force banks to insist on a 40 per cent deposit from most investors.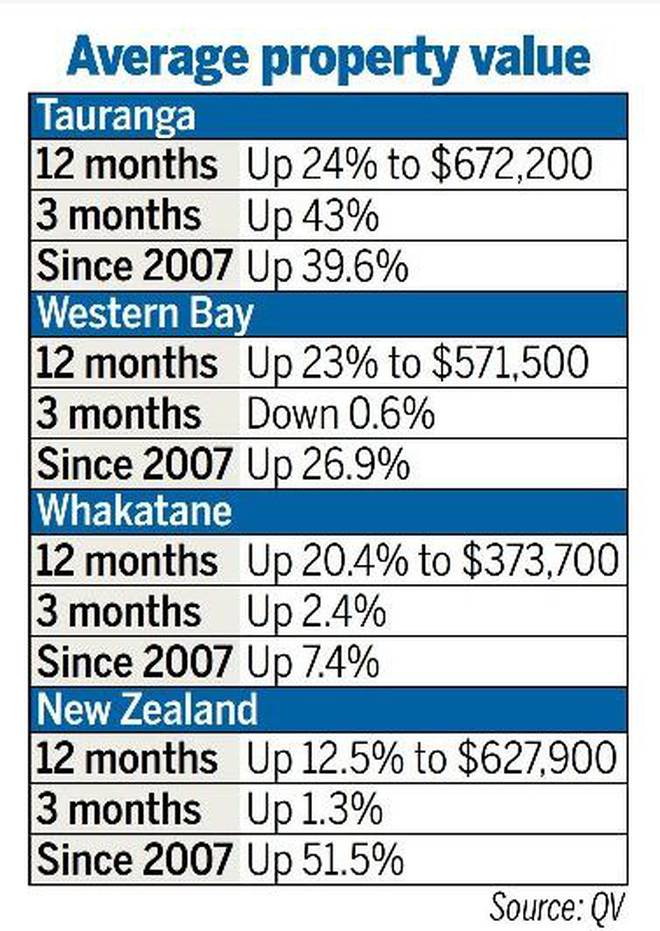 Realty Services sales and marketing manager for Bayleys and Eves Karen Worley said the rules were undoubtedly affecting the market.
"We're definitely seeing a slowing down of the first-home buyer and investor market," she said.
"But we have seen a lot of local buyers upgrading to more expensive properties."
Greg Purcell, a director with Ray White Group in Papamoa, said it was possible that a "soft landing" was occurring at the bottom of the market.
He welcomed the slowdown.
"It's been this way for four months," he said.
"If it kept climbing like it was then we would have fallen off the edge of a cliff at some point."
Tauranga Harcourts managing director Simon Martin said one reason for the growth in average values was the activity at the top of the market, but the city was also playing catch-up after earlier sluggishness.
"We haven't had growth here for years and the last 18 months is making up for lost ground," he said. "It's just that it's all happened in such a short period of time."
Tauranga's still more affordable than Auckland.

SHARE THIS QUOTE:
First National Tauranga owner Anton Jones said Aucklanders were still behind a lot of the market activity. Some were buying expensive homes here after selling their properties up north, while others who could not afford to buy a first home in their city were buying here instead.
"Tauranga's still more affordable than Auckland," he said.
Mortgage adviser Chris Rapson believed there were fewer properties on the market now.
Many potential sellers had already sold their properties, while others were sitting and waiting.
"I think we've reached a point where the market demand has been met and everybody else is either sitting back or saving hard."
Other figures released today showed Tauranga's building costs had soared in the past two years, with a standard 180sq m home costing $1800 to $2100 per square metre for an all-inclusive package and $2400 to $2600 for two-storeyed homes.
Commenting before the release of today's figures, land developer Johnny Calley and Architectural Designers NZ Bay of Plenty chairman Jason Macdonald agreed that construction was becoming more expensive.
Mr Calley placed part of the blame on manufacturers of building materials expanding their operations and passing on those costs to buyers, with increased demand pushing up the price of labour.
Mr Macdonald said compliance costs with documentation also seemed to have risen.
Auckland couple living the dream in Bay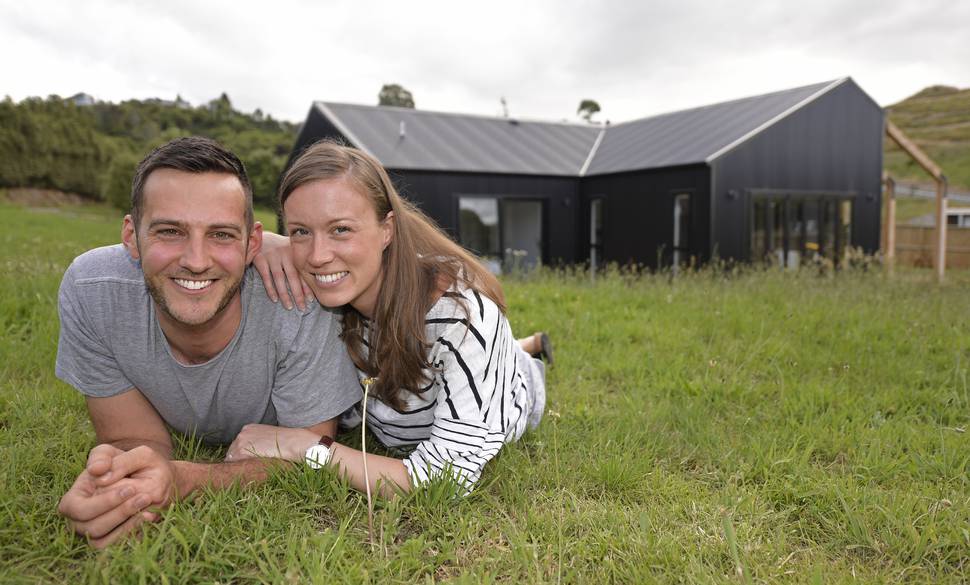 Josh and Candice Hodson moved into their three-bedroom, two-bathroom Te Puna home a month and a half ago.
Moving from Auckland, the couple - a civil engineer and a teacher - came for the lifestyle and got more than they bargained for.
They spent $600,000 for a plot of land and building a house on Minden Rd in August 2015. The construction was completed last November. But in a valuation for lending completed in December 2015, they found the land and house was then worth $720,000 - an increase in value of $120,000.
"I've heard values have gone up since then 30 per cent," Mr Hodson said.
"The real value for us was in terms of lending. We got the best interest rates because of that equity we gained."
The Hodsons had just over 10 per cent deposit but were able to get the interest rates of people who have 20 per cent equity because of the valuation. Despite their house and land rocketing in value, the couple had no plans to leave the Bay any time soon.
"A section this size, three quarters of an acre, only 20 minutes' drive to the CBD, it's just the dream," Mr Hodson said.