It's taken David Howse months and 60 plane trips to visit all the McDonald's restaurants in New Zealand, and the new boss of the fast-food chain is hungry for more.
Howse became managing director of McDonald's New Zealand in June - the latest stop in a 32-year journey with the famous brand that started while he was at school.
And the 49-year-old has has never seriously considered working anywhere else.
Howse may have only started in June, but he has the PR pitch down pat and regarding issues around health and obesity, he says the company is committed to trying to affect change.
And what could the company improve on?
"We could do a better job of sharing our success in New Zealand with other countries," Howse says.
"We get a lot of success here, obviously we're a small country, but really we play a great role on the world stage so we need to share those results a bit better."
Having worked in most areas of the business from restaurant crew all the way up to managing director, Howse has a better gauge than almost anyone on the business, and his enthusiasm is palpable.
The New Zealand brand is in a good place and with a favourable economy, the biggest challenge facing the company was how to stay relevant, and become New Zealand's "most loved family brand".
"Family is what we do well, and families have been having dinner here since 1955 when the company was first formed so I think there's a real opportunity for us to be the most loved brand."
Howe's passion for the brand began in 1984, when, while still in high school he took up a part-time job at his local McDonald's in Melbourne.
A lot of his friends were working there and having fun, so he decided to join them.
"I never left after that, I just became really passionate about the brand," Howse says.
"It was a great fun place to work and I was constantly given more responsibility than a 16 or 17-year-old theoretically should have, because I was leading six or seven people, but it was really good," he says.
"I was planning on going to University a bit later than that and I had this choice, I could only do one of those things properly, so I decided I was going to go for McDonald's and that was going to be my career."
For the next 14 years, Howse worked for a franchisee, working his way up to being general manager of his four restaurants.
In 1999, he crossed over into the corporate side of McDonald's Australia, and after various roles was offered a job in New Zealand in 2006 as director of operations.
Subsequently he took on a role back in Australia in Sydney, before heading over to Johannesburg in South Africa for two and a half years as senior director of operations.
He jokes that he's worked in the tri-nations, but his favourite sport is AFL rather than rugby.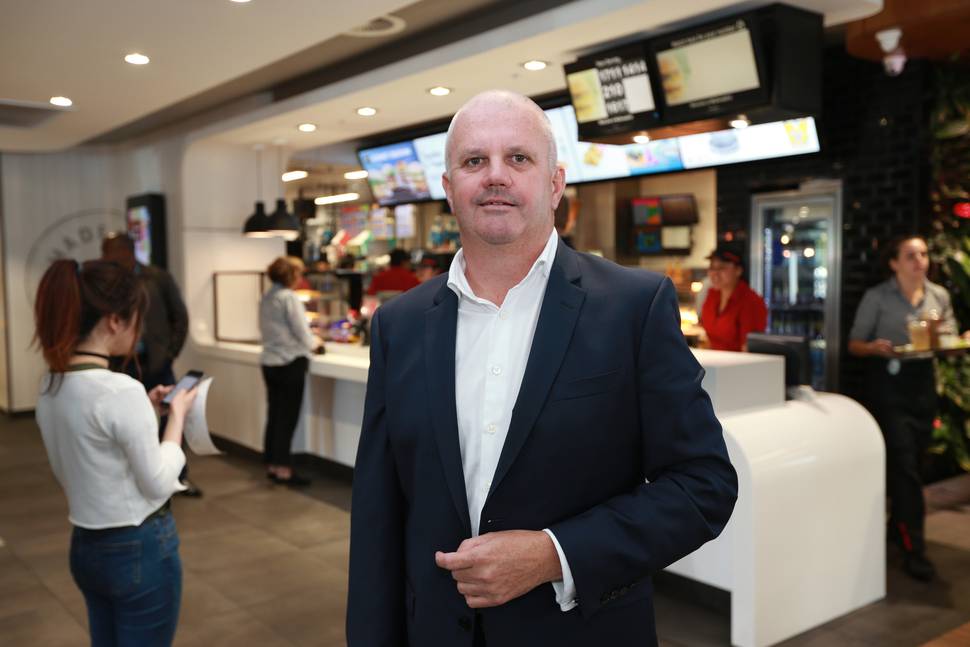 After South Africa he returned once again to Sydney. At that stage, McDonald's had nationalised and there were 228 restaurants and around 20,000 staff under the one organisation.
In comparison, New Zealand currently has 167 restaurants and just under 10,000 staff in a mixture of franchises and company-owned sites.
When the offer of New Zealand managing director came up, the decision was not a hard one.
"It didn't require a lot of thought. New Zealand's a great country scenery-wise and Auckland's a great place to live," Howse says.
"As far as McDonald's goes, it's a very good business over here and so for me to take the job was a very quick answer," he says.
"And that was it. I hit the ground in early June so since then I've been off travelling, visiting all the McDonald's restaurants in New Zealand. I think I've been on 60 planes in four months."
After 32 years working for the company, Howse says he has a positivity and strong idea of where the brand can go from here.
His go-to burger is the McChicken, and his treat burger is the Quarter Pounder with cheese.
Howse eats from McDonald's most days but says this is more often coffee and salad than a burger and chips.
He counters this by training for events such as the Oxfam 100km walk - which he has done twice, and climbing Mount Kilimanjaro, his most recent feat.
His next goal is Everest Base Camp in 2018.
"I try to keep fit. I think having those goals forces you out of bed to do what you need to do," Howse says.
When not busy running McDonald's, family time is important according to Howse, who has four kids aged between 7 and 24.
He says he is lucky that his wife also worked for McDonald's for 25 years and understands the demands of the job.
"You have to have a work-life balance. I think you surround yourself with the best possible team you can but you have to be able to walk out of the office at some point," he says.
"So when you're there you put in 110 per cent, but if you need to get out of there at four for family, then you should. So I try to live by the same rule."
David Howse
Managing director McDonald's New Zealand
Age: 49
Married with four kids - 7, 9, 12 and 24
Reading: "Sniper Elite, a fiction novel. Before that was The First 90 Days - how to effect change in 90 days."
Dream holiday: "Fiji, without a doubt. Every day of the year. Further out would be Barcelona, I'd go there again too and I go to the US occasionally with the family."
Motto: "Can't think of one off the top of my head. Nothing that's appropriate anyway."