Companies and organisations north of the Harbour Bridge like Safety Nets NZ Limited and Straker Translations, are demonstrating world-class innovation and a focus on expansion into global markets contributing to Auckland's export growth and regional GDP.
"We used our tech skills to build all of our own systems. So, we have our own management system for our jobs. We have our own CRA in system. We have our own translation workbench. We've used our technology skills to build a level of innovation in our industry that didn't really exist with other players," says Merryn Straker, Straker Translations chief operating officer.
The North is home to a high density of information and communication technology (ICT) businesses and service businesses with many experiencing rapid growth in online markets or local niche ventures. Category winners PBF, Manawanui Incharge and Max Marketing are stand out North Shore businesses pioneering new levels of excellence in services as varied as traditional house painting, disability funding support and marketing consulting services.
"We might be house painters but we're also managing security, managing dust, and we put in place a special plan for caring for the garden," says Arjen Bloem, PBF managing director and winner of Excellence in Customer Service Delivery.
The latest Auckland Council Business survey released in June this year shows that 76 per cent of businesses in the North had innovated in the past year and introduced new or improved goods and services to market, with 43 per cent undertaking research and development.
"We're a solution-based company, so we seek some really ambitious goals - we have a mindset that anything is possible. I mean, even some of us are going, 'Oh, geez, I don't know' but then we say , 'let's figure out how we're going to do it,'" explains Dean Kent, Swim Gym Physio for Supreme Winner Northern Arena.
Auckland Tourism, Events and Economic Development (ATEED) works closely with the Upper Harbour, Rodney, Hibiscus and Bays, Devonport - Takapuna, and Kaipatiki local boards to stimulate economic growth in the North. Flourishing sectors include wholesale trade, professional, scientific and technical services (hi-tech), and enhanced educational facilities. The construction sector and its associated trades are also thriving with businesses having difficulty keeping up with demand.
In its partnership with Business Mentors New Zealand the Auckland Chamber helps support many local businesses who benefit from the experience and insights of a business mentor while ATEED, partnering with Massey University, is helping to drive a culture of world-leading innovation through its Grow North initiative and e-centre.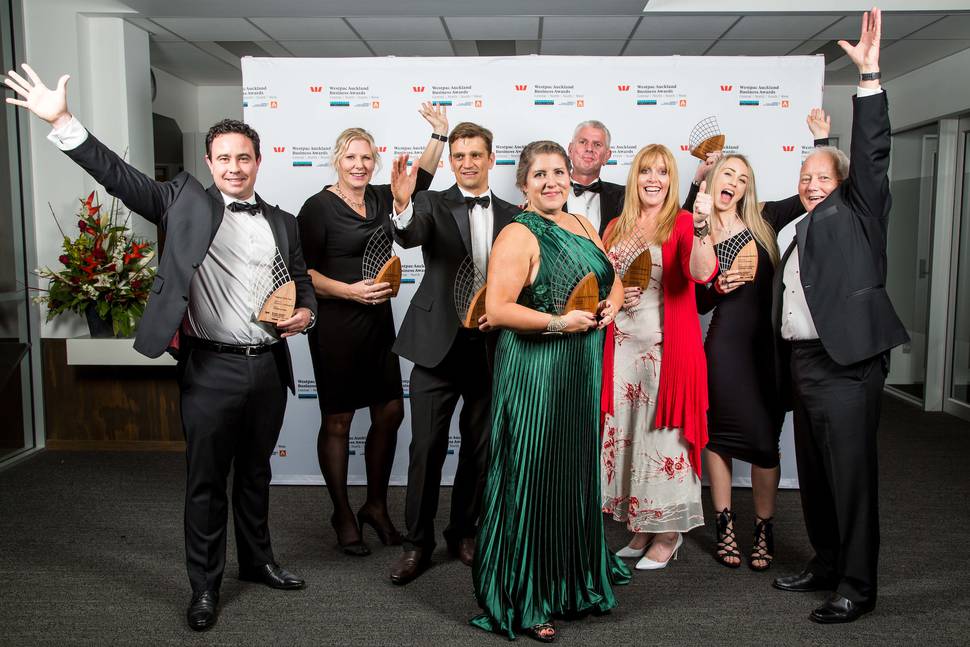 ATEED is the Auckland partner for central government's Regional Business Partner (RBP) programme, which is designed to help New Zealand businesses grow and innovate. The programme has delivered a 38 per cent increase in the number of referrals to people and opportunities to companies based in the North in the 2015/16 financial year compared with the year prior.
Supreme Business Excellence Award winner, Northern Arena, and Max Marketing, winners of the Excellence in Marketing Award have benefited from ATEED's growth programmes.
BEST EMERGING BUSINESS sponsored by Air New Zealand
Provincial Childcare Holdings Limited
EXCELLENCE IN CUSTOMER SERVICE DELIVERY sponsored by Barfoot & Thompson
PBF
EXCELLENCE IN INNOVATION sponsored by Massey University
Safety Nets NZ Limited
EXCELLENCE IN INTERNATIONAL TRADE sponsored by Ports of Auckland
Straker Translations
EXCELLENCE IN MARKETING sponsored by Benefitz
Max Marketing
EXCELLENCE IN STRATEGY AND PLANNING sponsored by Business North Harbour
Manawanui Incharge
EMPLOYER OF THE YEAR sponsored by Blackcat Consulting Limited
Northern Arena
SUPREME BUSINESS EXCELLENCE sponsored by Westpac
Northern Arena