You know Dick Smith is desperate to get rid of absolutely everything when it describes a cardboard cutout of Redfoo as a "priceless collector's item".
Ho hum.
That's the sad state of affairs today as the beleaguered business prepares to close its stores for good, with all New Zealand stores now closed, and the last Australian outlets to shut their doors once and for all tomorrow.
And with the clock ticking, there's still time to bag a bargain ... or is there?
With rumours circulating that even the failed electronics retailer's fixtures are up for grabs, news.com.au was curious to see what kind of bargains were around at the final Australian outlets.
Surely we could scoop up a worthy piece of memorabilia for a handful of change. Surely?
Yet while anyone can bag a Dick Smith brand ink refill or a car charger for about a buck, it's going to cost you an arm and a leg for a fixture - and a ratty one at that.
Used, manky stools for $150, staff lockers (complete with grimy stickers) for $560, smeared tables for $700, filthy filing cabinets for $175.
What were they thinking?
They're even selling a dirty, used kettle for $25.
To be fair, the business does state "no reasonable offer refused" - so hey, if you want that 16-inch wall display on sale for $3000, you might be able to haggle up a storm.
But buyer beware, it's not a pretty sight.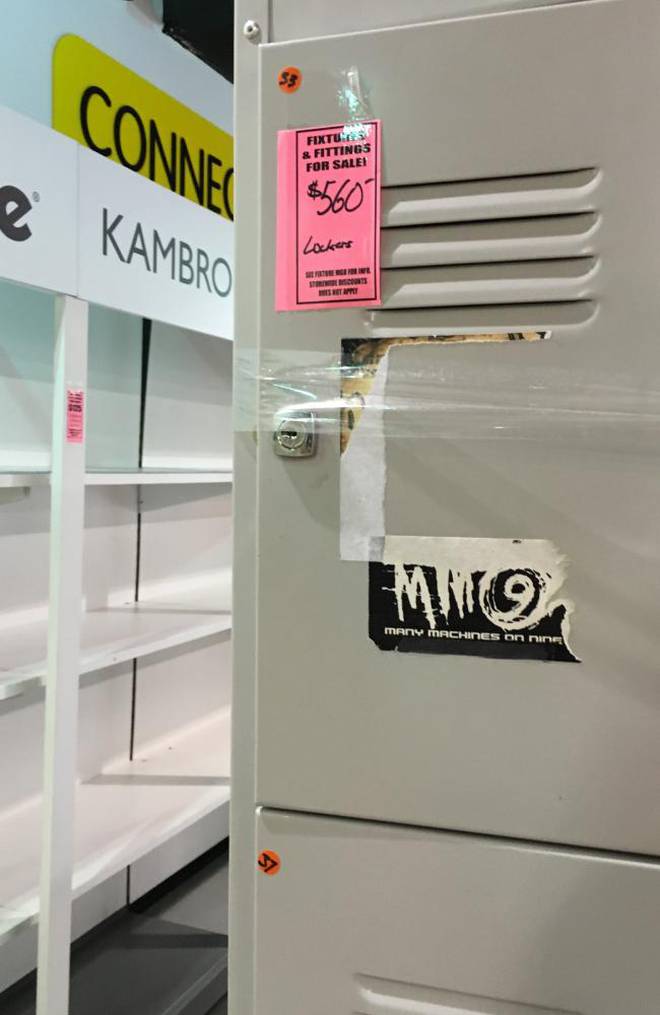 Staff at its Sydney stores on George Street were unwilling to talk to news.com.au about pricing and the popularity of its four-month fire sale; while they're still contractually bound to the company they risk losing their entitlements.
In March, receivers Ferrier Hodgson revealed that each of the failed electronics retailer's remaining 363 stores in Australia and New Zealand were expected to cease trading by April 30.
But a few squeezed in an extra couple of days, and while it's sad to farewell Australia's electronics retailer, we think it might be time to just let it go.