Queen of Excess! The Marie Antoinette of Silicon Valley!
Not the kind of headlines you want to see as a chief executive, much less when your company is under fire from investors and staff and you are about to give birth to twins.
Marissa Mayer is facing intense pressure from investors to step down as head of Yahoo.
The 40-year-old, who is married to Silicon Valley investor Zachary Bogue, is on two-weeks' maternity leave after celebrating the birth of her new baby girls.
Within minutes, she had responses from some of the industry's highest profile figures, such as former Reddit chief executive Ellen Pao and venture capitalist Chris Sacca, tweeting their congratulations.
But the happy news came at a tricky time for Mayer as whispers for her removal increase and Yahoo's shares suffer a 30 per cent price drop over the last month.
But Marissa Mayer is no stranger to controversy. She was hailed as Yahoo's saviour when she was appointed chief executive in 2012 but the glitz and hope she brought with her soon evaporated as she took to turning about the flagging search portal.
Grumbling has turned into open rebellion, with executives quitting in despair and many Yahoo staff complaining that Mayer's micromanaging style and the lack of a coherent plan have hindered the company's growth.
In an in-depth, critical report on Mayer's stewardship, Forbes reported that a recent meeting of Yahoo's senior staff in October descended into chaos, with speakers heckled and VPs openly criticising their superiors for not listening.
Mayer has tried to shrug off criticism, saying recent departures are the result of "careful planning" but she is failing to convince investors.
Although her management style has won her few friends, it is Mayer's spending that many are predicting will cause her downfall.
In a 99-slide presentation sent to Yahoo's board and published by Business Insider, Eric Jackson of the SpringOwl investment firm claimed that Mayer spent $7 million on a Gatsby-esque "Roaring '20s"-themed holiday party this year.
He points to the bash as an example of the way he believes chief executive Marissa Mayer had mishandled the company's money. A source familiar with the company disputes that figure, saying that the 4000-attendee party really cost one-third of that price - roughly $2 million.
A price tag in the millions, plus the theme of the party, has raised some eyebrows. Sure, Yahoo is celebrating its 20th anniversary and may want to celebrate with the exuberance of the Roaring '20s. But the 1920s also stand out for what followed, gives the theme a somewhat ominous twist.
Tech companies, of course, are known for their big holiday blowouts: The venue where Yahoo held its party has played host to LinkedIn, Google and others. SFist reported that LinkedIn had its holiday party there this year, while Twitter opted to rent out another popular venue, AT&T Park (yes, where the Giants play).
Yet even if it is largely in keeping with what the rest of the tech industry offers, the big gala seemed inappropriate to some while Yahoo and Mayer are under the microscope.
Jackson's criticism of the party spending capped off a scathing analysis of Mayer's budgeting overall during her tenure at the company, questioning what value has come out of the money that Mayer has spent on acquisitions. He estimates that Yahoo has spent $2.8 billion on companies since Mayer started as chief executive in 2012, and argues that the company hasn't proven there's been real value from any of them. He particularly pointed to Mayer's $1 billion purchase of Tumblr, comparing it unfavourably to Facebook's $1 billion Instagram buy.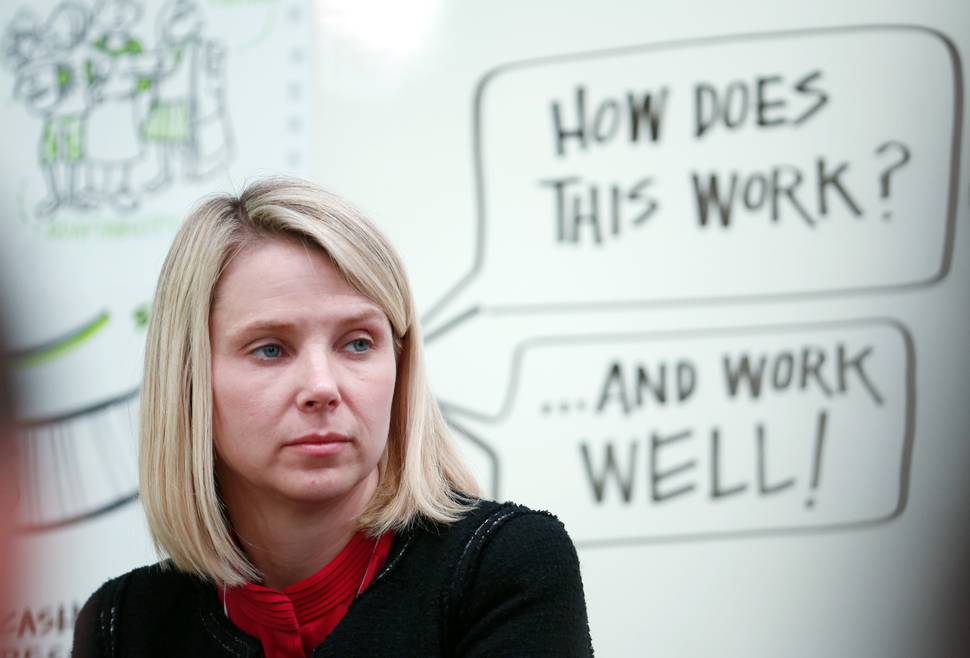 Mismanagement, he argues, may be contributing to an executive exodus at Yahoo, further destabilising the company's leadership.
Jackson also questioned Mayer's spending on the most Silicon Valley of perks: free food. Tech companies use these kinds of perks to recruit and keep tech employees happy - a way to keep them from jumping ship in a very competitive market. But Jackson said it has gone too far, estimating that Yahoo has spent $450 million over four years on feeding its workers.
That figure, however, is also in dispute: The same source close to the company said that Jackson's estimates for the food budget are overblown by a factor of 10, and that the company's food budget has really been more around $45 million.
Last month, the company revealed it was ditching Mayer's 10-month plan to spin off its stake in Chinese online retailer Alibaba.

"With the recent turnover in top level executives, some have questioned whether the CEO's position is stable," SunTrust Robinson Humphrey analyst Robert Peck told CNN.
Indeed Mayer was forced to put out a statement insisting she was "convinced" the company was on the "right track" despite the high-profile change of heart.
- with Washington post and Daily Mail