Star Wars: The Force Awakens may become the highest-grossing premiere in history, but it comes with a huge catch. Disney is demanding movie theatres hand over a much bigger cut of box-office revenue than usual, carving into cineplexes' profits at a time when they need all the help they can get.

So theatres have gotten creative about the moneymakers they control. One small theatre chain, Studio Movie Grill, is offering a daily Star Wars-themed brunch, including cinnamon-and-sugar Princess Leia Buns, a Tuscan Raider Quesadilla and cocktails such as a $9 tequila Yoda-Rita, with lime wedges hooked on the rim to mimic the Jedi master's ears.

The newest film in one of the world's most lucrative franchises is expected to be a goldmine for Disney, drawing in an estimated $400 million in ticket sales by the end of the year across more than 4,000 multiplexes nationwide. But a vast assortments of theatres in the Big Mouse's orbit is fighting to make money, too.

READ MORE:
• Why I won't take my son to see Star Wars The Force Awakens
• Review: Star Wars The Force Awakens - Yes the force is strong with this one
Chains are running full marathons of all six Star Wars movies, starting as early as 2am the day of the premiere, then airing the premiere around-the-clock through opening weekend. They are also selling special Star Wars-themed popcorn tins, drink toppers, pint glasses, branded gift cards and "collector's edition" paper tickets.
For this premiere, no piece of Star Wars-branded ephemera is too small to promote as a special prize. Cinemark, one of America's biggest chains, boasts that it holds the "exclusive North and South American rights" to print Star Wars-themed 3-D glasses, and will style four special pairs after characters including a stormtrooper, the rolling droid BB-8 and the lightsabre-wielding Kylo Ren.

Concessions have always been the prime moneymaker for the movie-theatre industry, because they can keep the biggest share of the cash for whatever soda and candy they sell. For every ticket a theatre sells, it must deliver a share of the cash to the studio.
But theatres are under extra pressure now because Disney is demanding a giant box-office slice: "well north of 60 per cent" of each ticket, B. Riley & Co. media analyst Eric Wold estimated, compared to an average of about 53 per cent for all films since 2008. Viewing upgrades ask for their own cut: IMAX, for instance, typically demands 20 percent for tickets to its theatres on top of what the studios take.

Disney is also requiring theatres keep the movie playing on large screens for four weeks at a minimum, longer than studios generally demand, Wold said. And because Disney owns some of the world's most powerful film franchises - including the superheroes and animated universes of Marvel and Pixar - no theatre wants to face the consequences of scuttling the premiere.

"Disney's gotten a lot more confident, is trying to push a lot more things, because they have a lot of power," Wold said. And if you're a theatre, "you don't want to piss someone off if you do something you shouldn't be doing."

Theatre chains have been under considerable pressure from investors after recent box-office showings missed the mark, including disappointing showings of The Good Dinosaur and In the Heart of the Sea, making the Star Wars premiere a critical component for theatres' holiday business.

But they are also pushing hard to convert the premiere business into a more long-term moneymaker, for when the Star Wars fans move on. Studio Movie Grill, which is hosting 200 Star Wars-themed private parties and corporate team-building events, expects 40 per cent of those 16,000 guests will be new customers.

The movie is expected to pull in more than $200 million this weekend, potentially topping the record-setting opening weekend of $208 million, set by Jurassic World earlier this year. The Force Awakens has already sold $100 million in advance ticket sales - breaking that record a full month before the premiere - and some expect it could challenge the highest-grossing film in history, Avatar, which made $2.8 billion worldwide.

READ MORE:
• Can The Force Awakens become the biggest movie ever?
• Merch stores and Yoda cocktails: theatres ready to cash in on Star Wars
The box office will account for only a fraction of the film's expected bonanza. Macquarie Research analysts expect the Star Wars franchise over the next year to pull in another $1.2 billion from games (such as Star Wars: Battlefront and Disney Infinity 3.0), $900 million from downloads, DVDs and TV licensing and $5 billion in merchandise for such goodies as $70 Luke Skywalker track jackets and Yoda seedless grapes.

The massive premiere has demanded theaters boost their personnel and supplies. Cineplex, Canada's largest theater chain, added 160 showtimes on about 500 screens during the opening weekend due to high pre-sale demand, spokesperson Sarah Van Lange said. Supply-wise, the chain expects premiere moviegoers will buy 5 million cups of popcorn and 9 million ounces of soda.

Several cinema giants including Regal Cinemas, America's largest theatre chain, are hosting long marathons of the full saga at dozens of theatres, alongside discount sodas and hot dogs. Some theatres are upping the ante by allowing marathon attendees save their seats for The Force Awakens Thursday-night premiere.

The Alamo Drafthouse, a popular indie theatre in Austin, Texas, will host an endurance contest for seven fans starting at 4am, screening all six movies and, then, the new film on repeat in an "endless, round-clock screening" until all but one viewer falls asleep. The winner will get Star Wars cards and artwork, seven years of free tickets and a theatre seat named in his or her honor.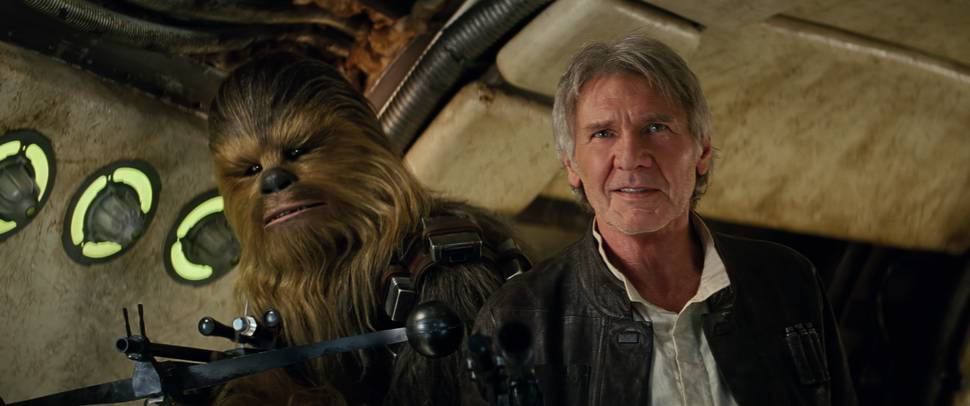 The Star Wars premiere won't be the first time theatre chains push special branded offerings at the concession stand. When Fifty Shades of Grey premiered in February, theatres including ArcLight Cinemas in Bethesda, Maryland, offered viewers champagne, chocolate-covered strawberries and specialty cocktails, including a cranberry-and-rum mix called the Red Room.

But the new Star Wars has proven how much smaller chains see special menus as a way to build buzz and lure moviegoers. Marcus Theatres, a 50-cineplex chain in the Midwest, plans to sell such branded eats as the $8.99 Obi-Wonton Kenobi and $12.59 Wookiee Smash Burger, as well as a neon-blue vodka-and-curacao cocktail called the Lightsabre.

At Studio Movie Grill, whose brunch offerings include Bantha Breakfast Fries and the C3PO-melette Pizza, executive chef Thad Kelley said the spread was designed as "a fun, unique, family-oriented brunch menu around the idea of breakfast at a movie theatre."