New Zealanders have been warned to expect their monthly broadband and landline bills to go up after the cost of copper was raised by the Commerce Commission today.
The commission released its final determination that Chorus can charge customers $41.69 a month for its regulated copper lines.
The regulator came to the final figure, $3 higher than expected, after it conducted a more rigorous process to find the price than the initial pricing principle review, which relied on international benchmarks.
Chorus isn't allowed to backdate the charges to last year, a decision that the regulator's commissioners were still divided on.
Spark managing director Simon Moutter said the new charges were almost $8 per month (including GST) per connection higher than what all New Zealand retail broadband providers currently pay.
Spark customers should expect an increase to their monthly bill to arrive soon, Moutter said.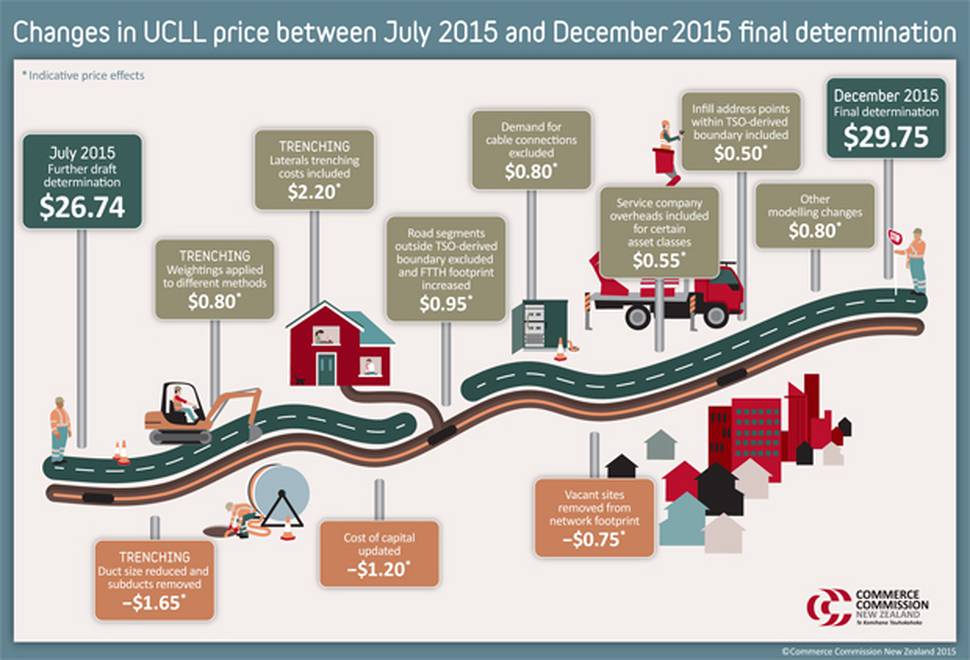 "While the Commerce Commission decision is effective from tomorrow, it will take months before the higher charges flow through completely into pricing for our customers. We will be advising customers of pricing impacts as soon as possible."
Many service providers had already factored in the draft increase the commission had indicated it would settle on of $38.43, with the understanding it would be reimbursed if the commission decided not to backdate.
"We had been hoping that the Commerce Commission decision would allow us to pass on some savings to customers from retail price increases earlier this year, if the Commission had stuck to its decision not to backdate when the new higher charges would take effect," Moutter said.
READ MORE:
• Chorus annual profit sinks 39% as lower copper price bites; earnings to fall in 2016
• Chorus rejects UFB claim
"However, while the Commission has confirmed no backdating, given the significant and unexpected cost increase we will have to assess the impact of this decision on our ability to return savings to customers as previously indicated."
Vodafone New Zealand chief executive Russell Stanners said the pricing was well out of step with international benchmarking and Internet NZ said New Zealanders would now be paying almost double the median regulated lines charges in other comparable countries.
Mark Callander, chief executive of M2 Group, said the company hasn't decided whether it would challenge the ruling.
InternetNZ chief executive Jordan Carter said the final prices were "deeply disappointing".
"This decision puts New Zealand further out of step on fair pricing for Internet access. Our impression is that throughout the price setting process, the Commission has failed to put consumer interests first.
"We are the only country that InternetNZ is aware of that is putting prices up for legacy copper-based broadband services."
Some parties would be considering court action, Carter said.
Our impression is that throughout the price setting process, the Commission has failed to put consumer interests first.
The pricing for fibre would now be more attractive to customers, Craig Young, Telecommunications Users Association New Zealand chief executive, said.
"It's putting fibre prices on a footing with copper... maybe it will just make more people take up fibre when it's available."
His advice to people was to shop around for the best deal.
Telecommunications commissioner Stephen Gale said in a statement trenching and other changes had led to the final price being higher than expected.
"Significant changes, such as the need to increase the amount of trenching required to physically lay the network and adjusting the make-up of fibre and fixed wireless connections, led to the final price rising.
"This has been partially offset by other changes, including a decrease in the allowed rate of return for Chorus due to the fall in interest rates since July, and the removal of vacant properties from the model."
Chorus Chief Executive Mark Ratcliffe welcomed today's decision.

"We have consistently said that the previous draft prices significantly underestimated the true value of Chorus' network, so it is pleasing that the Commission has taken on board the industry's repeated requests and used some of the real world costs of building a network.
"The entire debate over the last three years has been about how much prices should reduce, and prices are still below the prices at demerger.
"It is disappointing to note the Commissioners' split decision on backdating is not in our favour, despite the strong precedent that backdating should apply.

"This lengthy, volatile process highlights the importance of the post-2020 regulatory review to ensure a more stable and predictable framework to deliver better broadband for New Zealand."
As a result of today's decision, Chorus is issuing updated FY16 EBITDA guidance of $580 - $600 million. This is consistent with guidance provided in August, adjusted for final FPP pricing and transaction charges and including the additional cost of activity Chorus is undertaking to improve the end-to-end fibre connection process for customers.
Chorus shares last traded at $3.10, and have gained 17 per cent this year, and Spark shares were last at $3.155, having increased 1.3 per cent this year.
- with BusinessDesk