It's one of our best known retail chains, but for the Mad Butcher, these are challenging times. Christopher Adams investigates.
The knives are out at the Mad Butcher and it has nothing to do with slicing steaks.
On one side you've got founder and brand ambassador Sir Peter Leitch, chief executive Michael Morton and Veritas Investments, the NZX-listed company that acquired the chain in 2013.
On the other is a group of former franchisees who are deeply unhappy with their experience in the 39-store network. They claim an increase in fees collected by the franchisor from meat suppliers is erasing already thin profit margins and making it tougher to compete against aggressive supermarket discounting.
Read also:
• Failure of four Mad Butcher stores 'coincidence'
• Mad Butcher's 40th store opens
There are stories of brutal price wars with rivals such as Pak'nSave, marriage breakdowns, bankruptcies and heated meetings between company management and store owners looking for a way out of struggling operations.
Several former franchisees, who spoke to the Business Herald on condition of anonymity, say a recent spate of store liquidations is the tip of the iceberg and as many as 12 more outlets are facing financial distress.
Veritas, which denies that claim but won't provide a figure on how many outlets are struggling, confirmed that eight Mad Butcher store operators have been liquidated since October 2012.
In April it emerged that four of those outlets - in Glenfield, Kapiti, Massey and Rotorua - had been placed in liquidation this year.
Ownership of all but the Rotorua store has been transferred to Veritas.
Debts at the Kapiti outlet had ballooned to an estimated $853,000, including $308,000 owed to the franchisor, when it went under in March, according to the first liquidator's report. And the Glenfield store has gone through three failed operators since 2009.
Meanwhile, shares in Veritas - which raised $25 million at $1.30 a share to partly fund its acquisition of the butchery chain - have fallen 49 per cent since this year's high point on February 3 to open at 68c yesterday.
The Mad Butcher story begins in 1971, when Leitch opened Rosella Meats in Mangere, which was subsequently renamed the Mad Butcher.
He identified a lucrative niche supplying affordable meat in Auckland's blue collar areas, in the days before the expansion of supermarket chains.
The brand grew rapidly through the 1980s and 1990s, with the first franchised outlet opening in 1998.
The idea behind chains like the Mad Butcher, Aussie Butcher and Export Meat Warehouse is that their combined clout makes it possible to purchase product in bulk and offer more competitive pricing than independent butcher shops.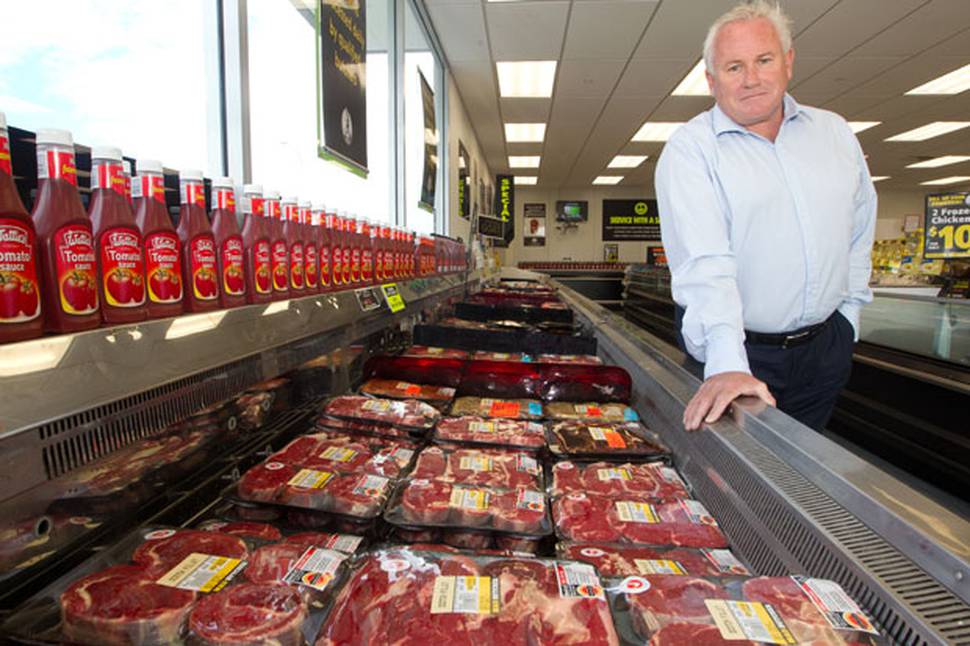 Morton, who is the partner of Leitch's daughter, acquired 15 per cent of the franchisor company, Mad Butcher Holdings, in 2001, taking full ownership in 2007.
Veritas acquired the business in 2013, paying $20 million in cash and another $20 million in shares to Morton, who remains the investment firm's biggest shareholder, with a roughly 34 per cent stake.
Veritas has since made more acquisitions, including upmarket grocery retailer Nosh Food Market and the Better Bar Company, whose businesses include the O'Hagan's and Danny Doolans pubs in Auckland's Viaduct Harbour.
Read also:
• Mad Butcher owner Veritas buys stake in Burger King patty supplier
• Veritas brings Nosh into the family
The company earns revenue from the Mad Butcher through a number of channels, including advertising fees, supplier rebates, carcass sales margins and management fees.
The size of the supplier rebate is a common complaint among former store owners.
Sources say it increased from 3 per cent of the value of product supplied to stores in Leitch's time to 7 per cent under Morton's ownership - a claim he disputes.
While meat suppliers pay the rebate, not the franchisees, there is a perception that suppliers lift their prices to compensate for the rebate, which in turn crimps franchisees' profit margins.
"There's not a business in the world that can cope with 7 per cent being sucked off the bottom line," says one former store owner.
Another says store margins "just got smaller and smaller until there was nothing in it at the end.
"With the cost structure, our pricing was too dear," he says. "We couldn't compete with the supermarkets."
Disputes are hardly unknown in franchise systems such as the Mad Butcher and Morton doesn't hold back when detailing what he thinks of those who blame him for their business failings.
"If you're not making money, go and have a look in the mirror and you might find the problem," he says. "But nobody wants to admit that. They want to blame somebody else." Leitch is even more forthright than Morton: he calls the anonymous critics "gutless" and "low-lifes".
"People like that I've got no time for," he says. "I think there's a group of former franchisees who are out to do a hatchet job on him [Morton]."
Leitch says it has been disappointing to see stores facing difficulties. "I may not own the company now but I spent 38 years of my life building it, maybe more to be fair, but I'm more than happy with the way Michael runs the company."
Morton says claims that the rebate increased from 3 to 7 per cent are incorrect. Misconceptions about the rebate exist because franchisees are not privy to the arrangement, which takes place between suppliers and the franchisor, he says.
Morton says the rebate was about 5 per cent in Leitch's time and increased to 7 per cent under his ownership for only three suppliers, which he won't name.
"The stores that are struggling are not struggling because of that [rebate increase]."
Morton says the success or failure of stores is in the hands of their operators. "It comes down to their processes ... how much value-added did they do to the product? How much trimming did they do? Are they prepared to buy more bodies of beef in and break more bodies of beef down rather than buying mince trim in?"
Any franchise that has 39 stores will have stores that are struggling and not making money.
Morton says making a store profitable can be complex. "A good butcher should have those skills, but it will vary," he says.
Mad Butcher franchisees are restricted to purchasing product from a list of more than 30 approved suppliers such as Tegel, Wilson Hellaby and Affco.
"They can play one supplier off against another [to get better pricing] ... And some franchisees are a lot better at doing that than other franchisees," says Morton.
He rejects claims that he has acted in a threatening manner during meetings with franchisees who wanted to get out of struggling stores. "What I've said in meetings is, 'Don't just think you can walk away from your debts. Don't believe that a liquidator is just going to make this all go away'."
Leitch admits that Morton's management style is different from his. "He's a bit harder than me."
But Leitch says there are also many stories of Morton's generosity, such as him giving $10,000 to a former employee of the Palmerston North Mad Butcher store who had to move to Auckland after his girlfriend fell pregnant.

Leitch says Morton also bought a house for an elderly woman in the South Island who felt she was "ripped off" by a real estate agent.

For his part, Morton says the Mad Butcher is "his baby". "Am I passionate about it? Yeah ... Do I think I'm a prick to the franchisees? Nup, I don't think I am."
Morton won't provide a figure on how many stores are facing financial difficulties, but says claims of up to 12 stores being in trouble are "just ridiculous".
"Any franchise that has 39 stores will have stores that are struggling and not making money," he says. "That has always been the case."
Matt Goodson, of Salt Funds Management, which holds a 7.6 per cent stake in Veritas, says the Mad Butcher is not a big concern for him and he is more focused on the performance of the bar business.
"A number of [Mad Butcher] franchises are performing very strongly, some haven't and there's always going to be the usual retail reasons such as wrong location, poor store operation or strong local competition," says Goodson. "If you look at any national retail chain, there will be shops that will be shooting the lights out and others which are marginal or loss making." Veritas expects to generate revenue of between $32 million and $34 million from the Mad Butcher in the current financial year.
How well individual stores are performing is impossible to know, given that the chain doesn't reveal such detailed figures.
Providing affordable meat is the Mad Butcher's bread and butter. But one former franchisee says supermarket chains, which have undertaken a major expansion in recent years, have become impossible to compete against.
"With Pak'nSave, one store is just as powerful as five or six Mad Butcher stores," he says. "They're an incredible force. Whatever you've got on special, they'll either match it or undercut it."
At the Mad Butcher's Glenfield store on a Saturday afternoon this month, prices on a range of products were significantly higher than at the hulking Pak'nSave across the road.
For example, rump steak at the Mad Butcher was $16.99/kg compared with $11.49/kg at the supermarket; premium mince was $15.99/kg versus $12.99/kg at Pak'nSave.
Morton says it's not a fair price comparison, given that it took place during Pak'nSave's "meat week".
"That particular Pak'nSave has been incredibly aggressive [in its pricing]," he says.
The Business Herald also visited the Glen Innes Mad Butcher, where many products were cheaper than at the nearby Pak'nSave.
Morton says the company believes the Glenfield store is sustainable, despite three former franchisees failing to make a go of it.
"We're not going to close it," he says. "We're not going to let the Pak'nSave guy run us out of town." Morton says the Mad Butcher has begun a new initiative, reducing "everyday meat prices" by 20 to 30 per cent, rather than selective discounting that puts more pressure on franchisees' margins. Countdown is making a similar play with its "price lockdown" strategy.
The Business Herald contacted more than 10 Mad Butcher outlets to try to get a steer on how existing store operators are faring, but franchisees are forbidden from talking to the media.
To be honest, when these kinds of stories come out it doesn't hurt me, it hurts the franchisees because people sniff blood.
One current franchisee describes the repercussions of talking to journalists as "a fate worse than death".
Another, who doesn't want to be named, says things "seem to be going alright" in his store.
"Like any business, you have your ups and downs," he says. "But as a group I think we do a good job of competing with the supermarkets." The conversation comes to an end after the store owner receives an email from Mad Butcher head office, warning franchisees that a journalist has been contacting stores and reminding them of the confidentiality clause in their franchise agreements.
Asked if the franchisor seems a little paranoid, the franchisee says: "I must admit that I think that myself." Defending the restrictions, Morton says the company needs to deliver a single, clear message to the media.
"To be honest, when these kinds of stories come out it doesn't hurt me, it hurts the franchisees because people sniff blood," he says. "Every Pak'nSave operator thinks, 'I've got them by the short and curlies. I'll wind up the screws, go harder and try and put them under'."
Morton reckons consumers would face higher meat prices if the Mad Butcher wasn't around.
"If we're not there holding [supermarkets] down at that level, what do you think is going to happen to prices? From a business story point of view it should be about the goliath trying to squash the little guy."
Report blamed for share price slump
Veritas Investments is blaming media coverage of Mad Butcher store liquidations for its languishing stock price.
Shares in Veritas have fallen 28 per cent , to open at 68c yesterday, since the National Business Review reported on April 2 that four outlets had gone "belly up" in three weeks.
Acting chairman Tim Cook says "negative publicity" around the liquidations has been one of the main contributing factors to the company's share price slump.
But Veritas shares had already tumbled 28 per cent, from $1.33 to 95c, between February 3 and April 2.
A disappointing half-year result, reported on February 26, contributed to the share price fall. Profit slipped 16 per cent to $1.71 million in the six months to December 31, as a result of costs associated with buying the Nosh Food Market grocery chain and the Better Bar Company. Then, on May 29, Veritas downgraded guidance for full-year underlying net profit from $5.3 million to $4.3 million. The actual profit should be known in the next month or so, when Veritas may release its full-year result.
And on June 10 the firm announced that chairman Mark Darrow would step down from the board.
Cook says the eight Mad Butcher liquidations since late 2012 could be used to paint a "dramatic" picture of the business. But a range of factors contributed, including health, landlord and marital issues, as well as poorly performing franchisees, he says.
"I'm extremely disappointed with the share price performance because it's not driven off any good fundamentals. A lot of the reason the share price has come back has been stories in the NBR and that type of thing."
Veritas said last month that it expected underlying profit to rise by up to 28 per cent - to as much as $5.5 million - in the year to June 30, 2016.