The warnings about the size, scale and sheer madness of the International Consumer Electronics Show 2015 in Las Vegas were all true and then some, even though as of writing, the main event hasn't even kicked off yet.
This is a very busy do. Over 150,000 people are expected to descend on Vegas to check out the latest in every manner of retail electronics, of which there's a vast array of things.
In the media pre-event event, start-ups and smaller existing companies pitched their products and services to tech journos and analysts from all over the globe. There was lots of different things to look at, including the SwiftConnect GT mouse from Christchurch that won an innovation award at this year's CES.
That's great news, congrats to Swiftpoint.
There is a sizeable French contingent at CES 2015, which if I understood one of the exhibitors right is thanks to a government economic development agency helping out start-ups with funding to attend the show. Might be worth thinking about for NZ too, that kind of assistance.
The themes at the start-up event were predictably enough connect everything and sensors (when someone says "smart device", think "it has sensors").
Some were interesting like a wireless blood pressure monitor made by Quardio that will be available in NZ along with a wearable electrocardiogram monitor and smart scales that connect to an Apple iOS or Google Android app.
Smartwheel decided to ambush media hurrying into the exhibition hall with a display of its sensor-equipped steering wheel rear-mounted on a hapless chap. Don't think the attention grab worked quite the way Smartwheel expected it to.
Others were just plain eccentric like the allegedly first wi-fi kettle in the world.
I couldn't help thinking that there were two things missing from the smart devices and internet of Things sensorama, namely recycling the gear when it's no longer needed and the security of the enormous amount of personal data they will collect.
Guess that's for next year's collection of start-ups to ponder.
Samsung goes Super Ultra High Definition
Now, one reason I'm in Vegas is to look at Samsung's offerings for 2015. The Korean electronics giant believes it has the chicken-and-egg problem with 4K TVs sussed out, so that people will start buying sets in larger numbers.
As part of that effort, Samsung has joined forces with Japanese competitors Sony, Panasonic and Sharp along with movie studios to hammer out standards for Ultra High Definition or UHD content.
This is a bit surprising really, but before the UHD Alliance, there doesn't appear to have been industry-wide agreement on high colour gamut for more realistic images as well as high frame rates and immersive sound.
Working with the content producers and distributors - especially Netflix which is hugely popular - makes sense for Samsung and the others.
Apart from the high prices for 4K TVs, the lack of content meant the hi-res standard has been slow to take off.
Let's see if the UHD Alliance will help make more content available for 4K fans, and if it'll help with 8K content as we should see the even-higher resolution screens appearing this year.
Samsung's put together three TV sets lines that promise Super Ultra 4K and showed off the massive, high-end 88-inch SUHD TV JS9500 at its media conference ahead of the main CES 2015 event.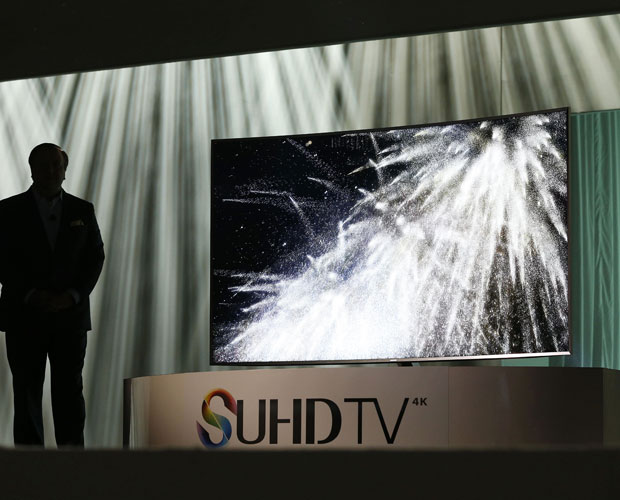 Samsung US VP Joe Stinziato introduces the new SUHD TV
The S in front of UHD stands for Super, Samsung told me and the JS9500 sports a curved screen, nano-crystal semiconductor or quantum dot display that is bright and has a large colour gamut for realistic images.
No word as of yet on the JS9500 and edge-lit JS9000, or the flat JS8500 availability in NZ; they will come in 48, 55, 65, 78 inch screen sizes, with the 88-inch display being reserved for the top end JS9500 apparently. Listening to Samsung US boss John Hetherington firmly declaring that the company's working hard on transitioning to a premium brand, I suspect the new SUHD TVs won't be cheap.
More on the new Sammie screens later, when we're allowed to take a closer look.
Juha Saarinen travelled to CES 2015 as a guest of Samsung New Zealand