Key Points:
As a creator and a rights holder, I naturally enough take an interest in how copyright is developing in the digital technology era. The big issue that remains unresolved is the largest copier machine ever invented, the Internet, doesn't sit well with copyright. For instance, whenever you view content from a website, it is in fact copied over to your machine. Not just your machine either - the content is copied to other networked computers along the Internet path to your system. This mode of operation would seem to make copyright impossible, but there's much money vested in movies, music and other forms of material, so laws are being changed and Internet providers press-ganged into monitoring what you do on the web to enforce them. In the US, a notice scheme has kicked in called the Copyright Alert System or CAS. The organisation behind it, the Centre for Copyright Information (CCI) sent out a whopping 1.3 million alerts to Internet provider customers in the first ten months of its existence - a figure it says will double in the coming year. Interestingly, many users don't actually know what's copyrighted and what isn't. That's understandable because it's often not made clear if the material in question is copyrighted (or who owns the rights). Take Europe for instance. You'd think the EU would own the copyright to its buildings but it doesn't. This means you as a member of the public can't take pictures of the buildings without permission from the rights holder. The same goes for the Eiffel Tower in Paris: it's fine to photograph in day time, but not during the night when copyright starts. Increasingly, large rights holder organisations are pushing for more strict laws and measures against alleged infringers, to protect their businesses. So much so that chasing infringers has become a business by itself. Not a very lucrative one, if the example of Rightscorp which has won 130,000 cases against pirates is anything to go by. The filesharing smeller pursuivant company has lost US$6.5 million since it started out, and is on the verge of bankruptcy, and needs urgent funding to survive it would seem. It seems the changes to copyright and enforcing it have created a situation that doesn't really work for anyone, not the customers who would like to enjoy the creative stuff, nor for the companies and individuals making it. Actually, I lie: lawyers are most likely happy to building intellectual property castles in the sky and politicians seem to rejoice in being able to use copyright enforcement as a way to rein in the anarchic Internet. That the two latter groups are having a field day ignoring technology and common sense doesn't help the rest of us much. Furthermore, having an inefficient enforcement system in place that redistributes some money not to creators but whoever it is that asserts copyright while criminalising Internet users is a waste of everyone's time. Don't hold your breath for a solution any time soon though. It's been like this since the compact cassette came onto the scene, and music studios went ballistic as people recorded things off the radio. They were mollified with a levy on empty cassettes and a few other token gestures by the authorities which clearly didn't satisfy the large organisations who are now trying to control your Internet and penalise users on it. Expect more © weirdness in other words.
Gear: Lenovo ThinkPad Tablet 10
Windows-based tablets haven't taken off as well as Microsoft would like, in the face of withering competition from Apple's iPads and devices running Google's Android operating system. Despite this, some vendors such as Lenovo soldier on with Windows tablets, chipping away and hoping the market will take note. The ThinkPad Tablet 10 promises to deliver "a PC experience and superior versatility in the palm of your hand". This is a bit exaggerated unless you have absolutely giant hands but the Tablet 10 does provide a reasonably nice Windows 8.1 experience. Its Intel Atom Z3795 system on a chip is 64-bit and has a quad-core processor, and my $1,029 including GST review machine came with 2GB of memory and 60GB storage, of which Windows 8.1 told me 47.5GB is available. Not the most powerful machine on the block, and I'd add another 2GB RAM to give Windows 8.1 more space, but it was fine for Internet use and watching video. Apps start-up can be slow though, and overall, the device is best suited for light to medium computing tasks. There's the usual set of USB 2.0, Micro HDMI for display and Micro SD for memory cards slots, Bluetooth, 802.11n Wi-Fi and LTE 4G cellular broadband options so the Tablet 10 is well-connected.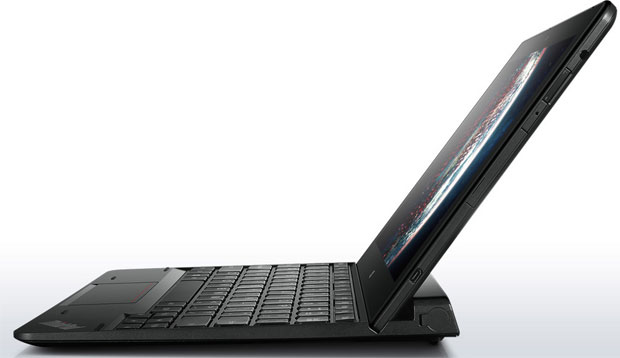 Style-wise the Thinkpad Tablet 10 follows Lenovo's design that it inherited from IBM. It's not exactly elegant, but functional enough, albeit a bit plasticky. Ergonomically, the ThinkPad Tablet ten is a mixed bag. It weighs between 598 to 610 grams and is almost 9mm thick. It's a bit porky in other words, especially when compared to Apple's new slender iPad Air 2. One side of the Thinkpad Tablet 10 has a large connector for accessories which has the upside of holding the device steady on the separate Ultrabook keyboard which is nice to type on. The downside is that the side connector doesn't feel great when you hold the Tablet 10 in your hands. There's little wrong with the responsive 1,920 by 1,200 pixel resolution 10.1-inch screen with ten finger touch however. While I didn't ever make the promised up to ten hours battery life, the Tablet 10 usually lasted most of a working day. You get cameras as well, one 8Mpixel rear facing imager with auto-focus and flash, plus a 2Mpixel front one. If you're in the Windows camp, the Lenovo Thinkpad Tablet 10 is worth a look - if you can find it for a good price. Unfortunately, the Tablet 10 is on the expensive side, especially if you add accessories like the nice keyboard ($170.20). Maxed out with the keyboard, 4GB of RAM, 128GB of storage and 4G broadband you'll be slugged for $1,719 including GST which is too expensive. An iPad Air 2 with 128GB storage and Wi-Fi and 4G costs $1,249; add the Logitech Ultrathin magnetic keyboard for another $130 and you'll save $340 compared to the Lenovo Tablet 10 and walk away with a nicer looking device with better specs that'll run quite a few Microsoft applications including Office.