A sibling rivalry 50 years in the making has exploded into a court battle with the $400 million fortune of the late philanthropist Hugh Green at stake.
Throughout their childhood, John Green and his sister Maryanne were rivals. John was the leader of the Heroes club. Maryanne, three years younger, wanted to join. He said she couldn't. She was already "in the Spastics club" - and she was the leader. She didn't know what he meant by that, but she was proud.
Decades later, this sibling rivalry is playing out in an Auckland court room as they battle over their father Hugh Green's $400 million fortune - clouding his legacy as one of New Zealand's most generous philanthropists.
Green amassed a fortune through a variety of business interests, including construction, farming and property investment, before he died in July 2012 aged 80.
On one side is Maryanne, 55,
who in August - two years after her father's death - launched a civil case in the High Court at Auckland against her brother John, 58, sister Frances, 52, and lawyer Michael Fisher. On the other is the rest of the family, led by John.
At the heart of the argument is Maryanne's claim that she and her brother should work independently and run different arms of the empire - her the business side and John the charitable arm. She says the trio were appointed when her father was ill and not making rational decisions.
John, however, says they are honouring their dead father's wishes by working together as a family.
Each member of the family has lodged hundreds of pages of affidavits arguing their case. Together, they paint a portrait of a once tight-knit family in turmoil.
A judge will decide after closing arguments next month whether Hugh was in the right state of mind to appoint John, Frances and Fisher.
It is a sad concluding chapter to an empire proudly built by Hugh - and an end he wanted to avoid.
Before her father's death, Maryanne threatened court action which angered him. Hugh's wife of 60 years, Moira, said in her affidavit this outcome would have made him "very upset". "He always said family should stick together and that what went on in the family should not be repeated to outsiders," she wrote.
Hugh was a modern day "Robin Hood". The Irish immigrant delighted in making money from haggling over cattle and giving it to the needy. He drove a beat-up 4WD. His clothes were worn to a thread and he always wanted Moira to darn his socks, despite his wardrobe being full of new clothes.
Five children were raised in their modest Mt Albert, Auckland, home. John was the eldest, followed by Maryanne, Frances and Eamonn. Gerard, the son of Moira's brother, was adopted into the family in 1968 after his mother died.
In her 78-page affidavit, Mary-anne describes growing up as a "happy family time". Hugh was the boss at work. Moira was the boss at home. Maryanne organised rosters for the family chores. "My attempts to get action on the rosters did cause friction with my siblings," she wrote.
In his affidavit, John says that from an early age his father was keen for him to take an active role in the family business. "I believe that dad looked to me to fulfil this role because I was his eldest son and he saw qualities in me that he had admired in his own father," he wrote. At 14 he started working on his dad's farms on weekends and school holidays. When he left school at 18 he was introduced to cattle dealing. He'd spend time learning his father's passion from him around dusty sale yards haggling over a price.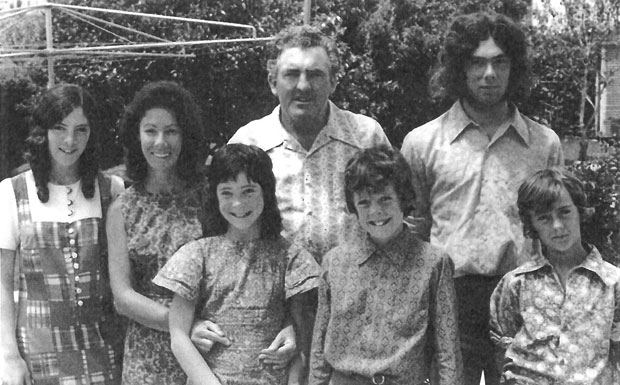 The Green family: Back row (L-R) : Maryanne , Moira , Hugh , John. Front row (L-R) : Frances , Gerard , Eamonn.
In contrast, Maryanne left school at 15. She went on to work behind a desk, filing and typing, before becoming a piano teacher. She says in her affidavit she was "extremely close" to her father throughout his life. "I was like him in temperament - driven, direct and 'black and white'. My mother Moira, my brother John and sister Frances tended to be more relaxed," she wrote. When she divorced her first husband in 1987 and became a single mother to adopted daughter Alice, Hugh asked her to work for him.
The siblings' uneasy relationship exploded when, according to the affidavits, Maryanne believed John to be stealing from the company. He insisted what he did was approved by Hugh - but he left the company for Australia in 1995 after being asked to step down as trustee.
He enjoyed a successful spell as a racehorse owner, but seven years later he returned home to be near his family. And in 2009 he was welcomed back into the family business, attending management and directors' meetings.
He also worked part-time for the Hugh Green Charitable Trust, assessing applications for donations.
But the years away had not erased ill-feeling.
John says in his affidavit that although Maryanne had encouraged him to re-join the business, he could tell she was uncomfortable with his increased involvement. She thought he was unprofessional, and the use of his nickname - Ram - in his email
address was not "very business-like".
The bombshell landed when Hugh was diagnosed with terminal cancer in February 2010. He was told to get his affairs in order - and that included making a decision about his business. He wanted it to remain a family affair and for there to be equality among his family when it came to money. John says in his affidavit that the trustees regularly met the family to discuss and confirm his wishes for the trusts and the business after his death. "Dad's wishes were paramount," he wrote.
By that time, Fisher had been working as a lawyer for Hugh and the trust. Maryanne was suspicious, believing he was a childhood friend of her brother's. By June 2011, Hugh's cancer had progressed. The family were told to hope for the best but plan for the worst.
That same month, Maryanne received a letter asking her to approve John, Frances and their mother Moira as authorised signatories for the Hugh Green Charitable Trust, Hugh Green Trust and Hugh Green Ltd. Hugh also wanted Michael Fisher to prepare the documents and act personally for him.
In her affidavit, Maryanne says she was alarmed. She did not want John to have signing powers because she still believed he had previously stolen from the company.
Hugh's health was ailing. But Maryanne wrote a series of letters proposing a new business structure in which John would be involved only in the charity side.
Maryanne says she was called to a family meeting at Frances' home, across the road from her parents' home, in June 2011. "My mother ran the meeting. She was wearing a hat. She said that only the person wearing the hat could talk. My mum said the hat would be passed around and everyone should say what they wanted to happen to the business when Hugh was not there," she wrote.
John says in his affidavit that his parents had asked for the meeting to be called so Hugh could tell his children of his wishes. "Dad told us he wanted Maryanne and me to run the business together and for the business to be carried on as it had been carried on in the past. Everyone apart from Maryanne spoke to the effect that what Dad wanted to happen ought to happen," he wrote.
The meeting descended into a chaotic argument. Maryanne dug her heels in and refused to agree. She wanted to run the business side and for John to run the charity side. She wrote in her affidavit that "Hugh got up and said 'I'm going home for a sleep'. Mum became upset and was next to leave".
Maryanne resigned as a trustee from the Hugh Green Charitable Trust, but held on to her other roles. In August that year, John was appointed director of four of the key group companies. Maryanne continued to believe the plan would be that she and John would have separate roles.
In November she received an email formally appointing John and Frances as trustees of the Hugh Green Trust and the Hugh Green Property Trust. She refused to believe her father had drawn up the documents and confronted him.
The key to the case before Judge Helen Winkelman is whether, as John argues, Hugh was capable of making his final decisions or whether, as Maryanne would have it, he lacked sufficient mental capacity.
She points in her affidavit to her father signing a document removing her as director of several companies in April 2012 on the same day he underwent a blood transfusion.
Shortly aftwards, Hugh accepted a Queen's Service Medal. Maryanne says that acceptance went against the proud Irishman's long-held distrust of English royalty.
Also, Maryanne visited her father before heading to New York and says he spoke to her in between dozing in and out of sleep. Moira walked in saying to Hugh, "You better get up and get dressed, you've got the lawyer coming to see you." He wasn't able to dress himself. Moira buttoned his shirt.
Maryanne watched her father walk to a dining table where a man and woman she did not know sat. She walked out while her father made a new will appointing Fisher, John, Frances and long-time trustee Bob Narev as his executors. He'd cut Maryanne out.
But John argues Maryanne saw little of Hugh in the last months. "She did not come to the traditional Christmas Eve at Dad and Mum's in 2011. I also remember she would not answer the phone or return his calls when Dad tried to ring."
His father was in fine form on the day he received his QSM, says John, who points to friends who saw him towards the end when Hugh thrived on the visits.
The last time Maryanne saw her dad alive was on July 11, 2012. She says in her affidavit she noticed her photograph in his bedroom was completely covered with an Irish flag.
Two months after the funeral, she was formally removed as director of the remaining companies.
Maryanne says in her affidavit when she and John had their own little clubs as children, Frances was always in the Heroes club with their brother. "I would either get Gerard or Eamonn to join my club by tempting them with lollies," she wrote.
But when the family met again in August at the High Court in Auckland, they sat united on the back bench of the court room. She sat alone in the front. There was no tempting anyone back into her club.