Buyers opt for 80 per cent-plus mortgage and build on city fringe
An increasing number of Aucklanders are looking at getting 80 per cent-plus mortgages to build homes in the south and west.
Industry officials cite a Reserve Bank relaxation on mortgage lending as a reason for a big pickup in Auckland residential building.
QV valuer Bruce Wiggins yesterday singled out last year's removal of loan-to-value restrictions on new house construction.
"As there are no loan-to-value restrictions on lending for new building, this may account for the stronger interest in this sector," he said.
Mr Wiggins said people with less than 20 per cent deposits were looking at new subdivisions south or west around Weymouth, Hobsonville, Takanini and Papakura.
Although borrowing so much and building could be risky, buyers were forced into it.
"They do know the dangers - or you would hope they do - but I don't think they have too many choices," Mr Wiggins said.
ASB's head of home lending, Vince Clark, said he had noticed a change.
"ASB noted increased demand for lending on new home building in particular in the June quarter, consistent with the rise in the value of residential building activity."
Certified Builders chief executive Grant Florence said the price gap between existing and newly built homes was narrowing, so more young people saw construction as an option. More were moving towards Auckland's outskirts where land was cheaper.
Statistics NZ said 20,665 building consents were issued nationally in the year to July, up from 12,146 in the year to July 2009. Auckland new dwelling consents are at a two-year high, up from 476 in October last year to 849 in July.
QV data released yesterday shows residential property values for the Auckland region rose by 1.8 per cent over the past three months.
More control in construction
Patumahoe resident Vanessa Nash recommends building a new house, but not necessarily because of price or lending factors.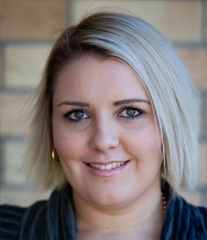 Vanessa Nash.
"It's not a cheap option. You're spending at least $2000 a square metre. I would do it again but next time, we would buy a section and build it ourselves."
She and her partner, Andrew Ferguson, bought a new spec place, already under construction when they purchased, and they shifted in April. They were able to influence some factors and generally had a good experience but next time Ms Nash would prefer to start from scratch so they could have complete control over their new house design and layout.