Airline tells man he has to go without food on 11-hour plane trip because it cannot serve peanut-free meals
An Auckland man flying business class from London to Hong Kong says he was told he would have to go without an in-flight meal for his 11-hour trip because the airline could not cater to his peanut allergy.
Hong Kong-based carrier Cathay Pacific says it is unable to guarantee a peanut-free meal because peanut-based ingredients are widely used throughout the Asia Pacific region — and that passengers with allergies should bring their own food on board.
Have you had a similar experience? Email us here.
But Brian Moore said he had travelled on many airlines over the years, including Asian airlines — all of whom have been able to cater to his needs.
Mr Moore, who lives on the North Shore, was heading to London for a holiday with his wife.
He had requested through his booking agent, Flight Centre in Browns Bay, peanut-free meals on all four legs of their trip.
On the first leg, Auckland to Hong Kong, he received a peanut-free meal from Air New Zealand.
But on the second leg, on Cathay Pacific from Hong Kong to London, Mr Moore said staff told him they did not have a peanut-free meal available and that because he had informed them of his peanut allergy, no food could be given to him.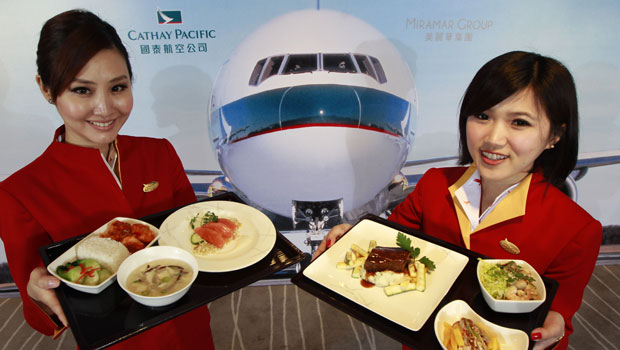 Cathay Pacific staff told Mr Moore much of their foot contained peanuts - so wasn't suitable for him. Photo / supplied
Mr Moore said staff told him that because they were an Asian airline, much of their food was made with peanut-based products. "Being told at the start of an 11-and-a-half hour flight that I would not be served any food was not what I had expected.
"To complicate matters, I have a heart condition which requires me to take medication at set intervals - the medication must be taken with food."
In the end, he was given a bread roll and an apple to sustain him.
Cathay Pacific yesterday confirmed it had received a complaint from Mr Moore but said it did not comment on individual cases.
NZ manager Brian Tsoi said the airline was unable to guarantee a peanut-free meal or environment because peanut-based ingredients were widely used throughout Asia Pacific.
"We also cannot prevent passengers from bringing peanuts on board or insist that they do not open or eat them. This is a common policy."
He said passengers with peanut allergies were encouraged to take steps to minimise their potential exposure, including bringing their own food on board, wearing a medical alert bracelet and carrying appropriate anaphylaxis treatment prescribed by their doctor which can be self-administered.
But he said notification of an allergy was required from a travel agent or the passenger a week or more before departure, and a medical form so "their fitness to travel can be assessed and that the request for non-peanut containing cocktail snacks can be submitted to the airline".
Mr Moore said he made the request months before his flights and that the staff member he dealt with at the Flight Centre agency also has confirmation that she entered his request.
Mr Moore, a seasoned traveller, said he could not understand how an international airline could not cater to passengers with a peanut allergy — something that was very common.

Allergy danger
• 38% of Kiwis say they have food allergies
• Eight main foods have been identified internationally as causing 90% of food allergies. These are cows' milk (dairy), eggs, peanuts, tree-nuts, soy, wheat, fish and shellfish.