Scotland's commercial property market, already lagging behind the recovery in London following the British economy's slump, has developed another obstacle for investors: the possibility of Britain breaking up.
The prospect of voters supporting independence in a referendum scheduled for September 18 is weighing on the market, according to brokers and investment managers. While polls show Scots are more likely to opt for the status quo, in most of them enough are undecided to make the result too close to call.
"Clients are holding off on key decisions," said Simon Light, head of British real estate at construction consultants EC Harris LLP. "The element of uncertainty exists quite strongly and so people are just waiting."
British politics has replaced the economy and the European debt crisis as the biggest concern for commercial-property investors, according to Ben Stirling, managing director of British and European real estate at Aviva Investors. In contrast, the vote on Scottish independence has had little effect on stock and bond markets.
Independence has "definitely come up the radar screen of institutional investors," Stirling said. "The consequence of it would be quite negative potentially for pricing in the Scottish market."
Yields for the best office buildings in Glasgow and Edinburgh, Scotland's largest cities, are at 5.75 per cent, about the same as five years ago, according to broker Knight Frank LLP.
In the City of London financial district, yields dropped to 4.5 per cent from 6 per cent during that period. Yields for properties in London's West End, which includes Mayfair and St James's, declined to 3.75 per cent from 5 per cent. Lower yields indicate rising prices.
Scotland's prime real estate market would become comparable with Dublin's if there's a "Yes" vote for independence, said David Hunter, chairman of London-based lender ICG-Longbow. Ireland's capital is emerging from five years of austerity after the country exited an international bailout program last year.
"There would be times when people buy it and times when they wouldn't," he said. "It wouldn't get lumped in with the big UK provincial cities the way it is at the moment."
Investors get lower returns for office properties in Dublin than in Edinburgh, Glasgow and Aberdeen. Yields in the Irish capital at the end of the first quarter were 5.25 per cent, according to CBRE Group.
That's not to say there's an absence of activity in the largest Scottish cities.
In Edinburgh, the capital and center of the independence debate, developments range from blocks of student accommodation to the Caltongate retail and office project next to the historic Royal Mile, previously put on hold during the global financial crisis and then granted planning permission by the city this year.
The Scottish government in April announced an 850 million-pound revamp of the east end of the city centre with a funding agreement involving TIAA Henderson Real Estate.
Read also:
• Clan chiefs neutral on independence
• Scotland's great date with destiny
There may be buying opportunities for investors if the referendum is rejected, Mike Sales, a managing director at TIAA Henderson Real Estate, said in an interview in London on Monday. "Scotland's not offering up many bargains at the moment," he said.
In Aberdeen, Scotland's energy capital, LaSalle Investment Management agreed to buy BP Plc's headquarters in the city for 64 million pounds, Property Week reported in March. The unit of Chicago-based broker Jones Lang LaSalle didn't reply to a request for comment. The average house price in Aberdeen jumped 12 per cent in April, four times more than in Edinburgh and almost as much as London, according to LSL Property Services Plc.
"Of all the parts of Scotland, Aberdeen is a market unto itself," said Hunter. "It's stronger than anywhere else in the UK outside London, both for commercial and residential interests. While the oil market is strong, that will continue."
Property investors are echoing much of what banks and other financial institutions have said about the costs Scotland might face if the country leaves Britain.
Many of the arguments between Scottish First Minister Alex Salmond's nationalists and Britain's three main political parties, which all oppose independence, have focused on the economy and Scotland's financial health.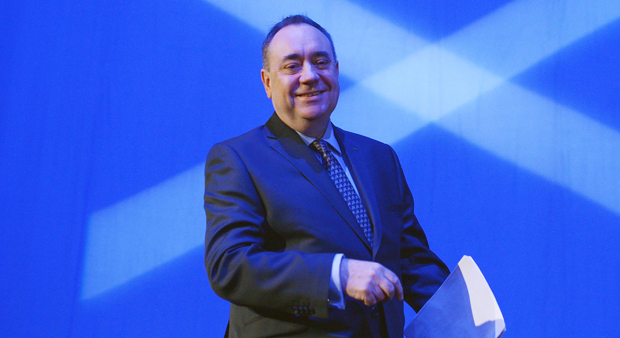 Scottish First Minister Alex Salmond. Photo / Getty Images
The governing Conservatives, their Liberal Democrat coalition partner and the opposition Labour Party ruled out sharing the pound and central bank with an independent Scotland in a currency union. The National Institute of Economic and Social Research estimates the new state would have to pay as much as 1.65 percentage points more than Britain to borrow.
A "Yes" vote would create uncertainty about the country's future currency and that would be a "nightmare," Aref Lahham, a founder of private equity firm Orion Capital Managers LLP, said on the sidelines of the British Property Federation's June 5 conference in London. "What currency will the tenant pay their rent in? I believe there will be a strong devaluation of the currency. It'll be detrimental."
A survey by ICM Research, published on June 15 in the Scotland on Sunday newspaper, showed 36 per cent of respondents in favor of leaving the UK, an increase of two percentage points from a month ago. Forty-three percent backed Britain remaining intact, a drop of three points.
A YouGov Plc poll for the Times newspaper published on Tuesday showed a shift the other way, with 54 per cent now planning to vote "No" to independence and 35 per cent voting "Yes" and 11 per cent undecided or not planning to cast a ballot.
London-based developers Derwent London Plc and British Land both cited Scottish independence as risks for the market in their annual reports. Derwent owns 90 million pounds of real estate assets in Scotland and plans to sell them in the future, director Nigel George said in a May 8 call with analysts, without being more specific.
British commercial property funds, mostly limited to investing in their home country, might have to sell most of their Scottish property holdings if the country breaks up, according to ICG-Longbow's Hunter.
The impact on values could be a "disaster," Hunter said. "The vast majority of London-based insurance capital will not invest in foreign interests. There are all kinds of tax issues, there's possibly a currency issue to contend with. It's just not what they're asked to do by their clients."
- Bloomberg