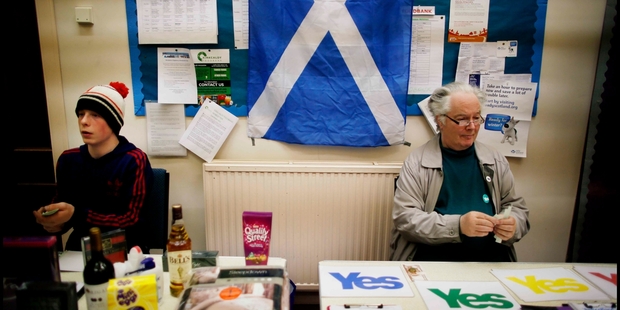 On a dank evening in the coastal town of Kirkcaldy an audience listens intently as speakers offer their views on why Scotland should be an independent country.
The orators include Scottish author and playwright Alan Bissett who delivers a passionate speech and tells the crowd, "I am not a nationalist. This is a movement for self-determination."
His words are well received by the Fife crowd who were welcomed by a kilted man playing the bagpipes and an array of pro-independence literature including one leaflet boldly proclaiming, "An independent Scotland would be the most powerful nation in Europe".
We are in an impressive Gothic church called St Bryce Kirk, where locals have gathered for political debate in the most important referendum ever to be held in Britain.
If Scotland votes to leave the United Kingdom on September 18, it will end one of the most successful political unions in modern history.
After more than 300 years of political partnership with England following the Treaty of Union in 1707, Scotland would set out on its own path and become the world's newest sovereign state.
Bissett, an acclaimed writer from Falkirk, is a staunch supporter of independence.
In a 15-minute lecture he explains why he disagrees with unionists who are campaigning under the umbrella name Better Together to keep Scotland as part of the UK.
"Better Together is British nationalism," Bissett says. "It is about the right of the elite to continue to rule Britain."
The Kirkcaldy branch of the pro-independence Yes campaign invited him to speak and his sentiments are echoed by fellow speakers Carolyn Leckie and Mike Small, who also give short speeches before taking questions from the 150-strong audience.
Leckie is a lifelong socialist who is involved with Women for Independence; Small is editor of a pro-independence website called Bella Caledonia. Leckie talks about the potential of a "Scottish Constitution" and how women have been disproportionately affected by UK government cuts to public spending, while Small links the rise of food banks in Britain to the growing inequality gap between rich and poor.
Leckie says, "There is a revolution under way," and Small contends, "Britain is for the rich, Scotland can be ours."
These are extraordinary times in Scotland and this is the frontline in the battle for the country's future. Indeed, the public meeting is just one of thousands of events taking place across the nation.
The political contest is all-consuming. There are debates on the streets and on doorsteps, and arguments rage on television and radio, in bars, cafes, schools, universities and town halls. The issue has completely dominated news and social media for many months and prompted famous people such as Noam Chomsky (Yes) and David Bowie (No) to intervene and offer their opinions.
Come September, though, only the four million or so residents eligible to vote will be able to answer Yes or No to the question printed on ballot papers - "Should Scotland be an independent country?"
On one side of the argument is the pro-independence Yes campaign spearheaded by the Scottish National Party. Broadly speaking, Yes is a centre-left political movement advocating independence as a means to social democracy and a greater redistribution of wealth, a nod to the political models of Scandinavian nations such as Norway and Denmark.
Opposing independence are Better Together, led by a coalition of the Conservatives, Labour and Liberal-Democrats - Britain's three main political parties - who argue that Scotland is best served by the neo-liberal consensus at Westminster and would be much stronger economically staying within the UK.
Until recently it seemed a No vote would be the likely outcome as poll after poll found that around 60 per cent of the electorate was in favour of staying in the UK. But it would appear Yes now has momentum as surveys have showed the gap is narrowing and that separatists could be on the verge of a momentous victory. In fact, one poll showed Yes only requires a two-point swing to secure independence. But many commentators believe the result is far too close to call.
In the foyer of the Kirkcaldy church, Yes Kirkcaldy is promoting its cause. There are badges, stickers, and leaflets on display and lifelong nationalist Randall Foggie offers a flyer that advises: "Scotland's got what it takes to be a successful independent nation." A leaflet reads: "The UK is the 4th most unequal country in the developed world. Still think we're 'better together'?"
There is also a Yes "newspaper" with a splash telling readers that every person in Scotland would be better off to the tune of 600 ($1175) in the first year of independence.
The front page is adorned with photos of famous Fife pop band The Proclaimers and Scots singer Eddi Reader, and inside there is an opinion piece penned by a man widely regarded as the most astute politician in Britain - Alex Salmond, leader of the Scottish National Party (SNP) and Scotland's First Minister.
He wrote: "A Yes vote in September will unlock the door of opportunity and allow us to create the kind of future for ourselves we've always wanted. No longer will we ruled by Tories at Westminster we never elected. At long last, we'll get the politicians that we choose."
Salmond has dedicated his life to Scottish independence and has led the SNP to two successive stints in power at the Scottish Parliament, which was set up in 1999 to give Scotland some control over its affairs. His nemesis is Alastair Darling, a respected Scots politician and former Chancellor. Darling leads Better Together (in preference to Conservative Prime Minister David Cameron who is hugely unpopular in Scotland).
A couple of weeks earlier he spoke at an event in Glasgow organised by the International Network of Street Papers. Darling argued that Scotland would be wealthier and more secure remaining within the UK and that independence would be a massive risk to jobs, pensions and mortgages.
He said: "I'm Scottish, I'm proud of being Scottish. I live here but I just happen to think that, as a country, we're better off being part of the United Kingdom. If the nationalists win by one vote, that's it, there's no going back and that is why the stakes in this are so much higher than a normal election."
Darling and politicians in the UK's two other main political parties who form Britain's ruling coalition government in London - Conservatives and Liberal Democrats - say there are too many uncertainties over independence and the Yes campaign has failed to answer questions about what would happen in a future independent Scotlandsuch as What currency would Scotland use? Would Scotland be part the EU? Would an independent Scotland be accepted into Nato? How long will Scotland's oil reserves last? How might independence affect jobs and pensions? Will businesses relocate? Will taxes rise?
Indeed, Darling said: "If you ask people ... the most common thing we get back is people say, 'but there are so many unanswered questions ... we are far better and stronger to pool resources'."
Another unionist argument is that Scotland already has the best of both worlds in that the nation is served by a Scottish Parliament (with limited powers over issues such as health and education) while having the safety and security of being part of one of the largest economies in the world.
The debate is fierce and will continue to rage over the summer as Scotland's date with destiny draws nearer.