Germany has rejected genetically modified crops, nuclear power and magnetic levitation trains. Now, the country that invented the modern car and X-ray technology is adding fracking to the list of innovations it's wary of.
Business leaders had lobbied for the extraction method, which injects water and chemicals underground, to lessen Germany's dependence on Vladimir Putin's Russia where a third of its natural gas supply is derived. Last week, the government started preparing a law to limit fracking to rare cases, unlike in the US where the practice is widespread.
Read also:
• Fracking should not be banned in NZ - environmental watchdog
• Fracking goes global
• Report: Fracking regulation 'not adequate'
The restrictions are a setback for executives, who say policymakers bow too easily to concerns in the population that new technologies will harm the environment.
Germany, which has the most powerful Green Party in Europe, is missing out on industries worth more than $200 billion globally, or about 6 per cent of its gross domestic product, including nuclear power and fracking.
Executives argue the risk-aversion hampers the competitiveness of a nation that discovered nuclear fission used to detonate atomic bombs, and has been led by a trained physicist, Angela Merkel, since 2005.
"If we habitually reject risk, then we'll run our society into the grave," said Karl-Ludwig Kley, the chief executive officer of the world's oldest chemical and pharmaceutical company Merck KGaA, in a May 13 panel discussion in Frankfurt.
Germany is not alone in rejecting extensive fracking, genetically modified crops and nuclear power in the face of widespread political, scientific and popular concern over their environmental impact.
Fracking is banned in France and the British government, while supportive of the practice, has faced opposition from numerous groups such as the Green Party and Greenpeace.
Genetically modified crops, widely grown in Asia as well as North and South America, are also spurned by France and Austria. Italy and Greece had already rejected nuclear power before Merkel decided to shut down all German reactors by 2022 following the Fukushima plant accident in Japan three years ago.
"With fracking, there are still too many questions that haven't been answered yet," said Volker Bouffier, the prime minister of the federal state of Hesse, which last month backed a decision to uphold the current ban of the practice on concern that chemicals could seep into drinking water. "Every politician has to ask him or herself the question: Can I take responsibility for this?"
Still, Bayerische Motoren Werke Chief Executive Officer Norbert Reithofer uses the term "German Angst" to explain the paradox of the country's innovation ability on one hand and its reluctance to embrace technological change on the other.
"German Angst refers to how, when it comes to making radical changes, we in this country like to engage in long and fearful discussions, because we Germans tend to see more problems than opportunities," Reithofer said.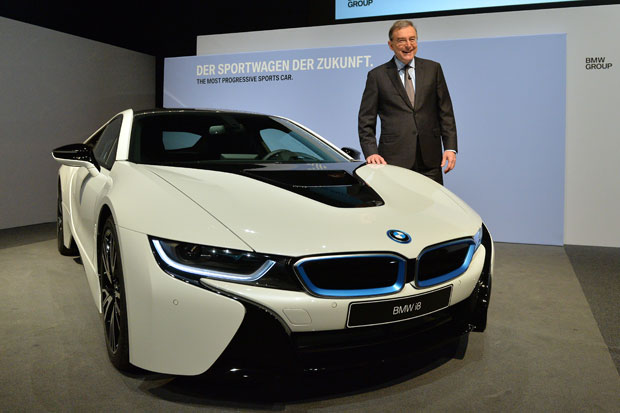 BMW CEO Norbert Reithofer uses the term "German Angst" to describe the country's reluctance to accept new technology. Photo / AP
The situation is similar with electric vehicles. Munich-based BMW offers both an electric and a hybrid plug-in car, yet adoption of such models has been slower in Germany. In Japan, 20 per cent of new car sales are hybrids, compared with 5 per cent in the US and less than 1 per cent in Germany, according to researcher ICCT.
The experience of war waged within its borders, destroying the country's cities and infrastructure, as well as dictatorship under national socialists and communists has bestowed a deep-seated skepticism of any planning or control on the way Germans live, said Tilman Allert, a professor of sociology and social psychology at Goethe University Frankfurt.
The willingness to sacrifice benefits of new technologies such as shale gas also stems from a strong sense that nature needs to be protected as Germans live in a densely populated country, he said. By contrast, the US has a "settler identity," meaning a sense that land is boundless, Allert said. However, Germans are more reflective of risks, which can be regarded as positive, he said.
The country's economy and companies continue to outperform competitors in the European Union. Economic growth accelerated in the first three months of 2014 even as expansion cooled in the 18-nation euro area overall. Germany's benchmark DAX index, comprising the country's 30 biggest listed companies, on June 5 rose to an intraday record, climbing over 10,000 for the first time.
BASF SE, the world's biggest chemical company, has experienced first-hand the rejection of technologies. Fed up with public hostility and political intransigence to genetically modified crops, the Ludwigshafen-based company quit research in the science in Europe and in 2012 moved remaining operations to the US, where the technology is widely applied.
Protesters in the German state of Mecklenburg-Western Pomerania had torn up test fields growing the experimental genetically altered Amflora potato, which has a modified starch composition for use in the paper industry. BASF had waited 14 years for approval of the tuber in Europe.
"We don't want atomic energy, genetic engineering or fracking, which is quite a lot when you add it up," Michael Vassiliadis, head of the IG BCE chemical union and a BASF supervisory board member, said in an interview. "It throws up the question of whether we can remain such a strong exporter."
Oil and gas companies probably spent about $36 billion on fracking globally last year, according to Spears & Associates. The nuclear industry was worth $147 billion, researcher MarketReportsOnline estimates, while the genetically modified crops business represented $20 billion, according to consultancy Phillips McDougall.
Fracking has made the US the world's largest natural gas producer, overtaking Russia. Shale gas helped bring down the US price of natural gas by almost 60 per cent since a peak in 2008. Natural gas now costs three times as much in Germany as in the US, according to BASF CEO Kurt Bock.
Poland, the most advanced European Union country in the field of fracking, expects its first commercial gas flows and a doubling of the number of shale wells it can tap this year.
In contrast, Merkel's government has said its planned fracking law will only allow the practice if no toxic chemicals are used and where it's "clarified beyond doubt" that it won't pollute ground water.
"There's no political willingness to back fracking in Germany as fracking is highly unpopular with the local population in the regions where it potentially could be done," said Eurasia Group analyst Famke Krumbmuller.
"Even if the national government were to change its mind, which likely won't happen anytime soon, you'd need the federal states on board, and they're in no mood to change their position."
Skepticism about nuclear power goes even deeper. The 1986 nuclear accident at Chernobyl, just 660 miles from Germany's border, helped to propel the Green Party into mainstream politics.
It was the first ecological party to rule a major European country, governing Germany for seven years in a coalition with the Social Democrats. The party, which emerged from the peace movement, commanded more than 10 per cent of the national vote in 2009, its highest-ever showing.

Siemens CEO Joe Kaeser says Germany needs to recognise innovation is something positive. Photo / AP
Munich-based Siemens, Europe's largest engineering company, in 2011 decided to stop building nuclear power stations because of the country's energy switch.
To embrace environmentally friendly technologies, Germany has been expanding renewable energy based on wind and solar power, making the country a leading exporter of those offerings.
Still, the complex web of subsidies, surcharges and exemptions designed to spur the energy policy change has increased the cost of manufacturing itself. The surcharge used to fund renewable subsidies has tripled in four years, prompting some companies to consider investing outside Germany.
Siemens CEO Joe Kaeser echoes the concerns of his peers. The Transrapid high-speed monorail train, designed by Siemens with steelmaker ThyssenKrupp AG and using magnetic levitation, is in operation in China. Germany, whose companies patented the technology in 1934, only ever built a test track.
A planned connection between Berlin and Hamburg wasn't built after a 2006 collision on the track killed 23 people. Some people living alongside the area feared magnetic radiation would endanger their health.
"In Germany, we have to recognise once again that innovation is something positive," Kaeser said in February. "Without innovation, nothing is possible."
- Bloomberg