New Zealand has the fourth-most overvalued property prices in the developed world, according to a study by the Organisation for Economic Co-operation and Development.
House prices here are overvalued by 61 per cent compared to rents and are 23 per cent too high against incomes, the analysis has found.
A local economist says the report underlines why he chooses to rent - and has encouraged Kiwis to consider doing so as well instead of taking on too much debt.
The OECD research, which compared prices with local wages and rents, found that only Belgium, Norway and Canada have more overvalued property.
New Zealand was in the category of countries where houses appeared overvalued yet prices were still rising.
"Economies in this category are most vulnerable to the risk of a price correction - especially if borrowing costs were to rise or income growth were to slow," the report noted.
Auckland's booming residential market, which is driving New Zealand's property market, was underlined by QV figures in the Herald's Quarterly Property Guide, released yesterday.
The Super City now has 17 suburbs with average house values of $1 million or above, with Herne Bay set to crack the $2 million mark in the next three months.
New Zealand Institute of Economic Research principal economist Shamubeel Eaqub said the report underlined why he rents his home in Auckland, rather than buying.
He said in areas where it cost upwards of $1 million to buy, compared to rent of about $600 a week, it made more financial sense to invest his money elsewhere.
"There are lots of other reasons to buy a home - you might want stability, to feel connected to the community ... but you need to be able to earn enough money, so that you can save in addition to paying for your house.
"The psychology is very difficult, because it feels like you are going to miss out ... but you just have to make a rational decision in terms of, 'What is it that you can really afford?"'
Mr Eaqub said while other countries' property prices fell during recession, New Zealand's remained relatively stable.
"There is not a lot of room if something happens ... if you are borrowing at, say, less than 6 per cent now, and mortgage rates rise to over 7 per cent in a year's time, will you be able to afford it? What kind of pressure will that put on households?"
The OECD analysis found prices differ widely across countries, including those where houses are undervalued but still falling.
It covers countries hit by the European financial crisis, including Greece, Ireland, Portugal, Slovenia and the Czech Republic, but also Japan.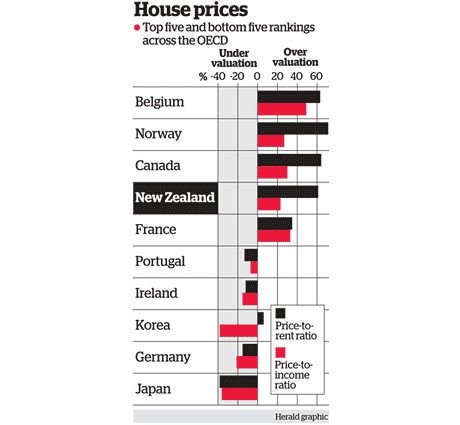 Read more: Two-bed city pad sells 66pc above CV