A simple solution seems at hand to avoid most of the dangers in the Tui Catch A Million promotion.
With 24 shots clearing the boundary in New Zealand's 119-run T20 win over the West Indies at Mt Maunganui last night, safety has become paramount.
Gangs of orange T-shirted human cannonballs are diving one-handed among patrons, each seeking Andy Warhol's 15 minutes of fame or, to give its modern translation, a potential $50,000 across each match of the home summer.
The most logical solution came from New Zealand cricketer Jimmy Neesham, a man accustomed to creative thought, when he tweeted: "Potentially there should be designated areas for the t shirts. Someone will get badly hurt and it will look like the dumbest thing ever in hindsight."
Read more: 'Children have been trampled': Time to drop the Tui catch promotion?
This writer agrees. Section off "zoos" at opposing cow corners and be done with it. That way you isolate this form of land-lubbing water polo, and contestants go into the zone prepared to risk their wellbeing.
Blame should not be levelled at New Zealand Cricket or DB Breweries, the Tui brand owners, over the controversy.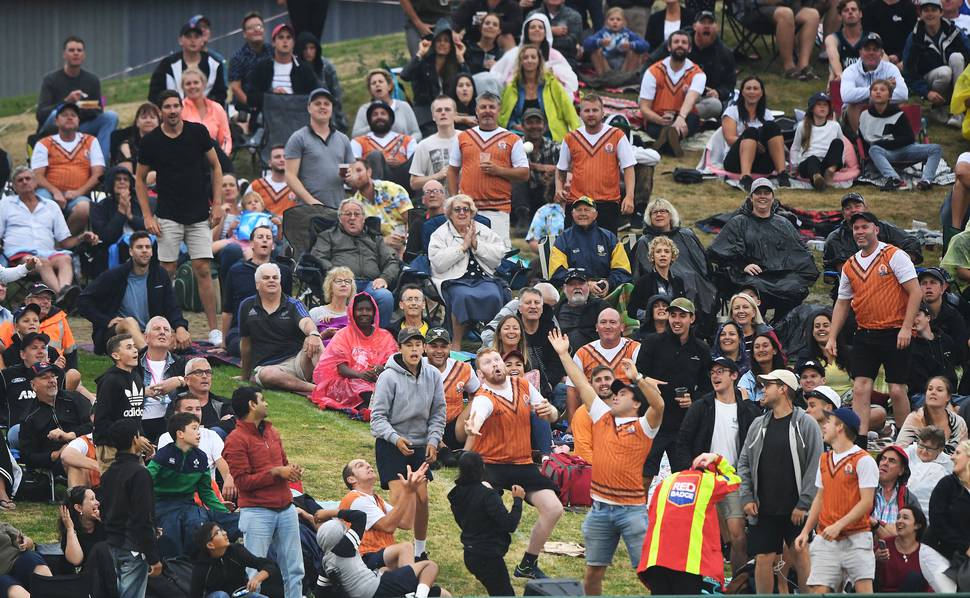 The competition has always been a stroke of marketing genius which captures the public, governing body, players and media's interest; a perfect combination of stakeholders.
This writer is loathe to burden the public with more rules, but a 111 call out to the fun police seems inevitable on this occasion.
This is about self-responsibility.
What sort of buffoon attempts a snare by throwing himself - this writer is yet to see a woman make such an attempt – into peaceful picnickers?
A greedy, drunken one, presumably.
Last night brought a moment of clarity for a critical mass.
It dawned on the silent majority that enough's enough as fans were forced into self-preservation mode.
Until then, DB should have been laughing all the way to the embankment with so many paying participants cannibalising each other's snatches with consummate clumsiness.