One of the great joys of these Commonwealth Games, as with others, is that it has shone a light on athletes who routinely go unnoticed by all but the most studious of the New Zealand sporting public.
For a fortnight, lawn bowlers, judokas, javelin throwers and table-tennis players have a shot at emerging from obscurity to become water-cooler names.
Former race walker Craig Barrett was one whose Games exploits endure, for better or worse, more than most.
Few Kiwi sports fans will forget that agonising moment at the 1998 Kuala Lumpur Games when Barrett, leading the gruelling 50km walk by a healthy margin and within sight of the finish line, collapsed and couldn't finish the race.
It was pure drama that was immediately etched into New Zealand's sporting folklore.
We regularly bear witness to painful so-near-so-far stories. Team New Zealand's loss to Oracle last year is a case in point. So too Adam Scott's meltdown on the back nine at the 2012 Open Championship.
But Barrett's case seems all the more excruciating because it happened to a man untouched by fame and riches. Because it happened to an honest toiler from the 'Naki who was on the cusp of reaping a return for years of graft and sacrifice.
Skip forward 16 years and the Craig Barrett of today - an Auckland-based architect and family-man - is sanguine about the fate that befell him on that infamous day.
"It's just one of those things that shapes you," he said. "I'm still proud of what I did."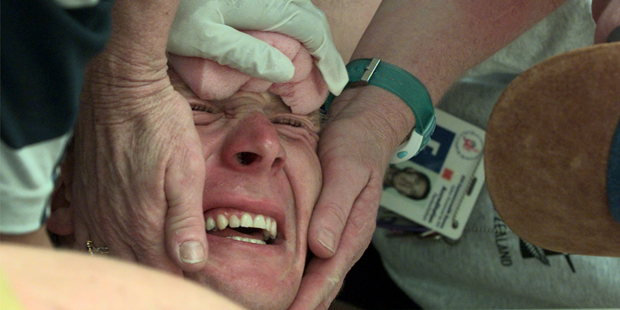 Maureen Barrett comforts her son Craig after he collapsed from heat exhaustion in Kuala Lumpur. Photo / Brett Phibbs
Barrett acknowledges that in spite of his success in race walking - he went on to win silver in the 2002 Manchester Games, among other achievements - Kuala Lumpur remains the thing he is best known for. It's a reality he appears comfortable with.
"I don't take myself too seriously. When I'm hanging out with people outside of athletic circles, they like to give me a bit of banter about it. But I egg them on a bit too."
The easy, shrugging attitude possibly reflects the roundedness of Barrett's post-competition life.
After retiring in 2006, he went back to architecture school to pick up the degree he had shelved years earlier. He found the transition from athletics to real life a straightforward one.
"I (first) went to architecture school in 1995, but I was passing as much as I was failing. I wanted to make the '96 Olympics and put everything into that, so it meant I had to make a decision. I decided to stop with the degree there.
"Then in 2006 it was easy, because I was finishing something off that I'd started and never finished."
Pushing himself too far
Barrett began his race walking career in the early 1990s, but he only came to the sport by chance.
"I was lucky. I was an enthusiastic kid at school who used to do everything, any sport I could.
"I was playing rugby, and the wing on our team had just won bronze at the New Zealand secondary school champs. He introduced me to his coach at the Hamilton Athletic Club, and so I just progressed from there."
It was a happy accident for New Zealand athletics.
In addition to his Commonwealth silver in 2002, he competed at the Atlanta, Sydney and Athens Olympics, as well as numerous world champs. Eight years after hanging up his shoes, he still holds a swag of New Zealand records, including for the 50km walk.
If there was a theme that ran throughout Barrett's career, it was his willingness to push himself, even if it came at a cost. His race at the Sydney Olympics - the best of his three Olympic appearances - and that fateful Kuala Lumpur performance have some obvious parallels.
"Sydney was my opportunity to shine. I was at the top of my game - if I was going to be an Olympic medallist that was my opportunity.
"So I made a decision during that race: am I going to settle for 10th here? It's what I could have done - if I had raced just a little bit more within myself, I'm sure I could have finished in the top 10.
"But in my mind that was never going to be enough. I didn't go to the Olympics to finish 10th. So it was like, 'Let's just see what you can do, it may be out of your comfort zone, it may fall to bits, but it's worth trying.' So I gave it a bash."
Unfortunately, the "fall to bits" part of the prediction was the most prescient. Barrett finished in 18th position after fading from eighth spot, which he'd held deep into the race.
"By the time I got to 40km, I'd used up too much energy, and so I struggled in the last 10km."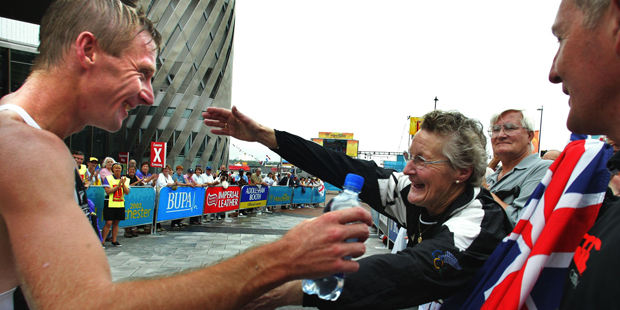 Craig Barrett walks to his mother Maureen after he won the silver medal in the men's 50km Walk at the Manchester Commonwealth Games. Photo / Brett Phibbs

Kuala Lumpur collapse
In Kuala Lumpur, that same readiness to go beyond his comfort zone is one of the things he attributes to his collapse.
"When I was at 40kms, I had such a big lead. If I had just said, 'Look, you're in a position where you don't have to keep pushing it,' if I had just pulled back a bit, that probably would have got me across the line."
But that isn't the thing he regrets most about the race.
Barrett is quick to dispel the widely held belief that his collapse was brought on by dehydration.
"I was well hydrated. I had my normal drink strategy and I implemented it.
"Other people may have different opinions, but in my mind there was nothing wrong with the drinks or the electrolytes I took that day."
So what was it then?
"I just overheated and I didn't realise. That was simply it."
To combat the steamy South-East Asian heat, Barrett had walked the race with an ice pack tucked under his cap. It's this, he believes, that brought about his downfall.
"That was a big mistake, because I felt like I got out of sync with what my body temperature was - what my brain thought my body temperature was.
"If I hadn't have done that I would have got home."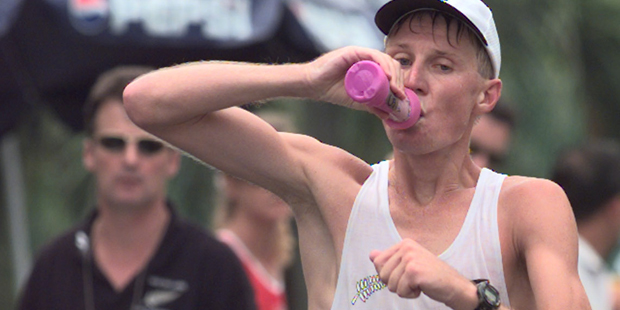 Barrett was leading the 1998 Kuala Lumpur 50km walk race by six minutes with just one km to the finish. Photo / Brett Phibbs
It's easy to imagine that kind of grand-scale disappointment wrecking a sports career. But somehow Barrett found it within himself to get back on the road.
"There was a little bit of trepidation there straight after it happened. I took quite a big rest period, a much bigger rest period than I normally would have. But the determination just seemed to kick in."
The following year, 1999, Barrett finished seventh at the world champs in Seville. He considers this his best international race, topping even the silver at Manchester. It also helped to put to bed the demons of Kuala Lumpur.
"I felt like I'd laid it to rest, or proved to myself that I could pick myself back up. That was very satisfying."
No walking
Given Barrett's history with the Commonwealth Games, he is disappointed that race walking wasn't included in the programme for Glasgow.
The axing of the event has been met with sharp criticism in the race walking community, most notably from Britain's five-time Olympian Chris Maddocks, who labelled the decision a disgrace.
Barrett seems more resigned than his former competitor.
"It's sad, but what can you do?
"The thing that does concern me is that athletics is always the main staple of any games. And in my mind, race walking comes under the umbrella of athletics. Why has it been separated from all the other athletic events?
"Scotland's not that strong in walking, and they probably see the sport as a bit of a joke.
"At the end of the day, each organising committee is able to put forward what their recommendations are for sports, and in their eyes they probably don't see it as a great sport or something worthy of people pursuing."
Which must be a hard thing for someone who has dedicated so much of his life to the sport to say. There is a consolation, however, in that race walking looks set to be included again for the next Games on Australia's Gold Coast.
Coming from a minority sport himself, Barrett sees the Commonwealth Games as a crucial vehicle for unheralded athletes to get some deserved attention and respect for the work they put in.
The Games village was, for him, an egalitarian place where everybody was in it together.
"When (I went) away to a Commonwealth Games, and I can honestly say this, I always saw the athletes on the same level. Everybody makes their sacrifices."
In a long and successful career, Barrett made his share.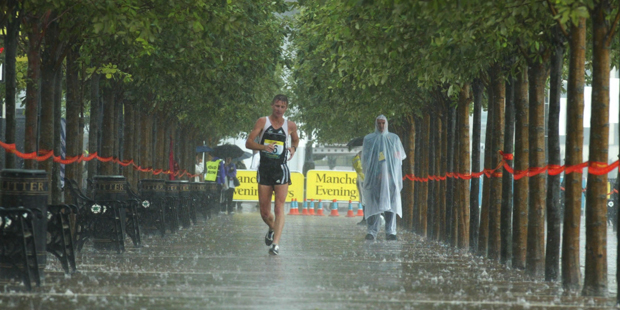 Barrett competes in the pouring rain during the 2002 Manchester Commonwealth Games. Photo / Brett Phibbs