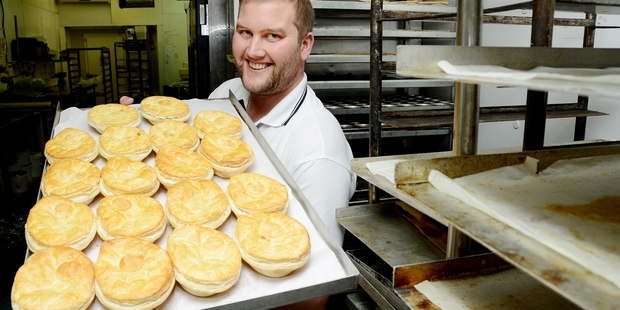 A feast for the eyes and for the stomach - this year a hearty lamb cutlet and kumara mash pie from The Clareville Bakery in Carterton has been judged the country's best pie at the 2014 Bakels New Zealand Supreme Pie Awards.
Baked by Michael Kloeg, the pie took out the coveted top title of Supreme Pie after impressing judges with its succulent taste and balance of ingredients.
In doing so the winning lamb cutlet and kumara mash held its own against several more exotic entries - including rabbit and wild boar, caramelised rhubarb and wildberry, chilli con carne and spiced duck and bacon - with Brent Kersel, managing director of Bakels New Zealand and pie awards judge confirming that in the end "it was the best pie on the day".
"The pastry, meat, and gravy were in perfect ratios. The lamb was cooked to perfection and the kumara mash was a great flavour which worked well with the lamb. It reminded me of a kiwi roast dinner," he said.
Competition was tougher than ever in this, the 18th year the pie awards have been running, with a record-breaking 4832 pies entered by 533 bakeries from across the country - a 5 per cent increase from last year.
It's not the first time Kloeg has won an award for a tasty morsel he has produced, either.
In 2011, while working for 10 O'clock Cookie in Masterton he was highly commended in the competition for his steak and cheese pie and in 2002, as an apprentice, he took third place in the annual New Zealand Bakers Society Baking Competition with his swiss roll.
Last year he hit the headlines with his own tasty version of contemporary American favourite the cronut, the Mikecronut selling 184 on the first day in the bakery.
For more articles from this region, go to Wairarapa Times-Age