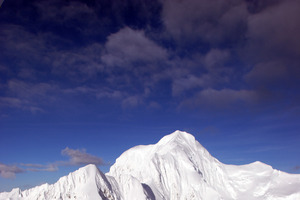 A former Greytown woman who fell 300m down a glacier is in a serious condition in Christchurch Hospital.
Heather Rhodes, 36, was rescued from the South Island Arrowsmith Range glacier on Sunday night about 6.30pm, suffering serious head injuries and with two broken legs.
She had been climbing in the area with two friends during the weekend and a spokesman for Westpac Rescue Helicopter said it was believed Ms Rhodes' snow anchor failed as she abseiled down on her own. It has been reported she fell past her friends who were below her.
Ms Rhodes, daughter of John and Ann Rhodes of Greytown, was found below by her climbing mates, unconscious and tangled in the ropes. Her climbing helmet had been knocked off in the fall. The group activated a personal locator beacon, put her in a tent and treated her until help arrived.
The Rescue Co-ordination Centre New Zealand picked up the signal and sent the rescue helicopter to locate the climbers in the upper reaches of the Rakaia River.
A paramedic praised the actions of Ms Rhodes' climbing companions who had the right gear as well as the locator beacon, which they used.
Ms Rhodes was airlifted to Christchurch Hospital where she is being treated in the intensive care unit.
For more articles from this region, go to Wairarapa Times-Age