Wine editor Jo Burzynska's guide to the 2014 not-to-be-missed wines on the market.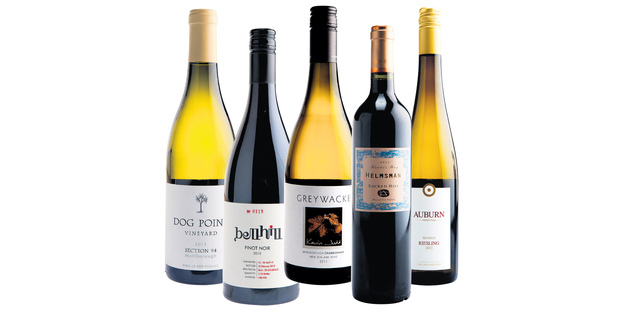 What makes a great wine? It's a single question that can generate a multitude of different responses, but for me and this selection for the Viva Top 50, it's all about personality.
What I've sought are distinctive wines with real interest that taste of the place where their grapes were grown - a criteria that extends from the wines in the top echelons to those in the budget category.
Most of the wines were tasted blind, with the final line-up chosen on quality, character and diversity. In all but the top 10, their value for money across all price brackets was also taken into account.
Wines from the Top 50 are there to be enjoyed in their own right, but altogether provide an overview of some of the exciting things happening in the wines available in New Zealand today. These encompass the best of our popular home-grown varieties through to interesting examples of wines from overseas.
Every year I taste thousands of wines, and what's available in New Zealand has never been better. With so much character for the tasting, there should be something here for everyone. Enjoy!


PICK OF THE CROP
Thrilling the senses and reflecting true individuality, the top 10 wines of the year represent the very best of their kind.
Dog Point Vineyard Section 94 Marlborough 2012 $35
Back for the second year in a row in the highest category of the Viva Top 50 is Dog Point's flagship barrel-matured Section 94. One of the country's greatest sauvignon blancs, its 2012 release is another powerhouse of a wine with mouth-filling mango and papaya fruit; notes of herb, smoke, flint, a subtle toasty edge and racy grapefruit acid.
Stockists: Caro's, Farro Fresh, Glengarry, New World Devonport, Bacchus Cellars, Liquourland: Newmarket, Forrest Hill & Massey Ave, Pukekohe, Hamilton Wine Company, Grantley's Liquor Merchants, Dogpoint


Bell Hill Canterbury Pinot Noir 2010 $105
From the limestone-rich soils of Waikari in North Canterbury, comes this phenomenally fine and well-structured pinot noir. Built on a frame of firm but velvety tannins, with a focused line of acid and concentrated core of ripe black cherry fruit, this is clothed in an exquisite array of flavours from forest floor, leather and smoke to roasted spices, iodine and mineral.
Stockist: bellhill.co.nz


Greywacke Marlborough Chardonnay 2011 $41.95
Subtlety and power combine in this stunning chardonnay made by ex-Cloudy Bay chief winemaker Kevin Judd. It's driven by an intense fusion of taut grapefruit and lemony acidity, with discrete white peach fruit and an underlying mealy and gently toasty nutty character.
Stockists: Glengarry, Accent On Wine, Caro's, Fine Wine Delivery Company , First Glass, La Barrique, Point Wines, Hamilton Wine Company, Primo Vino, Cambridge Fine Wine, The Merchant of Tirau, Bethlehem Wines & Spirits, Hillsdene Wines, McGregors Super Liquor, Ohope Liquor, Arawa Wines, Scenic Cellars, Advintage, The Village Wine Trader.


Sacred Hill Helmsman Hawkes Bay 2011 $84.99
Recommended late last year, Sacred Hill's flagship blend of cabernet sauvignon, merlot and cabernet franc remains my top pick of the Bordeaux blends on the market. There's huge concentration to this muscular wine with its dense, dark brooding fruit, notes of bitter chocolate and fragrant notes of violet and spice.
Stockist: Sacredhill.com


Auburn Bendigo Central Otago Riesling 2013 $35
New Zealand's winemakers have been taking rieslings to new heights in recent years. Riesling-only enterprise Auburn has risen rapidly to the head of the pack with the likes of this low (9 per cent) alcohol expression from the Central Otago sub-region of Bendigo. Delicacy and intensity are juxtaposed in its wonderfully pure and perfumed palate of white peach and apple fruit, hints of honeysuckle, rose florals, touch of spice and a sweetness perfectly offset by fresh citrus.
Stockist: auburnwines.co.nz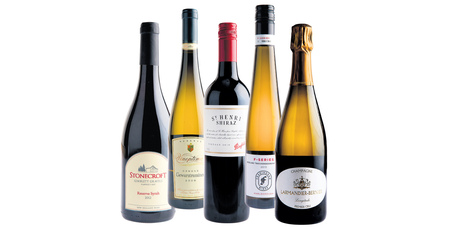 Stonecroft Gimblett Gravels Reserve Syrah 2012 $65
Perhaps unsurprisingly, the best syrah in this more challenging vintage in Hawkes Bay hails from the estate that pioneered the variety in the country and possesses our oldest producing syrah vines. One sniff and you're transported into a world of ambrosial aromatics - a bouquet of roses and white flowers, black pepper, anise and exotic spices plus a suggestion of leather. These carry through its fresh black-fruited, silky textured and fine-tannined palate.
Stockists: Fine Wine Delivery Company, St Helliers Wine and
Spirits, Village Winery, Stonecroft.co.nz


Vinoptima Reserve Ormond Gewurztraminer 2008 $100
Since Nick Nobilo established his gewurztraminer-only venture, Vinoptima, in Gisborne just over a decade ago, his iconic examples of this lesser-planted aromatic have become some of the country's most highly acclaimed whites. The latest release is another first-rate gewurz, with an intense creamy textured palate and edge of orange zest, which layers perfumed notes of rose petal, potpourri, lychee, cloves and ginger.
Stockists: Glengarry, Advintage.


Penfolds St Henri Shiraz, South Australia, 2010 $99.99
This "little brother" of Grange was the standout wine at Penfolds' latest icon and luxury selection release, whose combination of concentration and elegance saw it outshine its more famous sibling. Made in large old oak vats it consequently tends to be a more restrained affair, but, in this outstanding vintage, layers lavish dark fruit over big velvety tannins and notes redolent of florals, liquorice and roasted spice.
Stockists: Glengarry, Fine Wine Delivery Company, Caro's.


Framingham F-Series Trockenbeerenauslese Marlborough Riesling 2013 $70 (375ml)
An exceptional dessert wine that expertly treads the tightrope between lightness and depth; sweetness and freshness. Notes of honey, marmalade and creme brulee entwine around a luscious core of pure peach fruit, in a nectarous noble riesling that builds to a crescendo of crispness.
Stockists: Caro's, Point Wines, Glengarry.


Larmandier-Bernier Longitude Blanc de Blancs Premier Cru Champagne NV $115
Grower Champagne is where a lot of the excitement's at in this classic category at the moment: wines made by often-small vineyards from their specific estate rather than those of the large Champagne houses that typically source grapes from many vineyards across the region. Luckily, we're starting to see more of these available in New Zealand, with one of my favourite growers, Larmandier-Bernier now permanently distributed here. This is a beautiful biodynamic blanc de blancs, with great purity and finesse to its poised dry palate of crisp apple and citrus fruit, chalky minerality and subtle notes of toasted hazelnut.
Stockists: Fine Wine Delivery Company, Caro's, Hamilton Wine Centre, Village Winery.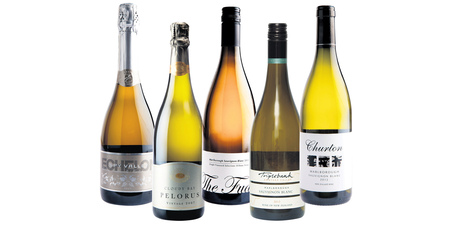 FIRST-RATE FIZZ
Some of the most sensational sparkling wines I've sampled this year have hailed from our own vineyards, with the cool climates and growing expertise essential for bringing on the best bubbles.
Spy Valley Echelon Methode Traditionnelle Brut Marlborough 2009 $34-36
This taut, super dry and steely sparkling wine from the upper reaches of Spy Valley's ranges opens up to reveal notes of aniseed and spice, underpinned with a fresh fusion of grapefruit and mineral and a rich toasty nutty undercurrent. Classy stuff.
Stockist: Glengarry.


Cloudy Bay Pelorus Vintage Marlborough 2007 $44.99
A Kiwi sparkling classic, Cloudy Bay's elegant and creamy textured 2007 vintage Pelorus counterpoises rich characters of honey cake and praline with fresh notes of white peach, citrus and mineral.
Stockist: Fine wine retailers.


SUPERLATIVE SAUVIGNON BLANCS
Though much of the focus in sauvignon blanc is on the current vintage - with those from 2013 certainly looking good - as the variety comes of age in our vineyards there are pleasures to be had in older examples as well. The upfront Marlborough style still dominates, but it's encouraging to see more producers pushing the envelope with our flagship variety, making more single vineyard expressions and using well-handled oak.
Giesen The Fuder Single Vineyard Selection: Dillons Point Marlborough Sauvignon Blanc 2011 $39.95
Giesen has recently made an exciting new addition to the sauvignon scene with this wine in its new Single Vineyard "The Fuder" range. It's so called because the wines are matured in old large 1000-litre German fuder barrels. This has added texture and weight to this sophisticated debut without imparting any obvious oak flavour to its savoury edged palate of tropical fruits, green herb and zesty grapefruit.
Stockists:Leading fine wine retailers throughout Auckland.


Triplebank Awatere Valley Marlborough Sauvignon Blanc 2013 $23.95
I've tried Triplebank sauvignon blanc blind three times and in each encounter I've been blown away by the sheer intensity of its classic Awatere tomato stalk and fresh herb-driven profile. It's bursting with exuberant gooseberry fruit, zesty lime with a powerful but elegant mineral element.
Stockists: Widely available from leading liquor retailers.


Churton Marlborough Sauvignon Blanc 2012 $27
Though simpler sauvignon blancs are best consumed within a year of their release, our best blossom with a few years in bottle, as is the case with this refined partially barrel-fermented example. There's a lovely texture to its concentrated palate, with notes of melon, lime and herb, a whisper of asparagus and underlying minerality.
Stockist: churton-wines.co.nz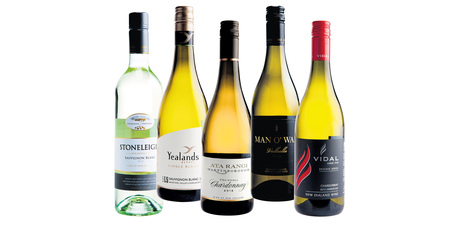 Stoneleigh Marlborough Sauvignon Blanc 2013 $17.29
Stoneleigh has certainly been over delivering in the sauvignon stakes of late with even its standard level putting in a stellar performance this vintage. It's pungent and punchy with a vibrant herbal grassy character, notes of blackcurrant leaf, mineral and lime.
Stockists: Widely available from leading liquor retailers.


Yealand's Estate Single Block L5 Awatere Valley Marlborough Sauvignon Blanc 2013 $24.95
There's a real intensity to this impressive sauvignon blanc from Marlborough's southerly Awatere Valley. Notes of fresh dill and mineral permeate its ripe and mouth-filling palate of gooseberry fruit with a squeeze of zingy lime.
Stockists: cellardoor.yealandsestate.co.nz


WINNING WHITES
Sauvignon blanc may be the nation's favourite variety but there are great things going on within the country's other whites. Chardonnay is one grape scaling new heights, while our rieslings are increasingly becoming world class. There has also been plenty of progress in pinot gris, which is now more consistent in quality and style.
Ata Rangi Craighall Martinborough Chardonnay 2012 $38-$45
Exceptional chardonnay from Ata Rangi's 30-year-old vines. which possesses elegant white peach fruit supported by a rich savoury mealy and brioche-like undercurrent and fine mineral and grapefruit acid.
Stockists: The Village Winery, Caro's, Accent on Wine, Liquorland New Market, atarangi.co.nz


Man O' War Valhalla Chardonnay Waiheke Island 2012 $42-$45
Valhalla is the great palace of Norse mythology where the souls of fallen Viking warriors feasted with the gods. It's also the name given by Man O' War to this blend of its top barrels of chardonnay, which has resulted in a big, smoky wine with a complex, richly textured palate combining stonefruit with notes of hazelnut, flint, bacon fat and zesty grapefruit.
Stockists: Glengarry, Farro Fresh, Liquor King, New World Victoria Park.


Vidal Reserve Series Hawkes Bay Chardonnay 2012 $16-$20
Made in a richer, more serious style than most at this price, Vidal's Reserve Chardonnay exhibits ripe fleshy peach fruit with notes of flint and herb wrapped around a fresh spine of citrus.
Stockists: Widely available in grocery and fine wine outlets.

Quartz Reef Central Otago Pinot Gris 2012 $30
As well as excelling in a number of areas, Quartz Reef is also the producer of some of the county's finest pinot gris. Made in a drier style, this complex example exhibits notes of ripe pear overlaid with notes of clove, herb and nut, supported by a fine line of citrus that leads to a long mineral finish.
Stockists: Fine Wine Delivery Company, Caro's, Merchant of Taupo.


Prophet's Rock Central Otago Pinot Gris 2011 $30
Prophet's Rock winemaker Paul Pujol's time spent in the variety's heartland of Alsace in France is reflected in his accomplished examples of pinot gris. His latest release is off-dry, with an intense and elegant textural palate fusing notes of apple, honey and almond essence.
Stockists: Glengarry, Point Wines, United Cellars, The Cambridge Wine Company, Wine Direct.


Woollaston Mahana Nelson Pinot Gris 2012 $30-$32
A voluptuous and seriously structured pinot gris from Woollaston's new reserve label that is creamy with notes of spiced pear and nut leading to a fresh lifted finish.
Stockists: Fine Wine Delivery Company, Caro's, Village Winery, Hamilton Wine Company, Merchant of Taupo, Wine Circle.


Mount Edward Drumlin Central Otago Riesling 2013 $29
A beautifully balanced low-alcohol Gibbston riesling that counterpoises its pure, mouth-filling peach fruit with a vibrant freshness and zesty bite. There are also hints of aniseed and herb plus a strong stony character reflecting the schist soils on which it was grown.
Stockists: Glengarry, Caro's, Accent on Wine, Point Wines, Fine Wine Delivery Company, mountedward.com


Pegasus Bay Bel Canto Waipara Valley Dry Riesling 2011 $32
From Waipara riesling supremos Pegasus Bay, comes this amazingly opulent and intense example with a shimmering citrus and mineral salt character coursing through its lush palate of honey, marmalade, peach and lime oil.
Stockist: Glengarry.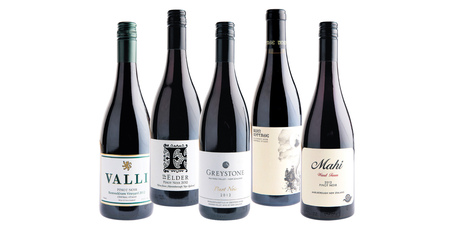 PARAMOUNT PINOT NOIRS
New Zealand's most popular red goes from strength to strength. Tastings over the past year have revealed more that embody the silky texture that can be so beguiling in the variety, as well as beautiful aromatics, which in the best local examples have been heightened by the cooler vintages on the market at the moment.
Valli Bannockburn Vineyard Central Otago Pinot Noir 2012 $65
In Valli's Bannockburn pinot, heady florals and spice on the nose lead into a seamless satiny palate. Here, they're steeped in its beautiful red and black cherry fruit supported by a base of fine tannins and fresh minerality.
Stockists: Great Little Vineyards, Valliwine.com
The Elder Martinborough Pinot Noir 2012 $62
Fresh and highly aromatic, this relatively new label in the classic pinot region of Martinborough has produced a deeply enticing wine with wonderful intensity from this cooler vintage. Poised and pure fruit reminiscent of raspberry coulis is imbued with anise, clove and cinnamon spice over bright acid and structuring tannins.
Stockist: theelderpinot.co.nz


Greystone Waipara Valley Pinot Noir 2012 $36
A drop-dead gorgeous pinot noir that has been attracting attention with its silken texture and synthesis of perfumed rose and spice, succulent black plum fruit and savoury undertone evocative of game and dried herb.
Stockists: Caro's, First Glass, Glengarry, greystonewines.co.nz


Burn Cottage Central Otago Pinot Noir 2012 $60
Power and restraint are the hallmarks of the fourth vintage from this promising Central Otago vineyard. At its heart lies a rich dense nucleus of brooding black cherry fruit exuding notes of earth, iron and sandalwood encased in firm but velvety tannins and animated by a fresh line of acid.
Stockists: burncottage.com/shop, Selected fine wine stores.


Mahi Ward Farm Marlborough Pinot Noir 2012 $45
Rose, cinnamon, redcurrant and raspberries are to the fore in this pretty, perfumed single vineyard pinot. It's light, fresh and lifted, while displaying a lovely depth of flavour and great length.
Stockist: mahiwine.co.nz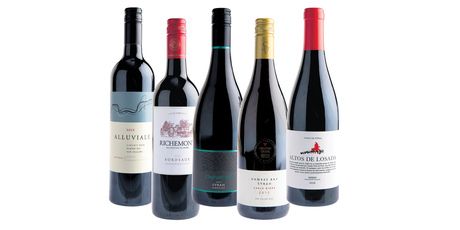 REWARDING REDS
In the Hawkes Bay region that is responsible for many of our red blends, vintage conditions in 2011 and 2012 largely resulted in lighter styles. However, impressive examples still exist, while the best syrahs emanate the intoxicating aromatics that are so attractive in our local expressions. And if you're wanting weightier wines, look to warmer climates, such as Spain and Southern France, from which there are some great ripe vintages available.
Alluviale Gimblett Road Hawkes Bay Merlot Cabernet Sauvignon 2012 $33
Alluviale produces a consistently impressive red blend and, despite the challenges of the season, has managed to produce another graceful wine with ripe, elegant and juicy dark berry fruit infused with fragrant peppery spice, nuances of violet and slate.
Stockists: Caro's, Point Wines, Ohope Liquor, Fine Wines Delivery Company, alluviale.com


Richemont du Chateau de Sours Bordeaux, France 2010 $24.99
Bordeaux had a great vintage in 2010 and there are, luckily, still some to be found in the shops. It's worth seeking out this ripe, well-balanced blend of merlot, cabernet sauvignon and cabernet franc with its supple black plum and blackberry fruit, attractive savoury character and soupcon of herb and spice.
Stockists: Bacchus Cellars, Countdown: St Lukes & Grey Lynn, New World Birkenhead, Millar & Co.


Elephant Hill Hawkes Bay Syrah 2012 $34
A ripe, intoxicatingly aromatic syrah with a silky, perfumed palate of concentrated black cherry and blueberry fruit threaded with strands of black pepper, star anise, rose incense and leather. Classic cool climate syrah.
Stockist: elephanthill.co.nz


Coopers Creek Select Vineyards Chalk Ridge Hawkes Bay Syrah 2012 $28.99
Fresh and fruit-driven, this Syrah from Coopers Creek's small batch range combines supple black plum and dark berry fruit with notes of smoke and toasty spice. At under $30, it's great value, too.
Stockist: Glengarry.


Losada Altos de Losado Bierzo, Spain 2009 $67
Spain's northwestern Bierzo region is one of the country's rising stars, making some marvellous wines from its native mencia grape. This one's a dazzler with its deep, dense blackberry fruit, fragrant notes of violets and incense and hints of graphite.
Stockist: macvine.co.nz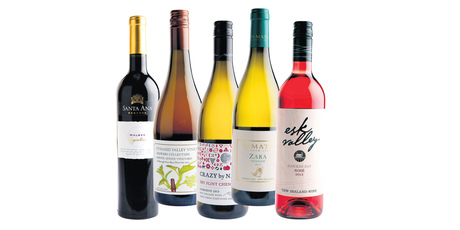 Santa Ana Reserve Mendoza Malbec, Argentina 2012 $21-$25
A delicious example of Argentina's flagship grape. A full-bodied wine with smooth velvety juicy dark fruit and attractive notes of spice. Plenty of concentration for the price.
Stockists: Fine Wine Delivery Company, Caro's, Hamilton Wine Centre, Village Winery.


EXCITING ALTERNATIVES
There's more to wine than simply white and red, or indeed the sauvignon blanc and pinot noir that dominate New Zealand's vineyards. In this section, I've explored lesser known whites, a rose and a rare "orange" wine.
Pyramid Valley Vineyards Growers Collection Kerner Estate Vineyard Marlborough Pinot Blanc/Pinot Gris 2012 $32
This intriguing amber-coloured wine derives its hue from the grapes being fermented with their skins, rather than having them removed before they can impart much colour or texture, as is the way with most whites. If you've never tried a so-called "orange wine" before, you may be surprised by its firm structure, which is more akin to that of a red. It's flavours, too, are unconventional, blending notes of fresh hay, honey, cardamom and chrysanthemum with apricot fruit and a soy-like savoury undertone. A must for the adventurous wine explorer.
Stockists: Great Little Vineyards, pyramidvalley.co.nz


Millton Crazy By Nature Dry Flint Gisborne Chenin Blanc 2013 $21.99
If you've never experienced the exhilarating joys of chenin blanc or haven't drunk it in recent decades, this one in Millton's Crazy By Nature range is a great gateway into the good work being done with the grape. It's a fine, affordable example with a dry honeyed palate of stonefruit, beeswax and zip of lemony acid. And if you're already a convert, then you'll doubtless already be drinking Millton's characterful chenins.
Stockists: Glengarry, Caro's, Fine Wine Delivery Company, The Village Winery, Advintage.


Te Mata Estate Zara Viognier 2013 $32
Apricot, bergamot and musky spice leap out of the glass in this vivid viognier from Hawkes Bay's promising 2013 vintage. On its viscous and concentrated palate, these notes are joined by apricot kernel and a fresh twist of citrus zest. An outstanding aromatic.
Stockists: Accent on Wine, Fine Wine Delivery Company, Point Wines.
Esk Valley Hawkes Bay Rosé 2013 $17-$20
In a world of wine that is largely red or white, don't forget the rosé, whose dry examples make for extremely versatile wines. Year after year, Esk Valley's full bodied, dry expression is one of our most appetising local examples, with its crisp palate of apple and bright red fruits.
Stockists: Widely available in grocery and fine-wine outlets.


BEST BUDGET BUYS
Much as most of us would love to sup the finest wines daily, financial constraints often mean wine lovers are on the look out for more affordable fare. Here are 10 wines that weigh in at under $25 and deliver plenty of pleasure for a small price.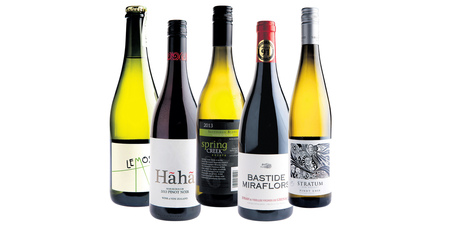 Ca Di Rajo Glera 'Lemos' Frizzante, Marca Trevigiana, Italy NV $18.95
Don't be put off by the cloudiness of this bone-dry sparkling prosecco - view it as you would a wheat beer and celebrate that it's lost none of its gorgeous, gently yeasty and crisp apple, pear and citrus character by being filtered. Bargain bubbly from Italy.
Stockist: macvine.co.nz


HaHa Marlborough Pinot Noir 2013 $19.99
Pinot noir is not a variety that's easy to make cheaply, with its lower-priced versions often losing appealing varietal character. Not this fruity little number, though, with its notes of juicy plum and waft of violet, which makes for a surprisingly pleasant and pretty pinot at this price.
Stockists: Herne Bay Cellars, Farro Fresh, Jolly Farmer, Merchant of Taupo, Hamilton Wine Company, Advintage, Village Wine Trader.


Spring Creek Estate Marlborough Sauvignon Blanc 2013 $9.90-$14.99
From the stable of sauvignon pioneers, Hunter's, comes this keenly priced example with it mouthwatering palate of melon, passionfruit, citrus and herb. Made by James Macdonald, the nephew of Hunter's owner, Jane Hunter.
Stockist: Blackmarket.co.nz


Domaines Lafage Bastide Miraflors Syrah & Vielles Vignes de Grenache Cotes Catalanes, France 2012 $17.99-$19.99
I did a double take when the price tag of this robust southern French red was revealed. With its generous jammy black cherry fruit overlaid with fragrant notes of violet, spice and forest floor, it would easily hold its own with wines of double the price.
Stockists:Blackmarket.co.nz, Wine Direct.


Sherwood Estate Stratum Waipara Valley Pinot Gris 2013 $14.95-$16.95
There's a highly appealing richness and freshness to this well-balanced ridiculously cheap pinot gris, with its notes of ripe pear and apple and ginger.
Stockists: Liquorland: Papakura, Pukekohe, Taupo; The Cambridge Fine Wine Company, Wine Villa, The Mill, Hamilton Beer and Wine Company, Primo Vino, Super Liquor Queen Street, The Mount Liquor Shop, The Mount Wine Barrel, Waiheke Wines, Mairangi Bay Fine Wines, Kohi Corner Bottle store.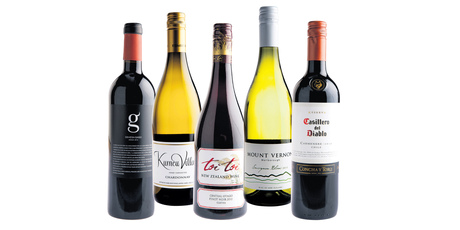 Telmo Rodriguez Dehesa Gago Toro, Spain 2012 $21.99
Spain's rock star of wine, Telmo Rodriguez is as proud of his cheaper wines as he is of his most expensive. This bargain is a beauty with its soft ripe plum and boysenberry fruit, cherry edge and hint of dark chocolate.
Stockists: Point Wines, Millar & Co, The Village Winery, The Wine Importer.


Kumeu Village Kumeu Chardonnay 2011 $14.99-$19.99
Made from hand-harvested fruit by one of the country's top chardonnay producers, Kumeu River's "Village" Chardonnay possesses an elegance rarely seen under $20 in its creamy palate of fleshy peach fruit and burst of mineral, citrus and herb.
Stockists: Farro, Fine Wine Delivery Co, First Glass, & Glengarry.


Toi Toi Clutha Central Otago Pinot Noir 2012 $22.95
Toi Toi delivers a pinot that displays a surprising depth and complexity at this price with its supple black cherry and plum fruit and notes of thyme. One of the best pinot buys about.
Stockists:Super Liquor Poenamu Hotel & Windsor Park.


Mount Vernon Marlborough Sauvignon Blanc 2013 $13.99-$15
Investigate the increasing array of second-tier labels produced by good wineries and you can find some well-made wines that are easy on the wallet. Mount Vernon is a lower-priced range produced by Lawson's Dry Hills, which offers an attractive mouthful of passionfruit, melon and zesty lime laced with fresh herbs.
Stockists: Liquor King, Golddiggers, Liquorland Forrest Hill, Liquor Centre Greenhithe, Wine Direct, blackmarket.co.nz


Concha y Toro Casillero del Diablo Rapel Valley Carmenere, Chile 2012 $15.99
What Chilean winegrowers once thought to be merlot in their vineyards turned out to be carmenere, a rare variety from Bordeaux which swiftly became the country's flagship grape. This great value introduction exhibits the variety's typical smooth, dark and juicy berry fruit and green capsicum note, joined here by an attractive smoky element.
Stockists: Fine Wine Delivery Company, The Village Winery and Liquorland Forrest Hill.


- VIVA