Behind the scenes of Workshop's new collection, developed at a traditional indigo dyeing factory near Shanghai.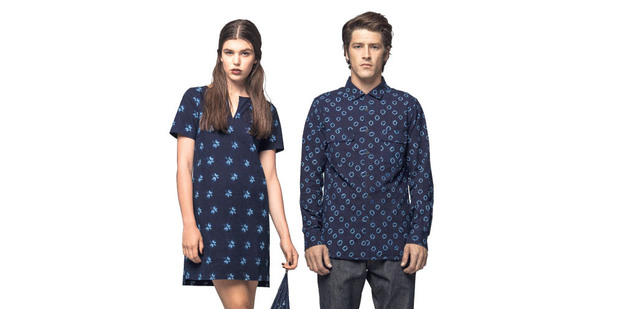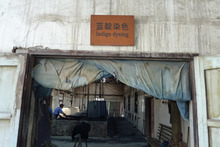 Workshop's Chris Cherry loves everything about indigo, so a recent trip to a traditional indigo dyeing facility in a small village five hours from Shanghai, China, was "like heaven" for him. Founded in 1880, the charming factility is covered in blue: indigo stains the doors, floors, gloves, shoes, baskets, ropes. "I wore a pair of Nike Free sneakers, and I haven't washed them; they're completely blue underneath,"Cherry says.
The fruition of his visit last year is a new collection of hand-dyed natural indigo pieces, combining artisanal traditions with Workshop's modern design: dresses, shirts and T-shirts, each their own unique shade of deep, rich blue.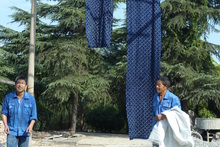 "It's a colour you can only get from indigo, and this stuff is the real deal," explains Cherry, "It's made from the indigo plant, boiled and fermented; they only use natural plant indigo which hasn't really been used commercially since the late 60s."
Cherry's first visit saw him and his host drive for hours into the Chinese countryside, getting lost and making their way through narrow streets until they found the facility, where the techniques go back hundreds of years.
Recently identified as a cultural treasure and now being expanded as a place of study to pass on the techniques, the factory produces mostly for the local Chinese market - Cherry believes that Workshop is the facility's first export partner. (The relationship will continue next season, with another range of printed fabric pieces similar to those pictured here, using other traditional techniques.)
The process of each piece begins with a group of women, the youngest who is 64 and the oldest 78, hand-stitching a design into 12m lengths of pure cotton fabric, to lock out the dye.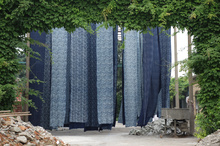 After the fabric is immersed into the vats of natural plant indigo dye and stirred repeatedly, it is spun and hung on trestles to dry. And this is repeated 18 times. Eventually, the stitching is unpicked and the fabric hung outside to dry using long bamboo poles.
The whole process is done by hand - except for an old spinning machine - and appeals to Cherry's appreciation of crafted product.
"I just love the artisanal simplicity of it all, and the fact that [the facility] has been like this for years and years," he says.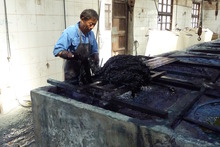 "It really brings me back to the core and the essence of Workshop, when we started it back in the early 80s; it was always about hand-made, artisanal crafted product."
That crafted approach is reflected in the limited number of each style produced - just 50 of each - and that each garment will change with time.
"It's much like jeans. You can't stop it from fading, it is its job to fade," explains Cherry,
"You can't prevent it; but all you can do is slow it down. Really, it's part
of the beauty of it."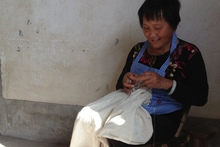 • The collection is in store now and online at workshop.co.nz.

- VIVA