There are hotel suites worldwide that are so fancy they can command an eye-watering annual wage to stay for just one night. Here are the most expensive rooms in the world.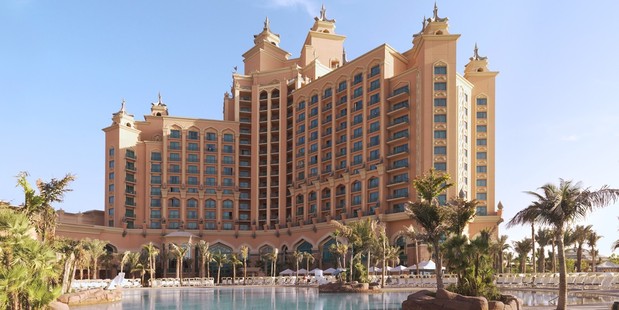 Hugh Hefner Sky Villa, Palms Casino, Las Vegas, USA
While you can get a room for $60 downstairs at the Palms, Hugh Hefner's two-story sky villa comes with a rotating bed under a mirrored ceiling and a pool that juts out over the hotel with views down the Vegas Strip. You get butler service, spa treatments, a private gym and poker room, plus an outdoor terrace to entertain your closest 250 friends. Playboy bunnies not included.
NZ$40,000 per night
palms.com
Royal Bridge Suite, Atlantis the Palm, Dubai
For a mere $10,000 you can stay in an underwater suite watching the fish from your bed, but if the extra cash is burning a hole in your pocket, stay in the Royal Bridge Suite on the top floor with views of Dubai from one balcony and the Arabian Sea from the other.
NZ$43,000 per night
Ty Warner Penthouse, New York, USA
A $50 million refurbishment of the Ty Warner Penthouse on the 52nd floor of the Four Seasons Hotel in New York has added even more wow.
Floor-to-ceiling windows offer a 360 degree view of the city - from your bath. Get someone in to play your grand piano (oh go on, invite Elton John) or just enjoy being pampered in your own spa.
NZ$47,000 per night
fourseasons.com/newyork
Presidential Suite, Raj Palace, Jaipur, India
Designed like an entrance to a maharaja, this is actually a palace where royalty once lived. Your four-story apartment has gold-leaf walls, a library, private terrace, a rooftop pool and gold and silver furniture.
NZ$52,000 per night
rajpalace.com
Royal Penthouse, President Wilson Hotel, Geneva, Switzerland
This hotel looks completely unassuming from the road, but on the top floor is the most expensive suite in all the world. Its 12 rooms include a billiards room, piano room (Steinway grand, of course) and a fitness centre. Step through the bullet-proof doors onto your terrace which overlooks the lake and wonder what else you could have bought for this price.
NZ$75,000 per night
hotelpwilson.com
- nzherald.co.nz