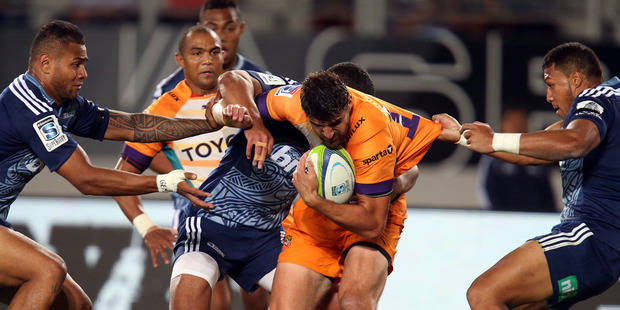 Reserve judgement on any Blues' resurgence after their 40-30 win over the Cheetahs.
There were some promising signs from the Blues - but it will take tougher opposition than the men from Bloemfontein to provide a decent comparison.
Read: Blues bounce back with win
Named after the fastest land animal in the world, they looked to have run out of puff after losses to the Hurricanes, the Reds and the Rebels on tour.
That they did surprisingly well in the opening 20 minutes, keeping the Blues at 13-13, and came back in the second half, will be of concern to Sir John Kirwan. As will their defence, uncomfortably absent sometimes.
The Blues looked jittery under officious Argentinian referee Francisco Pastrana, who looked like he would be most at home in a military academy, bossing cadets around.
Blues handling errors and penalties flowed; the game didn't. It took a professional foul from Cheetahs flanker Boom Prinsloo to shape the game. Yellow-carded, he returned to the action after the Blues scored 17 unanswered points. Boom indeed. And bust.
If that sounds like the Blues were clinical, they weren't. Centre George Moala scored a try that seemed for all the world a double movement and fullback Willie Le Roux's limp effort to field a kick presented a try to Tevita Li.
Positive for the Blues were Steven Luatua's best game yet, Moala continues to make crunching runs in the midfield, Luke Braid is an inspirational leader and 20-points Simon Hickey has temperament and poise. Ma'a Nonu and Jerome Kaino made their long-awaited season debuts; maybe they can dispel the feeling that a team who can play it tight and pressure the Blues still seem likely to beat them.