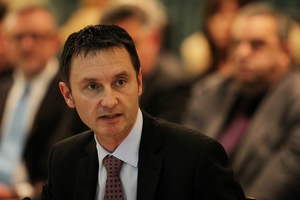 Former Hamilton mayor Michael Redman will direct the revamped Blues franchise.
His interest in the role was stirred by the Blues' move to combine private investment with provincial unions' expertise.
"It feels like a ground floor opportunity for the Blues to go to the next level," the 47-year-old said. "You have all of the best of the intellectual property and knowledge from the provincial unions coupled with really strong commercial and governance practices from the private sector.
"The combination of those is really powerful for us to move Super rugby forward."
Redman starts work on October 1, after an almost two-year break from the public spotlight, when he resigned as chief executive of the Auckland Council's tourism and development agency.
He had run Ateed but resigned after the Audit office's report into the V8 races in Hamilton criticised councillors and Redman for steep cost blowouts.
Redman felt his work with the Blues would be heavily weighted towards the commercial and leadership part of the business.
"We are blessed by a highly credentialled rugby coaching staff led by Sir John Kirwan and others and it is my job to create an environment for them to be successful," Redman said. "There are plenty of experts in rugby. They don't need another one sitting at the CEO's desk."
Redman had been consulting for private clients since his last public appearances.
His name was synonymous with the V8 event in Hamilton and there was a report into that which he felt was "fundamentally flawed" but he decided then to step down from his Ateed role.
"I resigned as a result of the Audit New Zealand report that was critical of the V8 experience in Hamilton and my view was that it was difficult to run a major events agency in Auckland with that controversy."