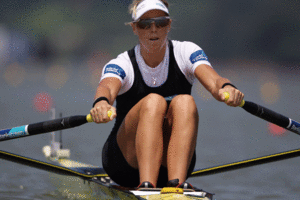 Four more crews - the men's and women's doubles, the men's lightweight four and single sculler Emma Twigg - have progressed to the finals at the rowing world championships. Each crew came second in their respective semifinals.
The results mean New Zealand has seven finalists from 14 competing crews; an excellent return by international standards.
The men's lightweight four of Curtis Rapley, Peter Taylor, James Lassche and James Hunter were pipped into second by 0.63s courtesy of a powerful finish by Britain. It's the first time they've been beaten this international season. The result promises an exhilarating rematch on Sunday.
Emma Twigg eased to second, 4.81s behind Australian Kim Crow whose form looked daunting ahead of the final.
There were parallels across the men's and women's double races.
Both crews - Robbie Manson and Michael Arms in the men's and Zoe Stevenson and Fiona Bourke in the women's - finished second in their semifinals.
Lithuanian crews beat both combinations by about a length.
In the men's combination, Arms' back problem again looks to have been a debilitating factor since the crew returned unbeaten from Europe.
However the biggest surprise came in the first semifinal where Britain, who had beaten the New Zealand men in the heat, finished fourth and failed to progress. Norway, Germany and Argentina advanced.
The successful crews join both New Zealand pairs and the lightweight women's double in finals action on the weekend.