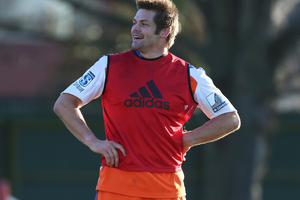 All Blacks captain Richie McCaw could be back in the Super 15 next week if Saturday's highly-anticipated return to club rugby is a success.
The 32-year-old says he's refreshed from his prolonged seven-month break and, after 12 weeks of training, is "itching'' to get back on the field in time for the Crusader's first playoff game.
And he has no qualms about playing under current Crusaders captain - and the man who filled his boots for the All Blacks against France - Kieran Read.
But first, McCaw has to come through a rare game for club side Christchurch, having last played for them in 2009. He'll likely start at openside flanker against University at Christchurch Park in the Canterbury Metro competition on Saturday.
"If Saturday goes well you can put your name in the hat for next week,'' McCaw said after completing a training run with the Crusaders at Rugby Park today.
"But then that becomes up to (coach) Todd (Blackadder), what's right for the team, and obviously that's the most important thing, But there is a possibility (of being selected).''
Blackadder said McCaw was experienced enough to be able to tell him if he thought he was ready for the rigours of Super Rugby.
"He needs to get a game under his belt,'' Blackadder said. "If he feels he's a little under done, then probably the best thing for him is to have another game of club rugby.''
The 116-test veteran has not played since the All Blacks' loss to England at Twickenham last December.
During his sabbatical, he travelled extensively and regained his enthusiasm for the sport, saying he has got no regrets about taking such a long break from the game.
"No regrets at all because I'm excited about getting back into it, and that's the way it should be,'' he said. ``My biggest fear was it would get to the point I would stop enjoying it, and it would start getting on top of me a bit.
"So having the break has sort of refreshed me and made me realise why you play the game - because you enjoy it - and I'm lucky to hopefully have a bit more time to do that.''
McCaw said he hasn't given thought to how many minutes he'll play on Saturday, but hopes Christchurch coach and former Crusaders teammate Matt Mustchin will let him play the full 80 minutes.
"I'll play as long as I can... but I'm sure if I run out of legs (I'll) have a break,'' he said. "I've been starting to get itchy feet, which is good.''
A long preseason, which culminated with a club rugby match, was always part of his planned return to top-level football, he said.
The Christchurch club is full of ``pretty good blokes'' who looked after McCaw when he first moved to the city, so he was looking forward to paying them back by getting on the field. A big crowd is expected at the game, and extra security has been put on by the club.
Asked if he was worried about getting any special attention from any University players, or taking a cheap shot, the All Blacks skipper said: ``No, no. It'll be no different than any other game to be quite honest. I'm really looking forward to it.''
While he admits being on the sidelines and watching the Crusaders from afar has been tough, he hopes that last week's resounding victory over the Chiefs signals a return to winnings ways for the famed franchise.
And he has no worries about playing under Read, who he confirmed would remain as captain for the rest of the Super Rugby season.
``If there's a possibility of playing, it'll be just purely that.''
- APNZ