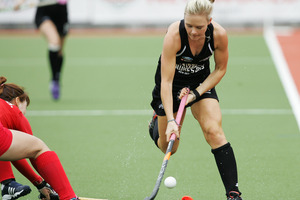 New Zealand missed out on confirming a place in next year's World Cup when they lost a dramatic penalty shootout to Korea in the World League tournament in Rotterdam today.
With the scores tied 3-3 at the end of normal time, Korea won the shootout 3-2 to advance to the World Cup as third placed finishers in Rotterdam.
World No 3 New Zealand now go to the Oceania qualifiers in Stratford in October, where they will progress to The Hague next June as a Continental champion if they beat Australia.
After that, there is one last avenue for the Black Sticks, involving leading nations filling out remaining spots in the 12-team field, but dependent on results at the other World League tournament, which has just begun in London.
All the goals came in the first half today.
New Zealand went a goal down in the first minute when goalkeeper Bianca Russell let a shot by Hye Lyoung Han slip between her legs into the goal.
Krystal Forgesson equalized in the 12th minute, scrambling the ball in at the far post from an Anita Punt drive into the circle.
Seung Park put the Koreans back in front after fine leadup work by Jong Eun Kim shortly after, but Katie Glynn got the Black Sticks level again when a penalty corner was blocked and the rebound dropped nicely for her.
Captain Kayla Sharland got New Zealand in front for the only time in the game, from close range after good leadup work by Sian Fremaux and Forgesson, only for an error by defender Aniwaka Roberts to allow Han to put Korea level.
Both teams had chances in the second spell, for which New Zealand replaced Russell with Sally Rutherford. New Zealand squandered a series of penalty corner opportunities, and could have won it just before the end had Petrea Webster been able to reach a fine cross by Forgesson.
When Sharland and Sam Charlton scored with their shootout attempts, New Zealand were 2-0 up and looking strong.
However Anita Punt, Charlotte Harrison and Gemma Flynn had their chances blocked by Korean keeper Lee Sin Hye. Korea drew level - their second goal drew protests from the New Zealand players after Rutherford appeared to have successfully blocked the attempt Eun Ji Cho.
When Park scored with the 10th and final attempt of the shootout the Koreans were jubilant.
The Netherlands were playing Germany in the final.
Japan finished fifth with a 3-1 win over Belgium, while India took seventh after beating Chile 2-1.