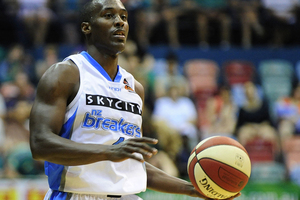 The Breakers have one roster-spot left in their quest for an unprecedented fourth-straight ANBL title and coach Dean Vickerman is leaving that door wide open for Cedric Jackson.
Vickerman today signed American power forward Darnell Lazare as one of two imports, but will hold off naming the second until late-July, in the hope that last year's MVP will return for a third season at the Breakers.
Jackson is currently chasing a return to the NBA in America, and has the Breakers' full backing and support to pursue his dream. But should he fail in his quest and return to Auckland, Vickerman is unlikely to share in his disappointment.
"Cedric is focused on making the NBA and if he doesn't make the NBA he will consider other offers," Vickerman said.
"I've left him alone for the last couple of weeks but as he starts to get further into his workouts it will be good to touch base and see how he's getting on and how he's feeling about the whole situation."
Vickerman said the club has been aggressive in their scouting of a potential successor to Jackson, but a new target would have big shoes to fill.
"We have our feelers out there everywhere right now, we have a list that continues to grow.
"Cedric was a high assist guy and was able to get deep in the lane and find shooters and also be the great defender that he was.
"Those are the high characteristics of what we are looking for in that position."
The uncertainty surrounding Jackson made Lazare's signing a priority. Vickerman wanted someone who was familiar with the league and the Breakers' environment and could help fill the hole left by the retiring Dillon Boucher.
"He ticks a lot of boxes for us and from everybody we spoke to he's just a really quality person and lives for our values.
"I've got a good gut feel about him. He gives us something different. He can both be a power guy and also he's got the touch to be able to shoot the ball from mid-range.
Lazare, who stands 203cm, entered the NBA draft in 2007 but wasn't picked up. He played in the NBA development league as well as Sweden, Poland and the Ukraine and averaged 10.5 points and 7.4 rebounds a game for the Kings last season.
The Breakers have also added Tall Black Jeremiah Trueman and impressive youngster Reuben Te Rangi to their roster, while American power forward Will Hudson has made way.
"Will did an outstanding job for us, and we can't say enough about how he helped Alex (Pledger) to become a better player but the situation with Alex was we wanted to upgrade him a bit, give him more minutes, so we moved our import spot.
"We just thought Darnell's ability to shoot the ball gave us something different than what Will was able to offer us. Will was outstanding and I'm sure we will see him with another team because he is a winner."
The new players join Tom Abercrombie, Mika Vukona, Corey Webster, Alex Pledger, CJ Bruton and Daryl Corletto at the Breakers.