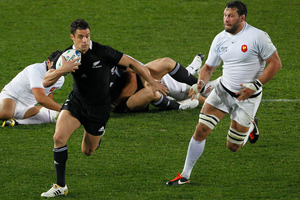 All Blacks playmaker Dan Carter has a cracked bone in his right hand which could force him out of Saturday's first test against France.
Carter injured his hand during the Crusaders' narrow win over the Waratahs in Christchurch on Friday night.
All Blacks coach Steve Hansen said the swelling around the injury was the biggest problem the 31-year-old faced.
"He got stood on the other night and has got a cracked bone so we'll have to wait and see how the swelling goes and we'll make a decision later in the week,'' Hansen said.
"It's only a crack, it's not completely displaced.
"The biggest problem with Dan's hand is the swelling. The biggest problem with swelling is you can't grip the ball. If that goes down well enough then he may well be all right to play. But until we let the swelling go we won't know that.''
Hansen said the All Blacks were fortunate to have quality cover in the form of Aaron Cruden and Beauden Barrett.
However, he said it was a shame that Carter could be forced to miss the match at Eden Park, the replay of the World Cup final of 2011 in which he also missed due to his groin injury.
Carter has been approaching top form with the Crusaders recently - playing starring roles in the victories over the Brumbies and Waratahs.
"Mentally I don't think I've seen him as sharp and as keen for a long time. He's itching to go, we've just got to make sure we let him go at the right time,'' Hansen said.
The injuries have kept coming for 94-test veteran Carter over the past few years. Apart from his groin injury in 2011, he has also had problems with his hamstrings and Achilles.
Last year the All Blacks coach referred to Carter as a "red-flag athlete'', saying he needed to be managed very carefully.
"He's getting older isn't he? And the more you play the game the more vulnerable you are to injury and he's got quite a few miles on the clock,'' Hansen said of Carter last year.
"So that's just standard for any older player and he's got to be smart. We've got to be smart in how we deal with it.''
Hansen also has issues in the front row, with four of his five props recovering from leg injuries. Ben Afeaki has a calf issue and Wyatt Crockett, Owen Franks and Tony Woodcock have hamstring problems. Woodcock also has an abscess on his nose.
With Ben Franks the only fit prop, Crusaders loosehead Joe Moody has been added to the squad as training cover.
Hansen said Piri Weepu's concussion injury had yet to be tested fully despite the halfback declared himself fit after being knocked out during the Blues' loss to the Highlanders in Dunedin on Saturday.
Hansen said Weepu's suggestion he was good to go had to be "taken with a grain of salt'' because it: "looked a pretty horrific injury''.
- APNZ