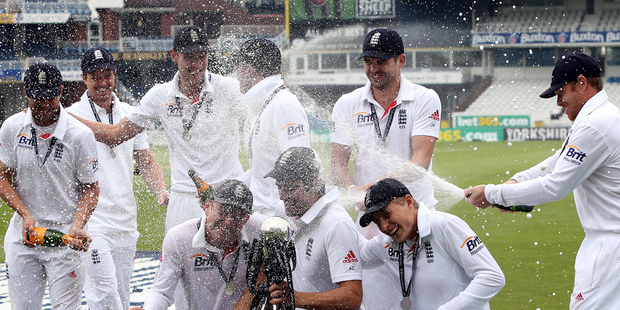 The England cricket team's meteorological department proved better than other weather pundits as rain held off long enough to secure a 247-run victory over New Zealand at Headingley in 86 minutes' play on the final day.
It completes a 2-0 series defeat after the 170-run loss at Lord's. New Zealand have not won a test in England since victory at The Oval in 1999.
There were 49 minutes of play before further drizzle enforced an early lunch. The session started 45 minutes late. The players returned at three o'clock to go through the final throes.
New Zealand added 61 runs and lost two wickets to be 219 for eight, chasing an improbable 468 to win when further rain stymied England's march to victory.
That was the price for setting a target greater than the sum of all New Zealand completed innings in the series to date.
Captain Alastair Cook could afford to bask in the glory, despite his conservative declaration.
The visitors added one run later on to be dismissed for 220 when Graeme Swann and James Anderson mopped the tail. It was Swann's third and best 10-wicket haul in a test. He finished with figures of 10 for 132.
Before this test he had not taken a wicket against New Zealand, let alone at Headingley.
Earlier Tim Southee and Doug Bracewell launched a rearguard action, putting on 56 runs from 41 balls and hitting Swann and Steven Finn to all parts. However, the aerial assault hardly suggested any visitors should extend their hotel reservations.
Swann held his nerve and concentrated further on the footmarks created by New Zealand left-armers Neil Wagner and Trent Boult. Ironically that pair battled for eight overs at the end, having inadvertently crafted their own demise.
Swann had Southee caught by Jonathan Trott at first slip for 38. Trott dropped him there previously on 24. It completed Swann's five-wicket bag. He also snapped up Bracewell bat-pad.
The first wicket of the day was captain Brendon McCullum. He presented Stuart Broad with a caught and bowled after minimal resistance. Broad bowled a low full toss but demonstrated agility in his follow-through, stooping low to his left with two hands.
Both squads now switch to one-day international mode. The first game of their three-match series is on Friday at Lord's. That is followed by the Champions Trophy.
Read more: Taylor looks the best of sorry bunch