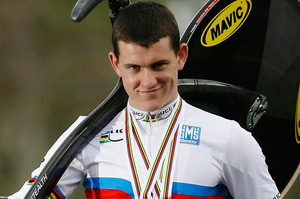 Three New Zealand sprinters took turns at breaking the previous national record on the second day of qualifying at the national track cycling championships in Invercargill yesterday.
The male sprinters appeared determined to upstage one another in the 200m sprint qualifying.
Invercargill's Mat Archibald was first under the previous record with a 10.101s, which was also bettered by local rider Eddie Dawkins with a 10.074.
But former triple world junior champion Sam Webster regained his own record when he went fastest with a 10.058 in a superb display of world class sprinting.
Ethan Mitchell was fourth fastest in 10.140 while 1000m time trial winner Simon van Velthooven was fifth fastest in 10.254.
National record holder Natasha Hansen made an impressive 11.261s to qualify top in the women's sprints ahead of Otago's Katie Schofield (11.653s) and Southland's Stephanie McKenzie (11.414s).
- APNZ