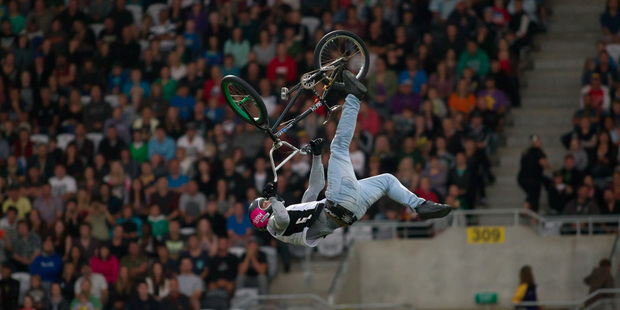 A Kiwi BMX ace whose world-first triple backflip attracted more than 9 million hits on YouTube will wow homegrown fans with a spectacular new bike trick.
Fearless Jed Mildon will unveil a move dubbed "The Warrior" in front of 100,000 fans on the madcap Nitro Circus Live tour, which hits North Island venues next week.
"It's called 'The Warrior' because that is my nickname. I want to make it world famous on the internet within days," he told the Herald on Sunday. "I want New Zealand fans to be the first to see it."
Tokoroa-based Mildon, 25, revealed he originally planned a world-first, double tail whip at Nitro Circus but that has been postponed because it is still too dangerous. He will name that move "The Ching Flip" in memory of his late friend and fellow BMX star, Australian Dane "Chinga" Searls.
World champion Searls, 23, died in November 2011 after a misjudged dive from a balcony into a swimming pool on the Gold Coast.
"Dane was a one-off and inspired me to greater things," Mildon said.
"I was at his bedside in hospital after the accident. He was in a coma and sadly never woke up."
Mildon has been working on the Ching Flip but it isn't ready yet.
He also plans to set a world distance record by jumping 40m across the Waikato River on his BMX later in the year.
Nitro Circus is at the AMI Stadium in Christchurch today, Auckland's North Harbour Stadium on Saturday, Waikato Stadium on Wednesday, February 6, and the Westpac Stadium in Wellington on Saturday, February 9.