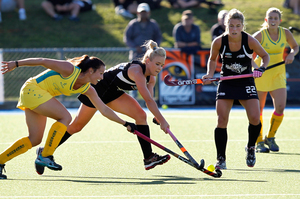 The female Black Sticks registered a 3-3 draw with Australia in the opening game of the second leg of the Four Nations at the Lloyd Elsmore Hockey Stadium in Pakuranga, Auckland today.
Australia looked like they had victory in the bag until Anita Punt smashed in a close-range shot with just 40 seconds left.
Despite Monday's victory over Australia in the first leg of the event, Black Sticks coach Mark Hager was pleased with today's result.
"With the number of positional changes we made today, to still draw 3-3 with a full-strength Australian team is a pretty good effort."
Today's Black Sticks line-up featured striker Petrea Webster and defender Sophie Devine for the first time in the series. Hager also made a number of positional changes.
"We're trying to give players an opportunity to see whether they can perform," Hager said. "But they need to perform and we can't leave them out there if we're getting punished, so hopefully they'll learn from that and be better in the next three games."
Anita Punt opened the scoring for the Black Sticks today with a strong drag flick into the right-hand top corner after eight minutes.
Australia responded through Emily Smith a few minutes later and continued to pressure the Black Sticks goal without any success.
Krystal Forgesson, who reached the milestone of 150 caps for the Black Sticks today, had an opportunity on half-time to give the home side the lead. Despite a lovely touch to get free and a stunning reverse shot, she hit the post.
Nine minutes into the second spell Australia's Jodie Schulz slotted in a drag flick penalty corner. Minutes later Georgia Nanscawen got a questionable deflection to take the score to 3-1.
After 20 minutes New Zealand responded with a penalty corner goal to Sharland and with 40 seconds on the clock Anita Punt smashed in the equaliser after numerous saved shots.
The tournament continues until Sunday with the Black Sticks playing the USA at 3pm tomorrow.
Hager said the team would face a tough test against the USA, who were convincing as they beat India 3-0 in today's first game.
Today's results: New Zealand 3 (Anita Punt 2, Kayla Sharland) Australia 3 (Emily Smith, Jodie Schulz, Georgia Nanscawen) HT: 1-1
USA 3 (Shannon Taylor, Paige Selenski, Michelle Cesan) India 0 HT: 2-0
- APNZ