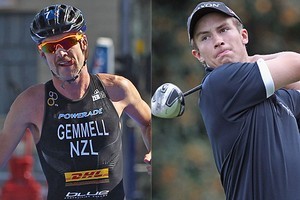 Kris Gemmell admits his golf knowledge might be limited but the triathlete will learn quickly when he caddies for promising amateur Ben Campbell at the New Zealand Open at Clearwater next week.
Gemmell, fresh off his emotional ITU World Cup triathlon win in Auckland last weekend, said he couldn't wait to get on the bag.
"I'm really excited," he said. "It's going to be pretty fun. To be honest, I'm as nervous as hell. I just can't believe it."
It's also slightly unbelievable how the opportunity arose.
Campbell told APNZ journalist Daniel Richardson on Wednesday he didn't have a caddy for the tournament, prompting Richardson to tweet the information into cyberspace.
It caught the attention of Gemmell, who tweeted back offering his services. This got back to Campbell and, when an option he was chasing didn't materialise, he got in touch with Gemmell.
They haven't talked tactics yet, but Gemmell said Campbell told him he preferred a caddy who could just keep his mind at ease in between shots.
"We only had a small chat," Gemmell said. "I just said, 'be calm and know that I'll help you out'."
Campbell, who is playing for Wellington in this week's national interprovincial tournament in Gisborne, is one of 10 amateurs in the field for next week's tournament in Christchurch.
Fellow New Zealand amateur Ryan Fox often has his father, former All Blacks' first five-eighths Grant Fox, on his bag but he will have his coach, Arron Harding, alongside him next week.
Gemmell was preparing for his role with a spot of fishing in Taupo with friend and fellow triathlete Bevan Docherty today. He said he had recovered from his effort in Auckland but just hoped the shoulders on his slight frame could take the weight of a set of golf clubs around the course.
"The legs will be fine. I just don't know about carrying the bag," the 34-year-old joked.
- APNZ