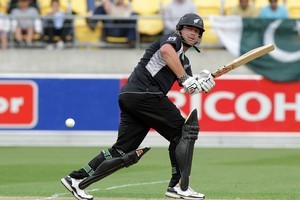 Cloning has its critics but few New Zealand cricket fans would protest if the Black Caps took their blueprint from last night's match to the World Cup next month.
Producing that performance, over after over, match after match, on the grounds of India, Sri Lanka and Bangladesh in a month's time at the World Cup will take this seemingly rejuvenated side - although it is early days yet - a long way.
The side wove together some impressive strands of cricketing DNA to jettison their 11-match one-day international losing streak with a nine-wicket win.
They dismissed Pakistan for 124 in 37.3 overs - the second lowest completed total at Westpac Stadium and Pakistan's second lowest one-day total against New Zealand.
They chased down the runs in the 18th over with Jesse Ryder top-scoring with 55 from 34 balls. It was a shame it was in front of a venue less than a third full.
The Black Caps produced brave, full-length bowling to start; then back-of-a-length bowling to contain and frustrate from first change, all the while mixing in sharp catching and astute fielding that dictated terms to Pakistan throughout.
However, in any genetic code there is always the risk of a "black sheep" - Jacob Oram's effort in spilling a dolly when Daniel Vettori got Shahid Afridi to loft to long-on.
However, it would be churlish to dwell on that rare error in an otherwise polished display. Oram suffered an immediate punishment anyway - placed at third man the next over, smack in front of the Black Caps seating area and new coach John Wright.
Tim Southee (5-33) and Hamish Bennett (3-26) spearheaded the attack from opening bowler and first change respectively; a tribute to two younger players stepping up to perform.
Southee deserved his first five-wicket bag in 50-over internationals, surpassing his previous best of 4-36, taken at the same ground against Australia last March.
He was man of the match then, too. His haul will also have given him timely, further confidence in this format ahead of the World Cup. His last four matches since August had yielded just one scalp.
The younger pair were ably assisted by James Franklin and Oram, who pieced together tight, wicketless opening spells in the first 19 overs. Oram came back later to pick up two consecutive wickets.
If the Pakistani batsmen were in a giving mood, the Black Caps' hands (and Brendon McCullum's gloves) were willing to receive.
Ryder demonstrated his deceptive athleticism with the catch of the day at point when Southee took one away off the seam and opener Kamran Akmal flashed at it.
Ryder may be no Rudolf Nureyev in terms of balance and poise through the air, but he has excellent reflexes and hand-eye co-ordination and the white ball ended up firmly ensconced in his mitts, just the same.
He was again called into action when a miscued drive on the up from Sohail Tanvir went straight to him at cover point.
McCullum was in his element behind the stumps - and there is plenty of motivation with the captaincy coming onto the horizon post-World Cup. One can only imagine what the conversations are like between him and fellow contender Ross Taylor at first slip.
McCullum snared five catches, the fourth time he has done so in one-dayers. His third catch brought up 200 in this format.
As if egging each other on in the backyard, Nathan McCullum wasn't to be outdone. He is a constant Inspector Gadget-type menace in the 30-metre circle (or anywhere for that matter), never allowing anyone to dawdle between the wickets.
The Pakistani batsmen were also to blame. Their footwork was minimal and each time a Kermit-green set of arms was thrown out in the vain hope of smashing the ball, the muppet analogy was not lost.
Misbah ul-Haq was the exception. His patient 50 off 88 balls saved the touring team some dignity.
It was left to Martin Guptill and Ryder to show what the new Black Caps batting order could accomplish.
They did not disappoint with their 84-run opening partnership.
There is nothing like a modest chase of 125 to get a batsman into form; Ryder returned to his bullying, bludgeoning best as a consequence, especially over the legside.
It wasn't the right time to lean down and take a nip at your hot dog when he was on strike.
His brisk half-century emphasised why he is such a danger at the crease and at the core of New Zealand's flickering World Cup hopes.
It was his first score over 22 in eight innings, and in any international format, since late November in India.
Because only three New Zealand batsmen were required, the tactic of playing McCullum down the order wasn't tested. That's handy for two reasons - it means the Pakistanis don't yet get a look at McCullum's ability as a closer; and it will whet McCullum's considerable appetite for runs.
With a target of 125 and Ryder's booming innings showing what might have been, the intensely competitive McCullum will be ready to unleash next time.