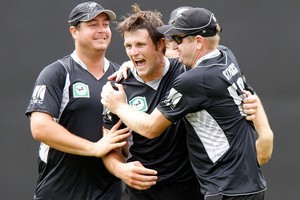 Perhaps it was the dawn of what the Black Caps can expect in the future.
The smooth, fluent run-up and delivery of Tim Southee contrasted with the bustling, brute force of Hamish Bennett.
They alternated at the northern end of the ground for all but one of the 37.3 overs it took to dismiss Pakistan for 124.
Southee was undoubtedly the star with his best one-day international figures of 5 for 33.
He delivered the ball on a good length, gaining enough swing to either persuade batsmen to drive; or leaving them in two minds by taking it away or getting it to duck into the right-handers.
He was backed up ably by the pace of Bennett at first change, whistling the ball in short of a length in the high 130 to low 140km/h bracket. Bennett's three for 26 are his best figures in three ODIs.
Jacob Oram took the remaining two wickets, also from the northern end of the ground.
The bowling efforts were not lost on skipper Daniel Vettori.
"It was a really good start; the swing from Tim was the key. It put the Pakistanis under a lot of pressure and we held onto that.
"No bowler who came into the attack let up, particularly from the northern end. I could keep attacking with Tim and Hamish and get wickets, so it made it easy.
"Most of the bowlers enjoyed this wicket. We thought it was going to be flatter but it had just enough in it. Some of those [pitches] that have just a bit in them are harder to play on."
Vettori says Bennett did well to quell his nerves once he got out there, playing his first international at home.
"That's probably why we held him back to bowl first change. Once he got through that first over, I thought he was outstanding.
He hit the right areas and bowled at pace. He was a good foil for the opening bowlers.
"I probably see him as a first change bowler for now. That's where he's been most comfortable. But if he bowls as well as he did today there's no reason why he can't step into that [opening] role."
Southee was revelling in his third appearance at a ground where he's previously had two and four-wicket hauls.
"The bowlers enjoy playing here and it's a reasonably big ground, not like some other rugby grounds. The wicket has also been bowler-friendly the last couple of years."
Southee's performance drew praise from one of fast bowling's historical greats, Pakistan coach Waqar Younis: "Instead of giving credit to the pitch, we need to give credit to the New Zealand bowlers, especially Tim Southee. He swung the ball and made sure it was in the right areas.
"He was hard to play and we just kept nicking him. The Black Caps gave us no room to release the pressure."
New bowling coach Allan Donald also played a part in Southee's thinking.
"One of the things he emphasised was to be aggressive and have a presence when we play.
"I took that into this game."