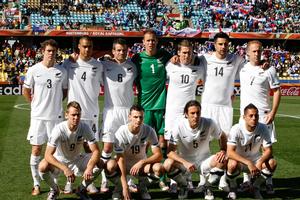 The All Whites deserved not only their historic draw but more, says 1982 captain Steve Sumner.
Speaking to nzherald.co.nz from London, Sumner said he believed New Zealand could get a first-ever World Cup win or qualify to the second round even against top teams in upcoming matches.
He said the All Whites' performance in their 1-1 draw overnight had won over British commentators.
"I thought they were hard done by in the end," he said.
"I didn't think their [Slovakia's] goal was a goal. It was offside. Our blokes got the result they deserved, and [deserved] perhaps a bit more than that."
The All Whites' Winston Reid scored three minutes into stoppage time to get New Zealand their first-ever World Cup point.
Before the game, the All Whites had been underestimated, Sumner said.
But by halftime British television commentators were publicly apologising for predicting that the Slovaks would be scoring goals against the All Whites without too much difficulty, he said.
"They didn't know our players and our players' attitudes. Our guys did really well."
Players were covering for each other with midfielders doubling back on defence, he said.
The commentators admitted they had found themselves rooting for New Zealand, and had jumped up at the last-minute goal, he said.
The draw puts all Group F teams - New Zealand, Slovakia, Italy and Paraguay - level at one point apiece.
The top two teams qualify for the final knock-out round.
Sumner said the All Whites could have won, and the players would be wanting more.
And they could get it, even against powerhouses Italy and Paraguay in their next two games, Sumner said.
"Unlike past times, our guys have mental toughness. They wouldn't be satisfied with the result tonight.
"They're not there to make up numbers. They want to actually do the job and qualify [for the next round]."
Sumner urged all New Zealanders to get behind the All Whites' dream.
"I'm supporting them 100 per cent. I want to believe their dream, and I think we should all do that, without fear.
"If we get whacked by Italy, so what? Our blokes should know there are people like me and others behind them."