Striking debut at left back, filling in for Lochhead, helps lift Phoenix off bottom of ladder.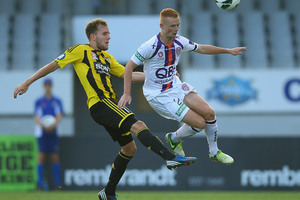 Auckland local Ian Hogg's impressive performance at Eden Park on Saturday helped the Phoenix find a rare win and created a true test for Ricki Herbert's loyalty to his senior professionals.
The Phoenix left their Wellington base to leap off the foot of the A-League ladder with a crucial victory against fellow strugglers Perth, and Hogg particularly impressed filling in for Tony Lochhead at left back.
The 23-year-old, signed last month on a contract until the season's end, made his debut in front of family and friends in the city of his birth and was a key cog in a Phoenix defence which kept a clean sheet for the first time in 10 matches.
Lochhead has been out of sorts all season but, having been suspended for one game, Herbert will be tempted to reintroduce the 100-cap veteran for Thursday's challenging trip to leaders Central Coast.
The coach is loyal almost to a fault when it comes to the players who are mainstays for both club and country and Lochhead, a foundation player at the Phoenix who has played 43 times for the All Whites, fits that bill.
Hogg has spent most of his career in the ASB Premiership but did score on international debut against El Salvador last year.
The cliche goes you can't change a winning team, but Herbert will be tempted to lean on the experience of Lochhead for the visit to Gosford, a venue at which the competition front-runners are unbeaten this season.
"It's really open," Herbert said of his selection dilemma.
"I thought [Hogg] was terrific tonight. Can he do it again? Not sure, but unless we expose him to it we'll never know.
"It's a big one against the league leaders next week, so that would be a great challenge for him. He's certainly figuring in the plans at this stage."
However, Herbert did possibly tip his hand by explaining the reasoning behind leaving young pair Louis Fenton and Tyler Boyd out of the starting XI against Perth. He said he thought experience was crucial in a game of such importance to the Phoenix's season and, still sitting second-from-bottom, that must again be true on Thursday night.
Being bumped back to the bench would be harsh on Hogg, who barely put a foot wrong at Eden Park. He said he was "a little bit nervous" but he was satisfied with his display.
Hogg's considerable contingent in the crowd was part of an attendance of 11,500, well down from the 20,000 who watched the Phoenix's first trip to the nation's biggest city last year.
The figure was still up on the club's average attendance in Wellington - about 7300. APNZ
- APNZ