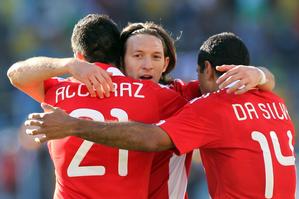 Paraguay are planning special tactics to cope with an anticipated aerial bombardment in tomorrow morning's sudden-death World Cup group F match in Polokwane.
The All Whites must win tomorrow's match to progress in the tournament while Paraguay require only a draw.
Paraguayan coach Gerardo Martino told online Spanish news website ultimahora.com that the match against the All Whites was "complicated" and would be fought out in the midfield.
"We must be careful throughout the whole match," Martino said.
"If we give New Zealand the 20 minute space we gave Slovakia, this can hurt us terribly.
"We have a decisive and very difficult match. This team still has not done anything in the World Cup. This is the one that will give us the opportunity to go through. Nothing from before will mean anything if we don't get through tomorrow's match."
Defender Enrique Vera said his side had watched video of New Zealand's matches and were ready for a tough match.
"New Zealand has no famous players, but it is a team with great desire and this gives the team a certain level. They have complicated players of great height, so it's going to be very difficult," Vera said.
Fellow midfielder Edgar Barreto said the team's priority was to qualify, "not the quality of the game".
"We attempt to improve and have done so with each match. Draw against Italy, victory against Slovakia. But most important is to qualify against a rival," Barreto said.
"We are hungry to do great things. It is a match which defines the group and in which anything can happen.
"We've seen what New Zealand did in its two matches with a draw around 60 minutes of play against Slovakia and against Italy. They are physically strong people and you have to be careful with the overhead balls, which is what they use mainly."
He said the fact New Zealand is still in contention "means they did their homework properly."
Paraguay has dual injury concerns around key midfielders Jonathan Santana (thigh) and centre half Antonlin Alcaraz (ankle).
The South Americans are looking to qualify for the World Cup knockout stages for the fourth time (after 1986, 1998 and 2002).
Covering the final round clash tomorrow, ultimahora.com, said New Zealand's "possibility of getting in with the best 16 teams in the world would be 'an achievement of impressive dimensions' for a country living its second World Cup."
Martino described the atmosphere in his squad as "happy, confident and optimistic", and said the team were eager to continue their good form against the All Whites.
Kick-off for tomorrow's clash is at 2am tomorrow morning (NZT).
- NZ Herald staff