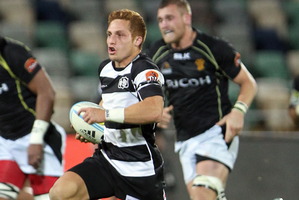 The description of a developing Blues first-five as a player with "X-factor" should probably start alarm bells following the Benji Marshall experiment.
So followers of the Blues could be excused some trepidation as the latest prospect is trialled.
Ihaia West, though, named on the reserves bench for this evening's match against the Waratahs at Eden Park, has an immediate advantage over Marshall, someone to whom the X-factor label was also attached.
The 22-year-old has a solid grounding in rugby, having represented Hawkes Bay, the New Zealand Under-20s and the Maori team, the latter on their North American tour last year.
Called in to replace the injured Baden Kerr a fortnight ago, West was selected with a view to playing back-up to Simon Hickey and Chris Noakes and gets his opportunity after Noakes' concussion against the Hurricanes.
West missed out on selection first time around, was called in as injury cover to the Chiefs, but gets a chance with John Kirwan's struggling team at a famous venue he has yet to play at.
"Initially I was pretty disappointed I didn't get picked up, but looking around the franchises, there are a few pretty good 10s at each franchise," West said.
"I went back to club rugby and worked on a few things.
"It's a bit weird," he said of coming into a squad halfway through a season.
"Obviously all the boys have been together for a few months. But the boys have been good to me since I've been here, making me feel welcome, which has made it easier.
"I've really enjoyed the time I've been here and I'm looking to make the most of it.
"I've got a lot of homework to do, that I've been doing, trying to learn all the structures and stuff, so no doubt my head will be in the book for another couple of days."
The Havelock North player, who has been staying with relatives in Manurewa, played several games for the Hurricanes development team this season before his move to Auckland.
He has been a standout for Hawkes Bay over the past couple of seasons and said the Magpies' brief Ranfurly Shield reign had taught him a few lessons.
"The two Shield games we did have last year were pretty intense. A couple of the mistakes we made against Counties cost us.
"You have to be really accurate in these high-level games. I definitely learned a lot in those Shield games."
A player with explosive speed, West is a counterpoint to the more steady Hickey and Noakes.
Kirwan spoke of the player's qualities when announcing his arrival, with West touching on that this week.
"JK thinks I've got a little bit of X-factor so that's good to hear from a coach.
"I like to run the ball ... so I'll be looking for that opportunity if it comes."