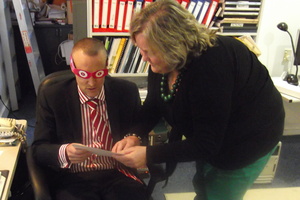 Voting in a General Election for Dunedin woman Julie Woods is a high-trust activity.
She's been blind for 16-years and one of the things she misses is being able to vote as a sighted person on Election Day.
For Mrs Woods, voting as a blind person is a high-trust activity, she is reliant on another person accurately relaying the information.
She has been blind for 16 years and said a long-held family ritual of enjoying voting day was particularly hard.
Mrs Woods lost her sight after an inflammation in part of the eye caused by an unknown virus - a condition called multifocal chorioretinitis.
"One of the hardest things for me was going along to vote on Election Day and walking into a booth, unable to read print.
"Those little things are rituals I guess, voting is something we take very seriously in our family.
"I just felt really vulnerable as a blind person."
In 2005, when she was 35-years old, she learnt braille and wondered why it wasn't available on the ballot paper.
"I would go with my husband, but I don't want to go into the polling booth with him because I don't trust him, he might vote for the other side, and he probably would."
On voting day she asks for assistance from a returning officer and they help her vote in the booth.
"Not very privately they will read out all the names of the candidates and then I will tap them on the hand when I want them to stop and they will tick that person and they will make the tick for me, but will then hand me the form to let me post it in the box."
She said she was certain that people who are blind have become disengaged because the voting process is inaccessible to some.
Mrs Woods has met with her local MP Labour's David Clark, but has not raised it with the Electoral Commission.
The commission is consulting with the disability sector about dictation voting.
Dictation voting is a phone-in service. People ring and give their personal details to one person, then cast their vote with a second person.
In 2011 the commission decided it wasn't feasible for have braille voting, despite it being cheaper to generate braille forms than hire staff operate the phone service.
A spokeswoman for the Electoral Commission said it had also investigated a voting template card or plastic folder in which the ballot paper is placed.
It has raised tactile numerals, dots and/or braille to denote the location of each option on the ballot and holes for the voter to mark their vote in the correct location.
She said it meant a blind, or limited sight voter, could cast their vote on the same ballot as everybody else without completely relying on the help of others.
Voters using the template still rely on various information sources to correctly identify which number their desired candidate and party is linked to and must trust voting place officials to put the ballot paper in the folder correctly.
"Informal response from the disability sector suggested that other options, such as dictation voting, may be a better way to secure a private and independent vote for the blind and partially sighted community," she said.
Labour's disability spokeswoman Ruth Dyson said braille forms were vital to progress and were pretty straightforward.
She couldn't see a reason why they weren't being introduced.
- APNZ