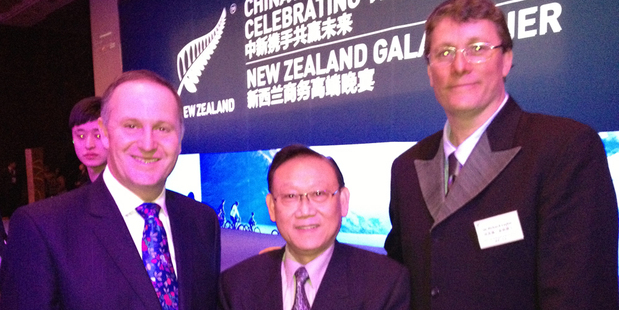 Weta Workshops co-founder Sir Richard Taylor last night introduced his Chinese business partner and "twin," Fred Tang, to the Prime Minister's gala dinner in Beijing and paid a personal tribute to his attitude.
"In Fred I found a person that possesses the optimism that is so prevalent throughout China, someone that is driven by a love of the creative arts and someone that will never think that a problem is too large to be solved."
Sir Richard said he had been doing business in China for 14 years, but his business dealings had been born out a friendship first.
"It is that friendship that has given me the confidence to do business here that has spanned over a million products, multiple disciplines and incredible creative and cultural opportunities that we have done together."
Mr Tang is the chief executive of Tenzan Productions, based in Dongguan, in the southern province of Guangdong and his is the manufacturer for Weta's chainmail business (armour made of joined up rings), high end collectibles and works from a fine art bronze foundry.
Sir Richard was the guest speaker at the dinner for about 300 guests held to mark John Key's visit to Beijing and he also thanked Mr Key for his role in getting The Hobbit made.
The Government passed employment legislation to make it clear that people employed as contractors on films could not later be treated as employees and Sir Richard led a march through Wellington when it appeared the film could be blacklisted by unions in a standoff over the industrial relations dispute.
Sir Richard said last night the The Hobbit "was made possible in no small part by the Right Honourable John Key and the Government who came and helped facilitate the realising of this film for all of the film industry in our country".
The Hobbit was released on February 21 in China and in its first month grossed $64 million, pushing its global earning since its release to more than US$1 billion.
Sir Richard said that Weta had a relationship with the Beijing Film Academy and was now hosting six post graduate students in New Zealand.
It was primarily through mass media entertainment, film, and television, that both China and New Zealand would "empower our youth to take their unique stories out to the world, share them, break down cultural ignorance, and empower the youth of both of our countries to interact in a creative way that builds better community between us all".
He thanked New Zealand ambassador Carl Worker for the help he had given him when faced with challenges of doing business in China.
"But most importantly a huge thanks to the Chinese Government, the Chinese people for embracing people like myself, my other colleagues in the room and all New Zealanders aspiring to do creativity, culture, art and business with this great country."