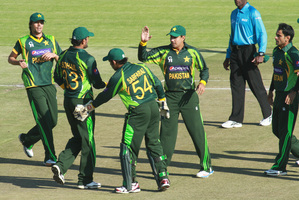 Pakistan are formidable opponents when they get to play in their de facto home. Photo / AP
Pakistan hammered South Africa in the first test of their series in Abu Dhabi yesterday.
To those who'd say "didn't see that coming", given South Africa's No1 test ranking with Pakistan sixth, the clue in evening up the playing field comes with the location.
Call it neutral, but some venues are more neutral than others.
Pakistan are formidable opponents when they get to play in their de facto home, courtesy of the 2009 terror attack on the Sri Lankan team in Lahore, which rubbed out home series for the foreseeable future.
One test remains in the series. Pakistan can't lose it. That could assume considerable importance given the advent of the world test championship, as outlined by the International Cricket Council a few days ago.
The qualifying period to find the top four of the 10 test-playing nations to play semifinals and a final is from last May 1 to December 31, 2016.
England will host the finals in 2017.
The gestation period has been lengthy. The concept had a false start to its projected 2013 start, due to financial complications, one being broadcasters preferring shorter-form multi-team events to the most traditional form of the game.
Add in the possibility of India not being in the top four, and those with subcontinental considerations foremost shuddered.
Now the ICC have pushed ahead to complete their preferred scenario of one pinnacle event in all three versions of the game.
There is the world T20 championship - next edition in Bangladesh in March-April - the 50-over World Cup, to be hosted by New Zealand and Australia in early 2015, and now this. The Champions Trophy 50-over event was a cracking success in England this year, but it has gone.
The ICC test rankings have a clear top four - South Africa 135, England and India 116, Australia 101. New Zealand are eighth on 79.
But don't despair. The points system for the world championship, to run alongside the regular rankings, gives New Zealand - or Sri Lanka or the West Indies - as good a chance as the leading nations.
The world championship points ladder is worked on series results. Some countries will play far more tests - England and Australia, for example, will have played 10 tests against each other in less than six months to next January - but there is a compensation element for those who play less.
All countries started on 0. Draw a series against a higher-ranked nation on the ICC ladder and you get more points than your opponents. A weighting system is also in place, and a mathematical equation, but there's no need to get all clever clogs about that for now.
Suffice to say, New Zealand are not handicapped by their current ICC test ranking in terms of the championship ladder, if you follow.
However, there's no doubt the four favourites will be those in possession of the top spots at present. There is, after all, a reason they have been the top four countries for a while now.
There is a prize pot of US$10 million ($11.8 million) mooted for the four countries, which potentially smacks of the rich getting richer. Plenty of fine tuning lies ahead. But the ICC, who can dither with the best, deserve praise for pressing on with the initiative.