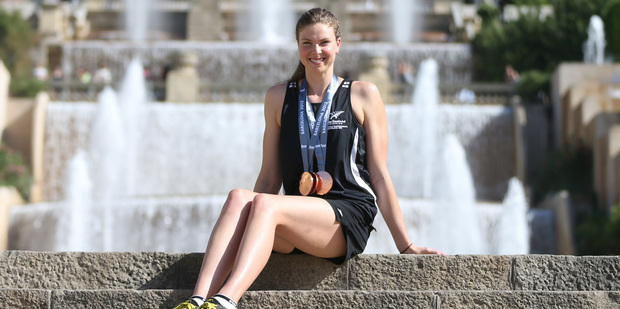 Val Adams vs Lauren Boyle. It's not a sporting contest you're ever likely to see: the strong woman of the shot put up against the sleek champion of the pool.
The only place they will ever be closely compared is in the judging room at our premier sports awards, the Halbergs.
But it may be a short conversation when the next list of winners is debated.
We love champions, and we love Val. Her emotional outpouring after first missing out on gold in London, and after her elevation when a drug cheat was caught out, cemented her popularity.
Her fourth consecutive gold medal at the world athletics championships (she's the only woman to do that) has surely guaranteed her another Halberg statue.
The performances we have seen from Boyle have never been done by a Kiwi. She took three medals at a world championship swimming meet; she's the first Kiwi woman to even win one.
But it will count for little. The medals were that other shade of yellow, bronze. And we have a poor record of being able to think past gold when it comes to the Halbergs.
I was on the judging panel the year the Tall Blacks won the supreme award for their run to fourth at the World Basketball Championships. It was a feat that will, almost certainly, never be repeated.
It was fairy-tale stuff. But the arguing around the table - back in the days when the judges got together - was phenomenal.Many of the 20-odd panel wanted a world champion to win - a rower or a yachtie from memory. That year the final vote was by post, so I have no idea what the final tally was. But I was hugely surprised on the night when the Tall Blacks actually won.
It'd be nice, this year, to think there will at least be some robust debate on the women's winner. Should it be another gong for Val, or for a history-maker who has had to do it alone?