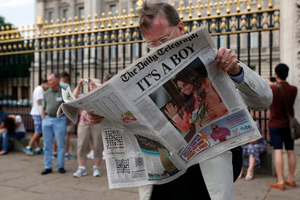 Get a grip, everyone. So a baby was born in the most expensive and exclusive private birthing suite in London. But it wasn't exactly the Messiah reborn, just one of the 361,481 newborns who enter the world each day.
The Herald's "royal baby special edition" yesterday quoted a sociologist observing that a lack of privacy in the early development stages of the royal prince could affect the child's personality.
"One of the common things sociologists say is, 'How we think about ourselves is strongly influenced by what others think about us. This will definitely have an impact ... The child will need to learn to disengage with these views and choose to ignore them'."
No doubt Auckland University Associate Professor Steve Matthewman is correct, but I would have thought the biggest influence on the child's upbringing will be the throw of the dice that has him born into a family of unimaginable wealth and privilege.
He will be heir to riches of which the other 361,480 babies who share his birthday can only dream. There will be servants bowing and scraping and picking up his toys from this day forth. Instead of state housing to live in, his life will be spent in state castles.
For a New Zealand kid, it's the sort of life that perhaps the children of our millionaire Prime Minister could begin to imagine, but it will certainly be beyond the ken of the vast majority of the young Kiwis who this royal child, by a fluke of history, is destined to reign over. Unless, that is, our parliamentarians finally realise what century they're living in, and give the Windsor family a long overdue redundancy notice.
The professor suggests our future king should disengage and ignore what others think about him, presumably, if he's to grow up "normal". As far as his New Zealand future subjects are concerned, chance would be a fine thing. Living in a gilded palace half a world away, how will he ever get to know what his contemporaries in Papatoetoe or Porirua think of him or, for that matter, of anything else to do with his future South Pacific realm. Except, no doubt, that the peasants spend a lot of time making Buzzy Bee toys.
Monarchy New Zealand chairman Sean Palmer claims there will be tangible benefits to New Zealand industry and culture from the royal birth because it will draw world attention this way. I can't see how it will help our image being highlighted by commentators as one of the oddities of the modern world, an independent nation too timid to stop sucking the old imperial dummy.
Talking about old links to empire, I was disappointed William and Kate's firstborn wasn't a girl. That would have added a frisson of urgency to the attempt by the Quebec provincial government to challenge the royal succession law changes before - or passed - in the 16 Commonwealth countries, the United Kingdom included, that still have the British monarch as head of state.
The bill, which has to pass through all the respective parliaments to be effective, aims to drag the monarchy out of its sexist past, and give the female first-born of a monarch equal rights to succession as a baby boy. That it still bars Catholics and loyal citizens who happen to be Muslim or Buddhists or non-believers, thus breaching human rights legislation throughout the Commonwealth, is swept under the carpet.
Anyway, Canada's CBC News reported yesterday that Quebec's Attorney-General has joined a group of legal experts to challenge the constitutionality of the Canadian Federal Parliament's vote in favour of the new succession act in March.
Last month, two Quebec law professors, Genevieve Motard and Patrick Taillon, filed a challenge in the province's Superior Court arguing that the Ottawa Government's decision to pass the act without seeking the support of all provinces was contrary to Canada's Charter of Rights and Freedoms.
The provincial government has now joined the action.
But with a boy child now in the bag, this challenge to the attempt to give the monarchy a slight facelift rather loses its immediacy.
As for the new prince being born into a fish-bowl existence, this lack of privacy will be one thing that he will have in common with his future subjects. As Professor Matthewman says, "privacy is a vanishing concept for everyone ..."
On Monday, United Future leader Peter Dunne crawled into bed with the Government to back, with a few cosmetic amendments, the GCSB Amendment Bill, giving New Zealand spies even greater powers to eavesdrop on our phone and internet communications.
As Green Party leader Russel Norman wryly noted, "there is deep irony that Peter Dunne wants to protect his emails from John Key's gaze, but is enabling legislation that will permit the spy agencies to read the rest of our emails at will".