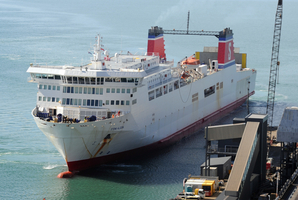 The replacement ferry for KiwiRail's trouble-plagued Interislander service will remain out of action until tomorrow morning.
The Stena Alegra, which suffered a nasty gash in its hull during ``extreme weather conditions'' at the Wellington ferry terminal on Tuesday last week, had been due to resume sailing at 5pm today.
However, KiwiRail spokeswoman Helen Corrigan said repairs to the ship's hull had taken longer than anticipated because a larger plate than originally thought necessary would need to be inserted.
The 5pm sailing from Wellington and 10.15pm sailing from Picton have been cancelled. The Stena Alegra was now due to resume sailing at 3.30am tomorrow.
Passengers booked on the earlier sailing today would sail on either the Kaitaki at 8pm or the Arahura at 1pm. Those booked on the return sailing from Picton will either sail on the Arahura at 7pm or Kaitaki at 1.05am.
The Stena Alegra has run into trouble twice since it began sailing in January as a temporary replacement for the Aratere, which lost its propeller during a Cook Strait crossing in November.
Less than a week after it made its first Cook Strait crossing, the Stena Alegra broke down after suffering a partial loss of power while leaving Wellington.
Meanwhile, the Aratere is undergoing further repairs at a dry dock in Singapore after rudder cracks were discovered.
It has already had several repairs, including the reinstallation of new shafts, old propellers and stabilisers, in preparation for sea trials.
- APNZ